---
Blockchain Strategy Bootcamp and Georgia Drug Card on Georgia Business Radio
Blockchain Strategy Bootcamp and Georgia Drug Card on Georgia Business Radio
Joy McAdams, V.P. of Regional Relations
 United Networks of America | Georgia Drug Card
I connect doctors with doctors who benefit from referrals… I connect pharmacies and physicians/hospitals with a program that helps their patients afford their prescriptions…It's as simple as making friends,being genuine, and promoting a service I believe in. As a resident of Georgia, you and your family have access to a statewide Prescription Assistance Program (PAP). Create and print your FREE discount prescription drug card coupon below. This pharmacy coupon card will provide you with Rx medication savings of up to 75%at more than 68,000 pharmacies across the country including CVS/pharmacy, Walgreens, Kroger, Rite Aid, Walmart, and many more. You can create as many coupons as you need. We encourage you to create and send to friends and family members via one of the many available options. This Coupon/Card is pre-activated and can be used imediately!
Web Site / Social Media Links:
 www.georgiadrugcard.com
---
Roop Singh, Founder Intuit Factory
Blockchain Practitioner | Speaker | Blockchain Digital Transformation | Blockchain Consulting | AI Enthusiast | Distributed Ledger Technology and Blockchain Architecture
 Experienced business transformation leader, trainer, and speaker with demonstrated proficiency in:
 • Presenting Blockchain Strategy to Corporate Executives
 • Designing Blockchain Use cases and business models
 • Architecting Blockchain Solutions
Aligning strategy with processes to drive innovation
 • Dramatically improving business processes to increase revenue, reduce cost, deliver
 service excellence
 • Driving customer journey focused Outside — In processes
 • Propelling massive organization change
Who we are:
 A strategic blockchain business consulting and branding firm!
We are a multi-disciplinary team bringing in a diverse set of techniques, philosophies, and models to navigate your Blockchain journey. We are not your run-of-the-mill consulting firm. We combine deep business insight with an expert understanding of how this technology will impact and drive new business models. Leveraging our years of expertise in business process transformation, we now guide you on how to leapfrog into the future using Blockchain. Headquartered in Atlanta, USA we provide services internationally.
Topics to Discuss:
 The rise of Blockchain revolution, Is Blockchain an Opportunity, Threat or a Risk for enterprises?
 Our first of its kind Blockchain Strategy Bootcamp in partnership with Robinson College of Business.
 Why is it unique? Why should people attend this bootcamp? What will they get out of it?
Web Site / Social Media Links:
 LinkedIn-https://www.linkedin.com/in/singhroop/
 Twitter — @Intuitfactory
 Facebook -https://www.facebook.com/intuitfactory/
---
Georgia Business Radio Interviewing industry and thought leaders with compelling stories. Relevant content on current business trends live from the Pro Business Channel studios in Atlanta. In addition to the live broadcast, GBR content is in distribution across multiple syndicated platforms with more than 500,000 downloads.
Show Hosts: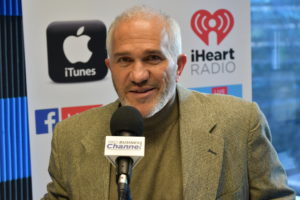 Rich Casanova, CoFounder
 Pro Business Channel
https://www.linkedin.com/in/richcasanova
 https://twitter.com/RichCasanovaCom
Artie Ruderman, Founder
 Innovative Growth Solutions, Corp
Director of Business Development
 Pro Business Channel