---
Brand expansion, licensing expert and TEDx speaker Pete Canalichio on Buckhead Business Show
Brand expansion, licensing expert and TEDx speaker Pete Canalichio on Buckhead Business Show
Pete Canalichio
 Author Author of "Expand Grow Thrive" brand expansion, licensing expert and TEDx speaker.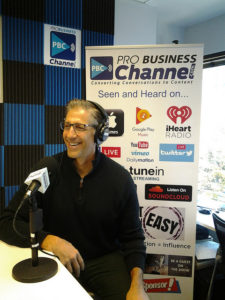 Before starting his business career, Pete attended the U.S. Naval Academy where he earned a BS in physics. Pete went on to serve in the Navy as an award-winning aviator and instructor pilot, honing his leadership and decision-making skills as commander of a large multi-engine aircraft and 12-member crew during the height of Cold War tensions.
His "crisis-tested leadership skills" were forged not in a battle with the competition or a challenging business turnaround — although he has certainly excelled in those arenas — but in the dark skies above the Pacific Ocean as he flew a military aircraft whose engine had caught on fire.
Clear-headed and decisive under extraordinary circumstances, Pete has applied that same leadership style to every challenge and opportunity he has faced in a distinguished executive career with such firms as Coca-Cola, Newell Rubbermaid and most recently, Licensing Brands, the company he founded in 2009.
Using visualization to make your dreams a reality was the subject of a recent TEDx Talk by Pete Canalichio (MBA '90), founder, principal owner and president of Licensing Brands, Inc.
"With each dream, I would picture what I wanted, and I would visualize myself in that place," says Canalichio. "The visualization gave me the clarity I needed, along with the ambition and courage to risk possible failure. As the saying goes, 'You can't make a basket if you never take the shot.'"
 Pete began his licensing career at Coca-Cola in 1997 as the Event Licensing Group Manager where he executed multiple programs in support of:
The 1998 Olympic Winter Games in Nagano, Japan
 The France 1998 FIFA World Cup (soccer)
 Major NASCAR events throughout the U.S.
In his second year in the role, he led the group to over $50 million in retail sales earning $3 million in royalty revenue for the company. In 1998, Pete working with the diecast licensee, Action Performance, delivered $30 million in retail sales in commemorating the first ever race between Dale Earnhardt and Dale Earnhardt, Jr. at the Coca-Cola 500 in Tokyo, Japan. This is the largest co-branding program on record for Coca-Cola. His contributions that year earned Pete the Greatest Contribution to the Licensing Department award.
Pete continued his licensing career at Coca-Cola in 2001 as the Licensing & Consumer Activation Director of the 2002 Olympic Winter Games in Salt Lake City, UT. There he directed the development and implementation of all of Coca-Cola's licensing programs and consumer activation for the Olympic Winter Games. During the seventeen days of the Games Coca-Cola sold over $2 million of licensed product, a 100% increase over the prior Winter Games.
From 2005 to 2007, Pete served as Director of Global Licensing at Newell Rubbermaid for the Rubbermaid brand. In this role, Pete led a 9 member cross-functional team while managing 17 licensees. In just over two years, wholesale sales grew from $30 million to over $70 million and average royalty rates increased by greater than 2% more than doubling royalty revenue. For his achievements, Pete received the MVP Award for stellar contributions to the Global Licensing department in 2006.
In his final role at Newell Rubbermaid, Pete served as the General Manager of CardScan, where he delivered quick wins while rejuvenating the organizational culture.
Before transitioning to marketing and licensing arenas, Pete earned his MBA from the University of North Carolina Kenan-Flagler Business School where he was a Richard H. Jenrette fellow and salutatorian of his class. Upon graduation, Pete was recruited into the global finance unit at Coca-Cola. He rose quickly to managing $32 billion in transactions yearly as Treasury Operations Manager in London and built a strong foundation of business skills and diverse experiences within the world-class company.
Throughout his career, Pete has operated in the global arena, having worked in more than 40 countries and managed extensive projects across national and continental borders.
To see whether you and I can collaborate to create bigger wins and better brands together, please see more here. I regularly consult with marketing teams to help them ensure they are making wise decisions and leveraging best practices.
Would you like me to come teach your organization, or students, about brand licensing and how to really move your brands upward and out?
New Book Release:
 Expand Grow Thrive
 Turn your Brand into a Global Brand
Publish Date: February 12, 2018
Brands are now far more than just about names, and the channels available to publicize them have increased out of all proportion. Consumers are also time-pressed and looking for mechanisms that short-cut their decision-making. Brands provide recognition, familiarity and personality.
ABOUT THE BOOK
 "Expand Grow Thrive"
5 Proven Steps to turn Good Brands Into Global Brands Through the LASSO Method
 Using powerful storytelling and unique access to the personal perspectives of top-flight marketers who have developed truly world-class business growth programs, Pete Canalichio shows us how successful marketers have extended and expanded their brands, and the challenges they have had to overcome along the way. The LASSO model (Lateral; Addictive; Storied; Scalable; Own-able) offers a simple, accessible and effective way for marketers to get their heads around the desired attributes of highly successful growth programs. With insightful advice, anecdotes and tips from leading brand licensing professionals, household names like Coca-Cola and Disney, senior marketers and inspiring individuals, Canalichio has created a measured and proven "Think Big, Get Big" framework to truly help your brand first expand, grow successfully, and ultimately thrive.
What's in the book, Table of Contents:
Prelude: Addressing the Expansion Riddle.
 1: Pinning their hopes.
 2: Choose to lead — How to succeed in the connective economy.
 3: Lateral — Beyond where they've been.
 4: Addictive — Growing to love.
 5: Storied — The power of heritage in a world of action.
 6: Scalable — Achieving your best size
 7: Own-able — How you expand and stay true to your DNA.
 8: Is your brand optimized?
 9: Making the Decision to License
 10: License to operate — the future of the licensed brand.
ABOUT THE AUTHOR
Watch Pete's TEDx Talk — "Achieve Your Dreams Through Visualization"
Pete Canalichio is an author, a brand expansion and licensing expert, expert witness and TEDx speaker. He founded Licensing Brands in 2009 after a distinguished career with Coca-Cola and Newell Rubbermaid. Before starting his business career Pete attended the U.S. Naval Academy where he earned a BS in physics. Pete went on to serve in the Navy as an award-winning aviator and instructor pilot, honing his leadership and decision-making skills as commander of a large multi-engine aircraft and 12-member crew during the height of Cold War tensions.
Web site and social media links:
---
The Buckhead Business Show Spotlights Industry Leaders in Buckhead and Atlanta! Brought to you in part by The Buckhead Business Association and Broadcast LIVE from the Pro Business Channel Studios.
Show Hosts:
---
Recent Photos From The Buckhead Business Show
‹ › ×
×
Previous Next
Flickr Album Gallery Powered By: Weblizar