---
Bringing the Platform of Global Real Estate to your Finger Tips on the Rich Hart Show
Bringing the Platform of Global Real Estate to your Finger Tips on the Rich Hart Show
Dr. Dan Nussbaum
Originally from Long Beach NY, Dan was young when his parents passed away, and he lived in 17 places in 9 years while putting himself through college and graduate school with the help of academic scholarships. Dan finished college when he was 20 before going to the University of Pennsylvania School of Dental Medicine, and then practiced in Philadelphia for 22 years before deciding to move to California and begin a second career as a licensed investment adviser. As he always had an interest in real estate, Dan decided to also become a licensed California real estate broker and created successful local agencies in Los Angeles. After being contacted from outside the USA about promoting new home developments into the Los Angeles market, Dan became fascinated with the idea of creating The International MLS [IMLS] as an affordable way to bring together agents, brokers, developers, associations, buyers, sellers, and property listings all together into one global marketplace. Dan's vision has been to have all of the listings shared on agent and broker sites all over the world via The IMLS searches, giving agents and brokers the tools to succeed in a competitive global marketplace, with the goal of putting the power of the real estate industry back into the hands of the agents and brokers. As someone who is a licensed broker himself, it is Dan's mission to protect agents so that there will be no advertising of other agents on a personal agent members listing page, that if it is your listing,.. it is your lead, and that there will be no For Sale By Owner listings on The IMLS along with everything posted on The IMLS 10 point Pledge. Dan relocated with The IMLS from Los Angeles to Boca Raton, Florida July 2015. When not working on The IMLS, Dan can be found running, skiing, playing tennis or golf, and maintains an actively engaged life in the Miami-Palm Beach area.
---
Dr. Bruce Salzinger
Rich Hart (L) Bruce Salzinger (R)
An active Doctor of Chiropractic at Chiropractic Healthcare of Buckhead on Pharr Road for 25+ years. In 2008 Dan came up with a novel concept and vision of the international real estate market and it just made sense to me. I learned the business best I could and the opportunities it offered. Having participated nationally and internationally at several real estate shows it confirmed we not only have something unique but extremely valuable to all.
My resume below indicates the last 25 of years of chiropractic achievements. My children have decided to pursue other careers. I hope to continue helping to launch The IMLS and eventually devote full time to building this vision worldwide.
 1970 Graduated Long Beach High School, NY with sports participation on the golf, swim and track teams.
 1974 Graduated University of Connecticut, Storrs CT, B.S. Degree with sports participation on the Alpine Downhill Ski Racing and Cross Country teams. Active in karate and judo clubs.
 1972–1973 International Business Studies Program, American College of Switzerland, Leysin Switzerland with sports participation on the Alpine Downhill Ski Racing Team and Cross Country Teams.
 In 1974 Dr. Salzinger experienced a serious skiing related injury. After 3 months of traditional drug and physical therapy treatments for a herniated disc and bilateral severe sciatica he was scheduled for a low back surgery. Fortunately a good friend who was going to New York Chiropractic College at the time suggested he come in for a consultation and exam as "I could always go ahead with the surgery". The explanation of my condition from the chiropractic perspective just made sense. I proceeded with a regimen of regular subluxation based chiropractic adjustments and the rest is so to speak, history.
 1974–1989 V.P. National Bolt & Nut Co. Inc. and V.P. 1125 Myrtle Realty Corp.
 1993 Graduated Life Chiropractic College, Marietta, GA with a Doctor of Chiropractic (D.C.) degree.
 2001 Diplomat, Certified Chiropractic Sports Physician (CCSP) program sponsored by Palmer Chiropractic College
 2001 Member Medical Team at Central American Games, Guatemala City, Guatemala
 2001 First Physician in the United States certified in Functional foot Orthotics by the United States Sports Academy
 2001 Member Medical Team at Costa Rican National Olympics, San Jose, Costa Rica
 2006 Member Medical Team, Auburn Track & Field Team, NCAA Division 1 National
 Championships
 2008 V.P. International Business Development The International Multiple Listing Service [The IMLS}
 Member of Present President Georgia Chiropractic Association Fulton County, Buckhead Business Association, American Chiropractic Board of Sports Physicians, Chiropractors Without Borders. Married 37 years with 2 children.
Dr. Bruce L Salzinger, D.C., CCSP
 V.P. Internation Business Development
 Bruce@TheIMLS.com
 www.TheIMLS.com
---
Topic: The International World of Real Estate and the impact for today's Real Estate Professional with the Tools and Resources of the IMLS
TOPIC BULLETS:
 1) Global Exposure of Real Estate and the IMLS Movement… 151 Billion $'s of Cash based sales entered the US last year alone.
 2) Agent Broker Platform and what this means for today's active professional… and for consumers [buyers and
 sellers]
 3) The IMLS search….a way for listings to be on other agent and broker sites across the USA and around the
 world…automatically!
 4) Globally Accepted means of connecting the world of Real Estate… collectively on a global platform.
 5) International deliveries…most countries do NOT have an MLS… so The IMLS brings everyone together to share their property listings and network with other agents around the world.
 6) The IMLS investment opportunity…the ability to share in the growth of the IMLS
Talking Points:
1) Idea behind the concept of the IMLS
2) The support from FIABCI and what this means
3) 70 Plus Countries / 100+ Different Languages
4) Platforms/ Residential/Commercial… New Homes… and expanding areas
5) Gold and Silver Member Benefit programs for MLS's as well as for large USA brokers for a large scale delivery of IMLS memberships.
FIABCI the International Real Estate Federation, was founded in 1949 by the French asset Manager, Mr. Pierre Colleville. It was registered as a non-profit professional organization in Paris on June 2nd 1951. It is the only worldwide real estate association that represents all of the real estate professions: brokerage, property management, development, valuation (appraisal) and consulting. FIABCI's institutional, individual and company members handle all types of real estate: residential office industrial commercial leisure rural property. FIABCI also welcomes professionals who serve the real estate industry: lawyers, insurers, architects, urban planners, for example.
---
More about the show, host and sponsors:
Show Host: Rich Hart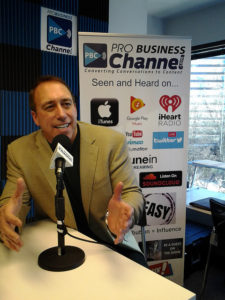 Rich Hart Show Mission: "Bringing the World of Business Closer to You."
Format: Business Talk with In Studio Guests! Interviewing Real Estate & Finance Thought Leaders.
 Broadcasting LIVE from Pro Business Channel Studios in Atlanta
To submit a guest booking requests for consideration visit:
 www.RichHartShow.com
Check out more episodes and learn more about the show host and sponsors visit:
 www.RichHart.com
Recent Photos Of Rich Hart In The Pro Business Studios
‹ › ×
×
Previous Next
Flickr Album Gallery Powered By: Weblizar