---
Buckhead Business Show — Entreholic, Cold Call Reluctance and Business Development
Buckhead Business Show — Entreholic, Cold Call Reluctance and Business Development
Company: Entrecholic
 Brad Stevens
Brad is a lifetime entrepreneur and has committed himself to the discipline, creativity and constant innovation required to achieve success. He has helped build multiple seven figure businesses in numerous domestic and international markets including B2B, B2C, physical products, software, and professional services.
His most recent company, Entreholic, provides an affordable, entrepreneurial approach to helping small to medium businesses implement and execute innovative growth strategies. Entreholic is also the creator of the Top 200 Tools To Fuel Your Business Growth and the weekly Addictive Tools Series. Brad also enjoys teaching on the topic and conducts educational seminars throughout the year.
Brad serves on the board of the Atlanta Chapter of the Global Entrepreneurs' Organization where he co-chairs the Accelerator Program to help emerging companies achieve $1 Million in annual revenue within three years. He is a graduate of LEAD Atlanta Program, serves on the High Point Civic Association, and co-founded an annual charity event for breast cancer.
Brad is a native of Atlanta and lives in Sandy Springs with his daughter and wife, an inspirational third grade teacher. Brad graduated Magna Cum Laude from The Wharton School at the University of Pennsylvania with concentrations in Finance and Marketing.
Topics/Questions:
 How did you end up heading down the entrepreneurial path?
 I really like your name, Entreholic, and it's definitely different? Where did that come from?
 What challenges do you see most business owners struggle with in getting their business out of the ground and growing?
 How does your company help startups and small to medium businesses?
 The rapid growth of the freelancer market to more cost effectively execute in your business.
 How can business owners better leverage time, money and resources.
 Automate and Delegate
---
Company:
 Innovative Growth Solutions
Name and Title of Person Interviewed:
 Arthur R. Ruderman, President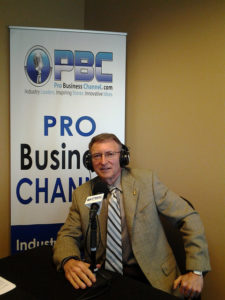 Born in the Bronx. Formative years on Long Island. Married high school sweetheart. Two children. Earned a joint BS degree in Business & Economics from American University (Wash. D.C.). After nine years of living in Houston, when the oil & gas industry fell below investment grade, I relocated to Atlanta this past June to be near family and formed a business development consulting firm.
My company provides business development and client acquisition services. Most people consider business development activities as marketing and sales. Marketing & sales are functions of business development, whereas business development is more global and holistic. Business development initiates with a strategy that is developed from insight drawn from analysis and implemented with a well crafted execution plan.
An advantage I offer clients is that I can leverage expertise from having been the owner of a mfg. company that employed 135 workers and grossed $100MM over its duration and whose business development efforts have secured $1.5bn in sales for a large global engineering & construction company and have been equally successful in scale with closely-held companies in diverse industries. My target companies are B2B closely-held small & midsize businesses in diverse industries.
Topics/Questions:
Why did you decide to form your own Business Development Consulting company?
Why the name Innovative Growth Solutions?
Can you give an example of innovation for driving business?
Can you give an example of strategic innovation?
Tell us about the National Business Development Association.
---
Company or Product Name
 Corevu LLC
Joe Colavito, Chief Encouragement Officer
Joe Colavito is a student of people, performance and success. He can't stand the thought of high potential sales professionals under-performing. It drives him crazy to watch time, talent, resources and opportunities get wasted. That's why he's in a mission to solve the #1 Problem in sales: Cold Call Reluctance. Joe and his wife Debbie have been married for 27 years and live in Johns Creek, GA with their five children.
Topics/Questions:
 When did you first realize your passion for people and performance?
 Would you mind sharing a little bit more about the WHY behind WHAT you do?
 What's your mantra and how does it anchor your approach to sales coaching? (Why guess when I can know?)
 How did you come to the conclusion that Cold Call Reluctance is the #1 Problem in Sales?
 I saw on LinkedIn where you claimed, "This ain't no common cold!" What did you mean by that? Tell us more about the 12 different types of Cold Call Reluctance Viruses.
 What percentage of a typical sales team have these viruses? (97%)
 How many viruses does the average rep have? (5–6 of 12)
 What impact does Cold Call Reluctance ( CCR) have on individual performance? ( reduces it by 30 to 70%)
How do you go about diagnosing and curing CCR?
 Do you have a turnaround story of how your assessment and coaching program impacted one person or organization?
 What advise would you offer our listeners who run a business or lead a sales team?
---
The Buckhead Business Show Spotlights Industry Leaders in Buckhead and Atlanta! Brought to you in part by The BBA and Broadcast LIVE from the Pro Business Channel Studios.