---
Geoff Curley with Gin Lane1751 Interview on Bar Talk Radio
Geoff Curley with Gin Lane1751 Interview on Bar Talk Radio
Geoff Curley
 Bloomsbury Club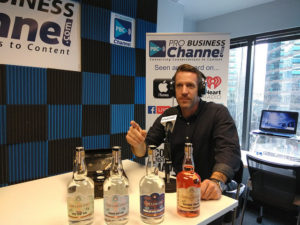 The Bloomsbury Club; a group of inquisitive drinks industry veterans with a passion to recreate a range of London Gins with historical accuracy and relevance to the Victorian era.
To accomplish this, a partnership was forged with 8th generation London distiller, Charles Maxwell of Thames Distillers, based in Clapham, London.
Gin Lane 1751 is the embodiment of a classic Victorian style gin in its taste profile, juxtaposed with accurate label recreation of the period to create a range of four crafted varietals.
For your edification, we introduce Gin Lane 1751, Victorian Ingenuity
Individually numbered bottles / small batch production
Distilled in the heart of London by eighth generation Master Distiller, Charles Maxwell
100% pure grain spirit / handcrafted in small traditional pot stills
Style is Victorian era. Bold juniper with hint of liquorice from the star anise. Added citrus botanicals provide refreshing, clean notes Distillation of 8 fine botanicals Martini Style: Big & Bold
Topics to Discuss:
 Brand Origin
 Method
 Process
 Uniqueness
Website and Social Media:
---
About the show:
Bar Talk Radio is about Careers in the Beverage Industry, Cocktail Culture and Trends. Interviewing industry insiders and experts. Hosted by Anthony Porquez founder of Liquid Culture with over 17 years in the food and beverage industry. Current President of the United States Bartenders' Guild Atlanta Chapter.
Recent Photos From Bar Talk Radio
‹ › ×
×
Previous Next
Flickr Album Gallery Powered By: Weblizar