---
Matt Starosciak with Proven Law Marketing and author of The Lawyer Marketing Book on Georgia Business Radio
Matt Starosciak with Proven Law Marketing and author of The Lawyer Marketing Book on Georgia Business Radio
Matt Starosciak
 Proven Law Marketing/The Lawyer Marketing Book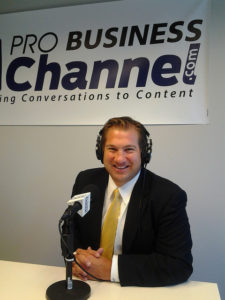 BIO:
 Author | Speaker | Consultant | Attorney
 Author of The Lawyer Marketing Book
 University of Houston Law Center
Voted the Best Marketing and Public Relations Firm in Georgia by The Daily Report in 2016.
In the 19 years since he graduated from the University of Houston Law Center, Matt Starosciak hasacquired tremendous knowledge of what makes law firms successful. As the leader of Proven Law Marketing, Matt now works closely with a select number of law firms, all of which benefit from his:
Law practice experience in both small and large firm environments.
 10 years as a top legal industry outside sales rep.
 Proven track record of success implementing comprehensive marketing programs for law firms of all sizes. (And an international association of law firms.)
 Media Coverage
Expert Source, The Humble Law Firm Website Is Going Way, Way Upscale, The American Lawyer, April 8, 2016
Guest, Branding Law Firms in 2015, Atlanta Legal Experts Radio Show, 2015
Speaker, Selling the High-end Client, Atlanta Internet Video Marketing Association Fall Workshop, 2014
Speaker, The Most Effective Marketing Strategies, Atlanta Bar Association Managing Partners Committee, 2011
Admissions
State Bar of Michigan
Education
University of Houston Law Center, JD
Michigan State University, BA, Accounting
Community Work
MedShare Atlanta
Catechism Teacher, Transfiguration Catholic Church
ALS Association
Habitat for Humanity
Shepherd Center for Brain and Spinal Cord Treatment
Court Appointed Special Advocates (CASA)
Rally Foundation for Childhood Cancer Research
Personal
Matt is married to his high school sweetheart and elite runner, Kaye Anne Starosciak. Both enjoy cheering on their 3 daughters at dance recitals, basketball games, and track meets.
Topics to Discuss:
Rcently published "The Lawyer Marketing Book" which is the most comprehensive resource ever written on the topic. It also has application to all professional services businesses as it covers lead generation, intake protocol, and ROI measurement.
1. What is your book about?
 2. How is your book different?
 3. How does your book fulfill the need of attorneys and law students?
 4. What made you want to write a book?
 5. How difficult is it for attorneys to develop new business in today's legal market? Why?
 6. What's your best advice to attorneys who are struggling with the marketing process?
 7. What's next for you and your business?
Web Site / Social Media Links:
---
Georgia Business Radio Interviewing industry and thought leaders with compelling stories. Relevant content on current business trends live from the Pro Business Channel studios in Atlanta. In addition to the live broadcast, GBR content is in distribution across multiple syndicated platforms with more than 500,000 downloads.
Show Hosts:
Recent Photos From Georgia Business Radio
‹ › ×
×
Previous Next
Flickr Album Gallery Powered By: Weblizar