---
YMCA and Walmart Promote Healthy Kids Day to Combat Child Hunger on Georgia Business Radio
YMCA and Walmart Promote Healthy Kids Day to Combat Child Hunger on Georgia Business Radio
DISCOVER WHY SUMMER IS A CRUCIAL TIME FOR CHILDREN'S HEALTH & WELL-BEING
Stacey McDaniel, Anti-Hunger Initiatives Specialist, YMCA of the USA, Shares Important Information about the Y's Healthy Kids Day & Art Contest
YMCAs in all 50 states (plus DC and Puerto Rico) will be celebrating Healthy Kids Day for a fun celebration that will also bring attention to the epidemic of child hunger in the U.S. The Y's Healthy Kids' Day includes activities and games encourage physical activity and encourage reading and exploration, including a new art contest this year. To help raise awareness about the year-round epidemic of child hunger and highlight the importance of good nutrition, the Y and Walmart Foundation are kicking off a national call for youth art submissions for the Y's 'Child Hunger Is No Fairytale' campaign. Stacey McDaniel, Anti-Hunger Initiatives Specialist at YMCA of the USA, will preview the Y's Healthy Kid's Day Events and share some staggering — even shocking — statistics about child hunger.
In the U.S., millions of youth and teens (1 out of every 6) are struggling with"food insecurity." That is when a child doesn't have regular access to fresh food or proper nutrition so that their development is severely impacted. Studies show that kids can't learn, grow, or reach their full potential on an empty stomach. That's why-in partnership with Walmart Foundation-the Y has nearly 4,000 sites where children can receive a healthy meal and/or snack. In 2017, the Y served 476,00 kids more than 22,000,000 meals and snacks.
WHAT YOU'LL LEARN ABOUT THE Y'S HEALTHY KIDS DAY:
How to enter a special art contest to promote hunger awareness
Why summer is a crucial time for children's health
Learn about the epidemic of child food insecurity in our country
Why child hunger is much worse during the summer
SPOKESPERSON BACKGROUND:

McDaniel has been the Anti-Hunger Initiatives Specialist at the YMCA of the USA (Y-USA) since 2013, working to offer assistance and guidance to local Ys to strengthen child nutrition programs across the country. During her tenure, the Y has expanded its anti-hunger work, increasing number of youth served per year by 131% and number of meals served per year by 165%. In 2016, over 476,000 youth received over 22 million meals at more than 3,900 sites and after-school programs through the Y's Year-Round Food Program.
CHILD HUNGER IS A SERIOUS AND OFTEN UNDER-REPORTED PROBLEM IN OUR COUNTRY. IN FACT, ONE IN SIX CHILDREN IN THE U.S. STRUGGLE WITH FOOD INSECURITY. THIS EPIDEMIC OFTEN HITS HARDEST DURING SUMMER MONTHS WHEN KIDS ARE OUT OF SCHOOL.
THAT'S WHY THIS YEAR'S ANNUAL Y-M-C-A HEALTHY KIDS DAY, WHICH PROMOTES HEALTHY HABITS IN KIDS DURING SUMMER, WILL HAVE A SPECIAL FOCUS ON NUTRITION.
HERE TO SHARE SOME IMPORTANT INFORMATION ABOUT THIS YEAR'S HEALTHY KIDS DAY, IS STACEY MCDANIEL CHILD NUTRITION ADVOCATE AND ANTI-HUNGER INITIATIVES SPECIALIST FOR THE Y-M-C-A.
QUESTIONS:
CAN YOU PLEASE TELL US ABOUT THE YMCA'S HEALTH KIDS DAY ACTIVITIES?
WHAT ARE THE GOALS OF THE Y'S HEALTHY KIDS DAY?
NEW THIS YEAR AT HEALTHY KIDS DAY, MANY Y LOCATIONS WILL BE OFFERING THE OPPORTUNITY FOR KIDS TO PARTAKE IN AN ART CONTEST — CAN YOU TELL US MORE ABOUT THAT?
HOW SERIOUS IS THE HUNGER PROBLEM FOR CHILDREN IN THIS COUNTRY?
WHAT CAN PEOPLE AT HOME DO IF THEY ARE STRUGGLING WITH CHILD HUNGER OR FOOD INSECURITY?
HOW SUCCESSFUL HAVE THE Y's ANTI-HUNGER PROGRAMS BEEN?
WHERE CAN WE GET MORE INFORMATION ABOUT HEALTHY KIDS DAY AND CHILD HUNGER IS NO FAIRY-TALE?
---
Georgia Business Radio Interviewing industry and thought leaders with compelling stories. Relevant content on current business trends live from the Pro Business Channel studios in Atlanta. In addition to the live broadcast, GBR content is in distribution across multiple syndicated platforms with more than 500,000 downloads.
Show Hosts: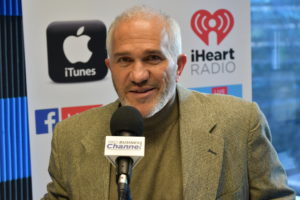 Rich Casanova, Co-founder
 Pro Business Channel
Check out more episodes visit:
 www.GeorgiaBusinessRadio.com
To nominate or submit a guest request visit:
 http://www.meetme.so/GeorgiaBusinessRadio
To view guest photos from this show, visit:
 www.ProBusinessPictures.com
Recent Photos From Georgia Business Radio
‹ › ×
×
Previous Next
Flickr Album Gallery Powered By: Weblizar