---
The Most Glamorous Night In Watchmaking: Eleuterio Filigree Jewelry At The Grand Prix d'Horlogerie de Genève 2016
by Elizabeth Doerr

 I am a big fan of Portugal and Portuguese culture.
I was therefore pleased to discover recently that the art of the filigree technique in jewelry, one of Portugal's own traditional arts, is the main idea behind a luxurious 90-year-old jewelry brand called Eleuterio.
Filigree is approximately 5,000 years old originating in ancient Mesopotamia (now approximately Iraq). This art form involving fine gold "threads" arrived in Portugal thousands of years ago via the seafaring Phoenicians. Today, Portuguese craftspeople are famous for this technique, but it is rarely seen outside Portugal in its true handmade form, making it somewhat of a lost art.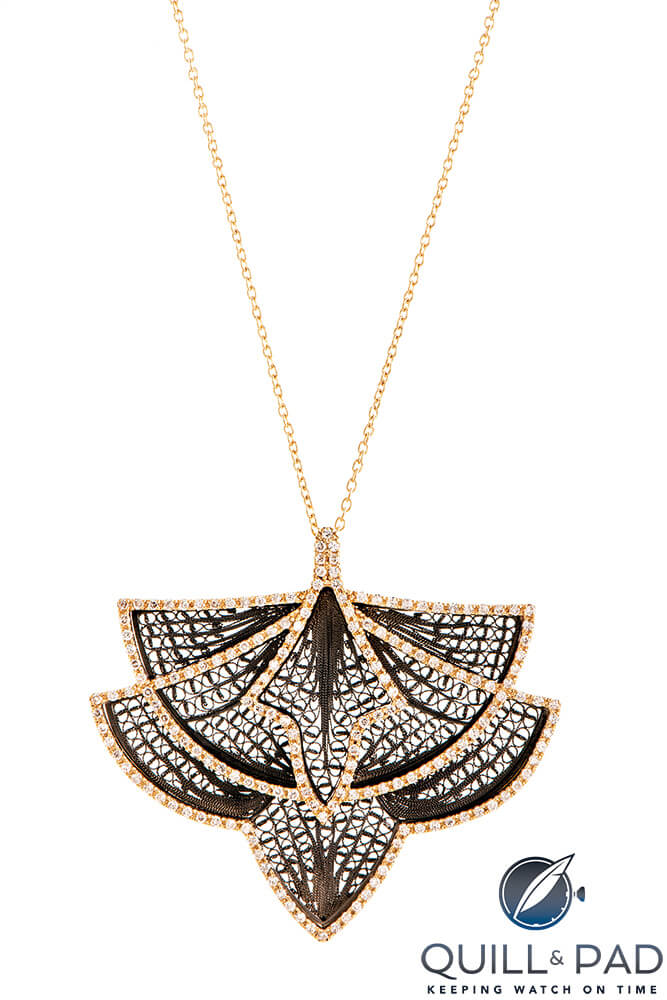 Eleuterio necklace in yellow gold and ruthenium from the Couture collection
One of Eleuterio's chief ideas is to preserve the time-honored filigree technique in its jewelry, which is now being exported to the rest of Europe in a more contemporary form thanks to the pioneering spirit of the founder's two grandchildren, Luis Antunes and creative director Rosa Antunes.
Filigree sees gold stretched into long, lean wires which can be as thin as a human hair. These golden threads are then bent into decorative, often floral-like shapes resembling latticework.
While filigree was historically used only with yellow gold and silver, the more recent idea of the Antunes siblings was to utilize other gold colors as well as adding diamonds and other precious stones to the mix to make their jewelry more contemporary and more distinctive than tradition alone would have it.
The Eleuterio jewelry I wore at the 2016 GPHG
Luckily for me, I was given the chance to wear some of Eleuterio's stunningly beautiful jewelry for the biggest night in watchmaking, the 2016 edition of the Grand Prix d'Horlogerie de Genève.
The author at the 2016 Grand Prix d'Horlogerie de Genève with Eleuterio necklace visible
I borrowed a set of matching earrings and necklace from Eleuterio's Couture line, which the brand itself describes as its "iconic line." These are crafted in yellow gold with some of the latticework parts PVD-coated with ruthenium. The necklace is set with 177 diamonds, while the earrings contain a total of 344 diamonds.
Eleuterio filigree Couture necklace and earrings as well as the Heritage ring
The yellow gold ring I chose to wear comes from the brand's Heritage line and it is set with 57 diamonds. The Heritage line showcases the traditional Portuguese touch a bit more than the Couture line does.
Eleuterio filigree ring in yellow gold with diamonds from the Heritage collection
One huge advantage to the filigree technique is that the jewelry is not heavy to wear — think of it almost like a watch movement or dial that is skeletonized in terms of weight.
It looks solid and elegant, but it is actually very light to wear.
Eleuterio earrings in yellow gold and ruthenium from the Couture collection
Because of this — and because of the absence of large stones like last year's Chopard jewelry had — I thought no one would really notice the jewelry much. But I was entirely wrong! I received many compliments during the celebratory evening; people did indeed notice. People of taste, I'm happy to add.
You may also like The Most Glamorous Night In Watchmaking: The Chopard Jewelry I Wore To The Grand Prix d'Horlogerie de Genève 2015.
To accompany me on one of my 2016 excursions to Portugal, see You Are There: HYT, Alinghi, And The Extreme Sailing Series In Lisbon.
Quick Facts Couture Earrings
 Material: yellow gold filigree with ruthenium PVD
 Gemstones: 344 white diamonds (1.72 ct)
 Price: €8,940
Quick Facts Couture Necklace
 Material: yellow gold filigree with ruthenium PVD
 Gemstones: 177 white diamonds (0.90 ct)
 Price: €5,200
Quick Facts Heritage Ring
 Material: yellow gold filigree
 Gemstones: 57 white diamonds (0.40 ct)
 Price: €2,570