---
GFX 50R: Fujifilm's new compact & lightweight medium format camera
The just announced Fujifilm GFX 50R is a rangefinder-style medium format, mirrorless digital camera that follows in the footsteps of the GFX 50S released back in 2016.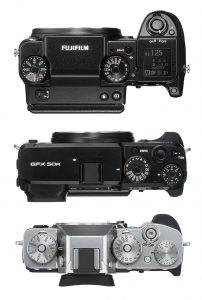 GFX 50S (top) GFX 50R (middle) X-T3 (bottom)
The GFX 50R features the same 51.4MP G Format CMOS image sensor and X-Processor Pro image processing engine as its bigger brother, but somehow Fujifilm has been able to fit it into a body that is more similar in size to the newly announced X-T3 camera than the GFX 50S.
By eliminating the deeper grip, top mounted LCD screen and hump on the back of the 50S, Fujifilm has been able to reduce the overall size (66.4mm vs. 91.4mm) and weight (775g vs. 920g) of the 50R by about 27% and 16% respectively.
The body is constructed out of magnesium alloy and is weather-sealed in 64 places offering a fair amount of weather and dust proofing.
With the 50R, Fujifilm has moved back to the dial system for controlling camera functions as found on most of their X-Series cameras.
---
TTL Contrast AF is available in Single Point, Zone and Wide/Tracking modes and offers up to 425 focus points (in Single Point mode) as well as six different focus size areas.
Face/eye detection is also available with the ability to give priority to either the left or right eye.
There is also a focus level on the back of the camera allowing you to move the focus area in eight different directions without having to look away from the EVF.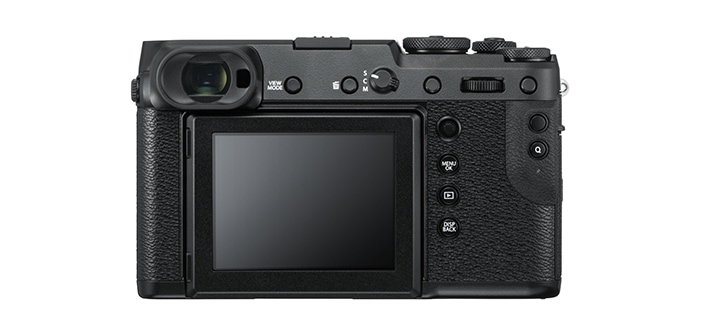 Continuous shooting possible at up to 3fps when shooting in JPEG, or up to 8 fps in RAW and up to 13 fps in compressed RAW.
In terms of video, the 50R is capable of capturing up to Full HD 30p for up to 30 minutes, but really, people aren't going to be buying this camera to shoot video. Still, it's a nice feature to have in a pinch…
Click here to read Spencer Wynn's first impressions and see the images he shot with the GFX 50R.
You'll also have access to 15 of Fujifilm's stellar film simulation modes when shooting in either photo or video modes.
In first for the GFX line, Bluetooth connectivity has been added in addition to Wi-fi. This means that you'll be able to pair the GFX 50R with Fujifilm's free camera remote app on your smartphone or tablet.
The Fujifilm GFX 50R is expected to hit stores around the end of October and retail for around $5700.00 CDN.
---
FUJIFILM made history with the launch of the GFX 50S. And now, with the launch of the GFX 50R — a medium format mirrorless camera that delivers premium imaging quality in a lightweight rangefinder style body — FUJIFILM is shaping the future of history.
---
FUJIFILM GFX 50R Key Features:
51.4MP Medium Format 43.8 x 32.9mm sensor for superior sharpness and image quality
 for all photographers
FUJIFILM G Mount with short flange back distance of just 26.7mm
X-Processor Pro imaging processor
Weather- and dust- resistant; operation to as low as 14 degrees Fahrenheit \ -10
 degrees Celsius
File formats include three different JPEG settings (SUPER FINE, FINE, NORMAL), as
 well as two different RAW settings (uncompressed, compressed). TIFF output is also
 possible with in-camera RAW development
Full HD for Movie Mode: 1920x1080 29.97p/25p/24p/23.98p 36Mbps, in Film Simulation
 modes
Lightweight body weighs approximately 27.3oz. / 775g
LCD Monitor
3.2 inch, aspect ratio 4:3, approx. 2,360K-dots; tilt-type (two direction), touch
 screen colour LCD monitor (approx. 100% coverage)
Uses SD Cards (UHS-II recommended)
Equipped with dual slots
Uses NP-T125 high capacity battery for approximately 400 photos (with Auto Power Save ON)
All FUJINON GF Lenses are dust- and weather-resistant, built to withstand operation at temperatures as low as 14 degrees Fahrenheit \ -10 degrees Celsius allowing photographers to take them outdoors with confidence in challenging weather conditions.
Bluetooth® Ver. 4.0 low energy technology