---
Top Read for 2018: "The Transformational Consumer"
Tara-Nicholle Nelson wants to save you from your soul-less marketing.
The intervention starts with you rethinking what you sell.
Because if you market apparel, you probably think you sell clothes. If you're a realtor, you think you sell homes. If you work in SaaS, you think you sell software.
But actually, you don't sell products. You sell transformation.
That's the premise of Nelson's new book, The Transformational Consumer: Fuel a Lifelong Love Affair with Your Customers by Helping Them Get Healthier, Wealthier, and Wiser.
Huge, influential and lucrative — Transformational Consumers spend $4 trillion on life-improving products annually — this demographic is sure to have an impact on your business in 2018 and beyond.
You don't sell products. You sell transformation. Click To Tweet
Nelson's new book gives you an insider's guide to this self-aware and self-actualizing consumer.
Packed with original research, deep consumer insight and change-management wisdom from a marketing superstar, the slim volume is essential reading for entrepreneurs, business leaders and content marketers of every stripe.
"Transformational Consumers see life as a never-ending series of projects to help themselves and their families become healthier, wealthier, and wiser." ~ Tara-Nicholle Nelson
Meet The Transformational Consumer
Nelson defines Transformational Consumers as people who "see life as a never-ending series of projects to help themselves and their families become healthier, wealthier, and wiser."
Could be weight loss. Financial solvency. Professional certification. Or maybe getting a grip on anxiety. Or "firing" a toxic boss.
The Transformational Consumer, observes Nelson, is defined less by what she buys and more by why she buys it. Her customer journey — and her life — is marked by a string of "personal disruption campaigns" — behavior-change projects aimed to shift her life for the better.
But wait. You already know this person.
Nelson's book includes a comprehensive chapter that deep-briefs you on the Transformational Consumer.
Chances are, you already know this person.
She's that coworker who's into Crossfit. The one who takes a coding class Tuesday nights and knows all the best paleo cooking blogs.
He's your cousin who's addicted to Tim Ferris podcasts, uses the Simple app for banking, and has a side gig reviewing microbreweries.
She's you, the content marketer. Always on the prowl for non-echo chamber blogs and books, conferences, courses and meetups that help you hone your craft, grok your customer, craft powerful content and imbue your work with meaning.
Five Surprising Facts about Transformational Consumers
Nelson partnered with research technology platform Qualtrics to survey 2000+ customers and uncovered a number of fascinating factoids.
Transformational Consumers…
1. Make up 50% of all US consumers. A full half of all respondents to Nelson's survey reported using digital or real-life products several times a week to achieve a range of health, finance, career or personal development aims. This is not a niche demographic.
2. Are Early Adopters. Transformational Consumers continuously identify specific, positive change they want to make in their lives. They know it involves changing behavior and habits — which is doable, but hard. Transformational Consumers eagerly seek out and try new products, services and content that promise to make change easier.
3. Experiment enthusiastically. Transformational Consumers embrace new ideas, technology and products. They're ever on the lookout for products and services that make their journey to wellness, well-being and financial freedom more inspired, insightful and fun.
4. Influence the buying behavior of others. Known for their change-quests and experimentation, Transformational Consumers are the go-to source for friends, family and coworkers. People follow Transformational Consumers for information, opinion, recommendations and products.
5. Are loyal and evangelistic when they find a product, service or app that genuinely helps them move forward toward their goal, eases them past resistance, awakens consciousness, and unlocks new possibilities for their lives.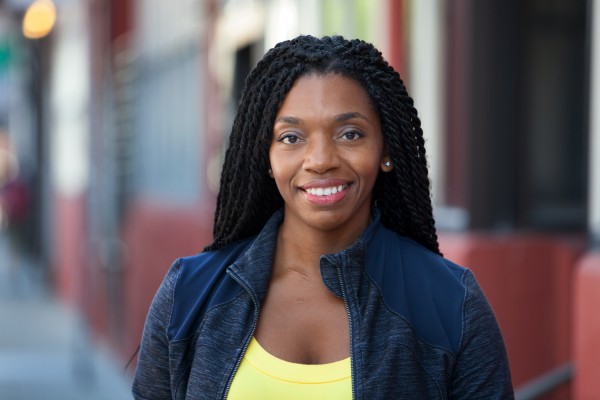 Teen Mom Turned Entrepreneur: Nelson's Own Transformational Story
Nelson is uniquely qualified to explain the wiles and ways of Transformational Consumers. She's been marketing to them — with insane success — for the last 20 years.
A serial entrepreneur, Nelson held key marketing positions with brands that include Trulia, MyFitnessPal and Under Armour.
As MyFitnessPal's VP of Marketing, she helped the company grow from a scrappy startup with $18 million in Series A investments, to a company with a valuation of $475 million when sold to Under Armour.
During Nelson's tenure, MyFitnessPal doubled its app user base to 100 million over an 18-month period. Her customer-centric content increased engagement by 22%.
Nelson shares an engaging, glass-half-full positivity in telling her personal and professional story. A mother at age 17, she finished college in three years, zipped through post-grad studies in psychology and went on to law school, while supporting herself as a personal trainer.
Early in her career as a lawyer, Nelson found herself defending bad-apple realtors. In an "ah-ha" moment, she realized she could do a better job selling homes than her crooked clients.
She promptly switched from law to real estate sales.
A House is not a Home: Uncovering Customers' Hidden Motivations
While working with would-be homebuyers, Nelson noticed a repeat phenomenon.
Clients "didn't want houses. They wanted lifestyle design," observes Nelson. Buying a home was more than a transaction for many. It was a symbol of and means to positive change in their lives, careers, businesses, finances and relationships.
But as they navigated home buying, clients often made poor choices and took actions that led them in the wrong direction.
To help move clients over the home-buying humps and hurdles, Nelson began creating educational tools. She required all clients to walk through the materials with her before she'd show them a home.
Results were dramatic. Clients went from making six or seven offers before they'd get a home to making two or three.
Nelson expanded the curriculum into seminars and a book that led to consulting work at HGTV and an in-house position at online realtor, Trulia.
Engagement requires laser focus on customers' and coworkers' humanity. Click To Tweet
What Would Happen If You Stopped Shilling Product?
Nelson's experience building blockbuster brands gives her unique insight into the secret sauce of successful enterprises.
She boils it down to a single ingredient: engagement.
Nelson believes "…any company of any size in any sector will be successful if it repeatedly engages two audiences: customers and employees."
But hooking and holding the interest of your customers and workforce requires a shift in corporate mindset. A rethinking of who you sell to, what you sell, and why you sell it.
It means laser-focusing on your customers' and coworkers' humanity. And evolving from a product-first culture to a problem-first culture.
As Nelson explains it:
Product-first companies stake everything — their entire identity, R&D pipeline, offerings, marketing and internal cultural narratives — on their products, product features, benefits, pricing and function.
Problem-first companies fixate instead on solving a problem for a particular audience or segment. The company's institutional knowledge is focused on knowing everything possible about the problem their customers seek to solve. These companies also dig deep to get inside the heads and hearts of their teams, the people uncovering customer problems.
Why Product-centric, Mad Man-era Marketing Fails Miserably Today
Back in the Don Draper heyday of advertising, product-first marketing made sense. When Sterling Cooper pitched "Pass the Heinz," only two or three catsup brands existed.
Today thousands of catsups — branded, generic and local Brooklyn-sourced artisanal varieties — elbow for shelf space.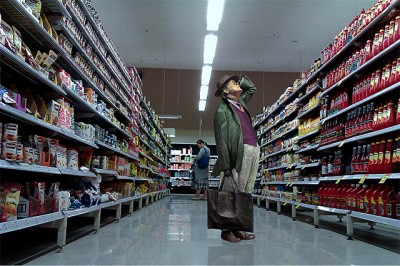 Your customer has near-infinite product choice. And she's bombarded with ceaseless marketing messages touting every one.
Ironically, the same technology that supports this content deluge also empowers your customers to shut it down.
The Real Reason No one Engages with Your Product-focused Marketing
The Internet's omnipotent search engines, mind-reading algorithms and vast, endless store of intelligence have created the most informed, opinionated and empowered shopper in the history of commerce.
Unfazed by product-focused marketing, she makes buying decisions in her own idiosyncratic way — with lots of content touchpoints along the way: Product comparisons and reviews. Forums. Free shipping options. Social communities. Bookmarking applications.
Independent-minded and possessed of a finely tuned BS meter, she turns a jaundiced eye to corporate-crafted brand stories. She writes her own narrative. With herself as the hero.
As with all Hero's Journeys, the Transformational Consumer's adventure includes twists, bumps and quicksand bogs. Your job is to find out what they are and how you can help her deal with them.
How will you help her sail past the obstacles? Empower her to get unstuck? Ease and enliven her journey?
Your answers define your content strategy.
3 Critical Reasons to Read The Transformational Consumer
Given the spate of bookmarked 2017 content marketing roundups, books and blog posts waiting for your eyeballs, why make The Transformational Consumer a New Year reading priority?
Three reasons:
1. Shift happens. Faster than you think. The rise of Transformational Consumers coincides with technological innovation. Technology's pace is not constant. Increasingly supported by AI and machine learning, tech is snowballing faster than we can comprehend. Wait But Why blogger Tim Urban notes "It's most intuitive for us to think linearly, when we should be thinking exponentially…. In order to think about the future correctly, you need to imagine things moving at a much faster rate than they're moving now."
2. The Transformational Consumer demographic is growing. As disruptive technology gallops apace, the number of Transformational Consumers will only increase. Currently comprised of more than half of all US consumers, these people are a marketing force to be reckoned with. If you're not doing business with them now, you will be soon. Or you won't be doing business.
3. Nelson validates what you already know. The author and veteran marketer is clear that disengagement "is not a digital issue. Digital did not cause it…. This is a human issue. And the solutions? They will be human, too." As a content marketer, you get this truism. It's why you've chosen to craft useful content tools instead of 30-second spots. Nelson's book validates what you already know and practice: customer-focused, human-centric marketing.
What's on Your 2018 Reading List?
Will The Transformational Consumer be on your New Year Reading List? Where will it sit in the roster? What else do you plan on reading? Please share in comments.