---
One Facebook Hack You Can Start Today In Your Financial Planning Business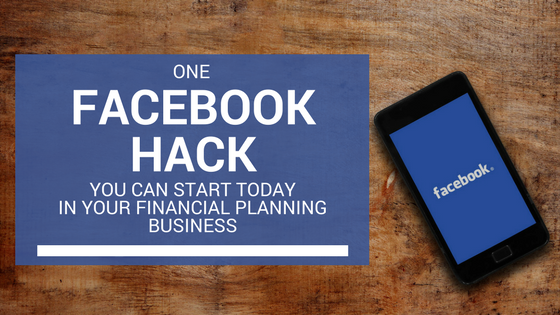 If you're a financial planner who needs new clients, you can't go past the opportunities that Facebook provides.
Have a think about this:
50% of consumers access social media daily.
SocialMediaNews.com.au put out a report in September 2015 where they estimated there were 14m Australian users
Sensis estimate that only around 31% of Australian small to medium businesses actively operated a social media engagement strategy.
The average user spends around 8.5 hours per week on Facebook.
Your clients are probably on Facebook. Regularly.
Many small businesses are not.
If you're not actively marketing to your potential clients (and existing clients) on Facebook, someone else probably is.
Where to Start
The problem for most financial planners is that they don't know where to start with their Facebook Marketing.
There are many financial planners who have set up Facebook Pages for their small business, but don't know how to use it.
They lack a clear marketing plan that shows them how a Facebook Page fits in with their overall financial advisor marketing strategies.
So you've got a Facebook Page, you want to use it to market to new prospects, but you don't know where to start.
Start Doing This One Thing Today
Ask your clients to Check-In to Facebook when they visit your office.
It's that simple. One thing. A Facebook check in.
You probably do this already when you're out socialising. Maybe you're out for a dinner and you check-in to the restaurant. A couple of weeks ago my family went to a show at the Adelaide Fringe and I checked in to the show on Facebook. I've done it at sporting events.
When you check-in, it shows up in your activity feed. So all your Facebook friends see it.
When a client checks-in at your business, all their friends see it. And chances are that some of their friends are at a similar stage of life and could also benefit from financial advice.
Now, you may not want to ask a brand new client to check-in, but for existing clients who are happy with your business, it should be a no-brainer.
How To Make It Happen
Whilst many people will regularly check-in when they're at restaurants or in other social settings, they may not think about doing it when they're visiting their favourite financial planner. So here's some ways to make it happen.
Put a sign up in your waiting area or interview room asking your clients to check-in to your business on Facebook and also to follow your business on Facebook.
Some people will check-in while they're waiting for you.
As part of your interview with them, let them know you have a Facebook Page that they can follow and politely ask them if they'd check-in to your business.
Explain that you're looking to use Facebook and the power of people's social networks to reach out to potential new clients. Explain to your clients that when they check-in, their friends will see that activity.
You probably already have a part of a review interview where you look at the area of referrals with clients. This is just an extension of that concept.
An Extra Tip To Make It Better
When a client checks-in at your business, 'Like' the status using your business Facebook Page, not your personal account. Everyone loves getting feedback on their Facebook posts and this is one way to facilitate that.
If you want to go even further, leave a comment as well and thank them for coming in (without disclosing any details of what you talked about).
So then not only will their friends see that they've been to visit your business, but they'll see how proactive your business is in responding.
Do This Now
Don't put this off! This is the simplest strategy you can do to get your business in front of suitable prospects on Facebook.
All you need to do is ask people to take an action and check-in.
Start doing this today. In your next appointment with an existing client, ask them to check-in to your business and see what happens.
When you've done this, leave a comment below and let me know how it went. I reply to all comments.
What other tips do you have for promoting your business on Facebook? Leave a comment and let me know what works for you.
And if you found this article valuable, please hit the 'share' button.
 If you'd like to learn how to use Facebook to market your financial planning business, take a look at our online course — Facebook for Financial Advisors and use the coupon code 'Linked20' to get a 20% discount.