---
A guide to visiting Barcelona, Spain
Thinking of heading off to Barcelona? It is an amazing city. We were thoroughly impressed. In my opinion, the two most incredible things to do in Barcelona were the Sagrada Familia and The Palau de la Música Catalana. You will see many pictures of both here. I also really enjoyed the cable car ride from Barceloneta to Montjuïc as it showcased an incredible view of the city.
As a side note, the first leg of our trip was to Mallorca. You can read all about our trip to Mallorca here.
If you are considering planning a trip to Barcelona (or any European city for that matter), I would HIGHLY recommend utilizing Rick Steves' book: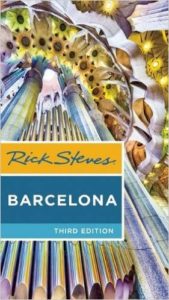 We utilized his other books for Athens, Rome, and Florence…and he didn't let us down in Barcelona either. Side note: make sure to get the most updated version as prices, hours, etc. of attractions are constantly changing. We have already purchased his "Paris" book for our upcoming trip later this month. His books are a great way to figure out an appropriate length of time to spend in each city as he rates the attractions, creates "walks" to link them together and even proposes itineraries. Obviously, no amount of time is enough, but if you aren't planning on moving to Europe, his book will certainly be worth the price!
We stayed at the Hotel Catalonia Square which was very close to the Plaça de Catalunya — the main hub area for the city. The hotel in particular was fabulous as it had a daily "snack" available from 2–11pm that was basically a meal. I would definitely stay there again.
Now onto the sights… On the first day we did some venturing around Barcelona and checked out the The Palau de la Música Catalana. This was beautiful. If we go back to Barcelona, we will definitely look into going to a concert there. Here are some pictures.
Next on the list of things to do in Barcelona was to visit Antoni Gaudí's masterpiece the Sagrada Familia. This was one of THE COOLEST places I have ever visited, although it is not actually completed yet. A lot of churches start to look the same after a while, but not this one! Wow. The goal completion for the Sagrada Familia is in the year 2026, but they seem to have a ways to go… definitely means Barcelona will be back on the list to finish when they do though.
Here are some still shots from this incredible basilica.
Here is some additional fascinating architecture from walking around Barcelona.
No trip overview of things to do in Barcelona would be complete without some mention of food and drink. Our favorite stop was Tapas 24 — we actually went there twice. The sangria there was made with Lemon Fanta instead of the typical orange juice. We each had about 6 haha — yum!
The last full day we were in Barcelona we took a cable car from Barceloneta (the beach area) to Montjuïc. The views from the cable car were absolutely incredible.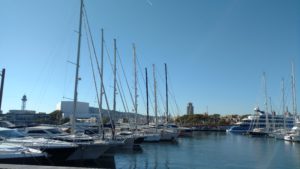 Once we made it to Montjuïc, the views were incredible there as well.
We also visited Antoni Gaudí's outdoor masterpiece — Park Güell. It was a bit of a taxi ride away (we went from one side of Barcelona to the complete opposite)… but totally worth it!
Overall, if you are looking for things to do in Barcelona — there are plenty! It was an awesome place to visit for sure. I am looking forward to going back eventually, especially to see the completed Sagrada Familia. Remember — if you are planning your own trip, you should definitely do it it with the help of Rick Steves' book. Grab it here. Happy travels!
If you enjoyed this article I would love for you to give it a "like" and/or leave me some comments! You can also check out my blog at www.beaUTAHfulworld.com and subscribe to my list to get some awesome travel tips and never miss a post.
And while you are traveling, you might want to bring some books. Check out these:
Currently reading: "The Secret" by Rhonda Byrne
Currently listening to: "How to Win Friends and Influence People" by Dale Carnegie