---
Let's talk about garlic. Well, if you love to cook, or even just to eat, you know how important the flavor garlic gives. It is probably the most used spice/herb when it comes to cooking.
It is used almost in every dish. But the question is how long does garlic last? Do they even go bad?
The answer actually depends on the way you store it. Here are 5 Wonderful Ways of Storing Garlic.
How Long Does Garlic Last? 5 Wonderful Ways Of Storing Garlic
1. STORING FRESH GARLIC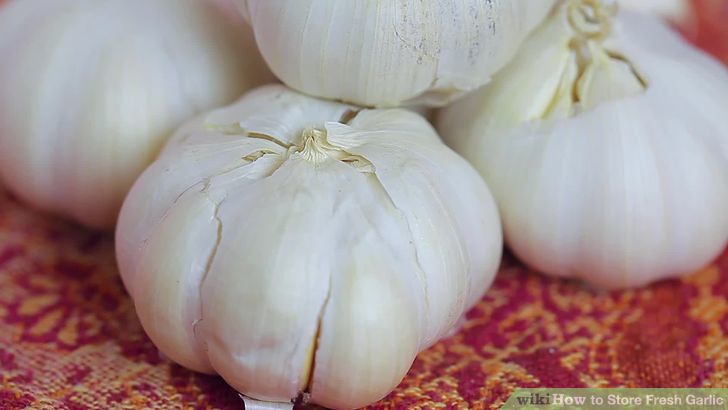 Storing Fresh Garlic Via wikihow
This is one of the simplest and most common ways of storing garlic.
If you want to just have a couple of pieces of garlic lying around in your kitchen, it can last for about 2 months.
But if you start getting pieces of cloves, the life of your garlic will be shortened with just a week long.
NOTE: DO NOT PUT YOUR GARLIC IN THE FRIDGE. Because once you put it in the fridge, it will then start to get moist and mold. That is why you should avoid buying garlic in the refrigerator section of your supermarket since these are no longer fresh.
DID YOU KNOW: (According to the G arlicFarm) It is best to buy garlic in early October since farmers sell out their top quality garlic during this season of the year.​
2. STORING HOMEGROWN GARLIC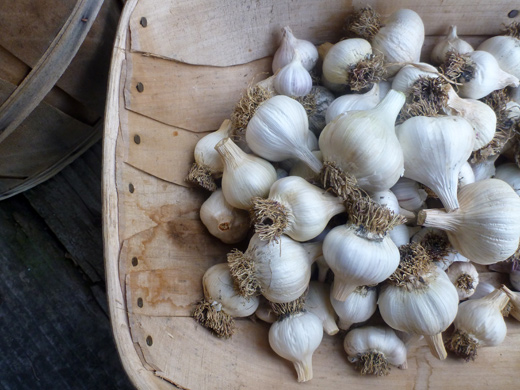 Storing Home Grown Garlic Via gardenbetty
If you want to know how to grow garlic, watch this simple video
How to Grow Garlic Via DIY Home and Garden
Harvest your garlic when they already "fresh and firm". This is one of the most important aspects because the fresher it is, the longer it will last in your kitchen.
If your garlic is soft, it won't last long, but you can still that same day.
Wash the recently harvested garlic and dry them. This will allow your garlic to develop its flavor.
Some people hang their garlic to a moist-free room to ensure that the flavor of the garlic will stay.
NOTE: Never try to place your garlic inside a plastic bag and containers because just like in the fridge, it will also start to mold. And KEEP IT AWAY FROM THE RAYS OF THE SUN. It is best to keep them in your cupboards since it is dark.
3. FREEZING GARLIC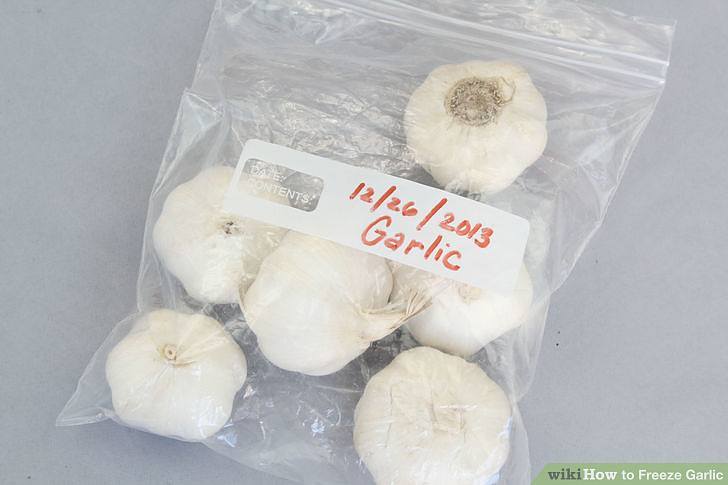 Freezing Garlic Via wikihow
This another way of storing garlic is not-so-liked by many since freezing your garlic removes a little flavor from it and it also changes the garlic's texture.
You can begin with freezing your garlic as a whole. Just make sure they are unpeeled and then you can wrap them all up with an aluminum foil.
Another way of doing this is by peeling it or chopping it, and then putting it in an ordinary plastic bag or a freezer bag, works both ways.
4. ROASTING GARLIC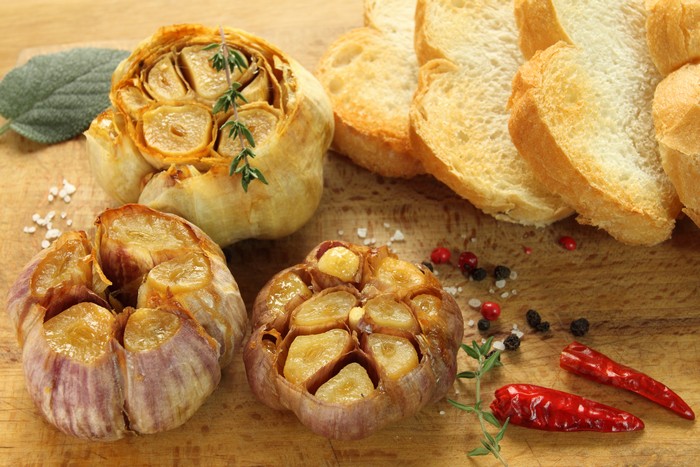 Fresh roasted garlic with olive oil and spices.
Roasting garlic is not as difficult as they may say. You can simply just slice thin pieces of the garlic and put them in the oven for approximately 1–2 hours and voila, you have your roasted garlic.
But this is just the roasting part, once you have your roasted garlic; you are now ready to store them
Keep in mind that you should keep your roasted garlic DRY in a tightly sealed container.
It will last for years. (No kidding)
5. PRESERVING WITH VINEGAR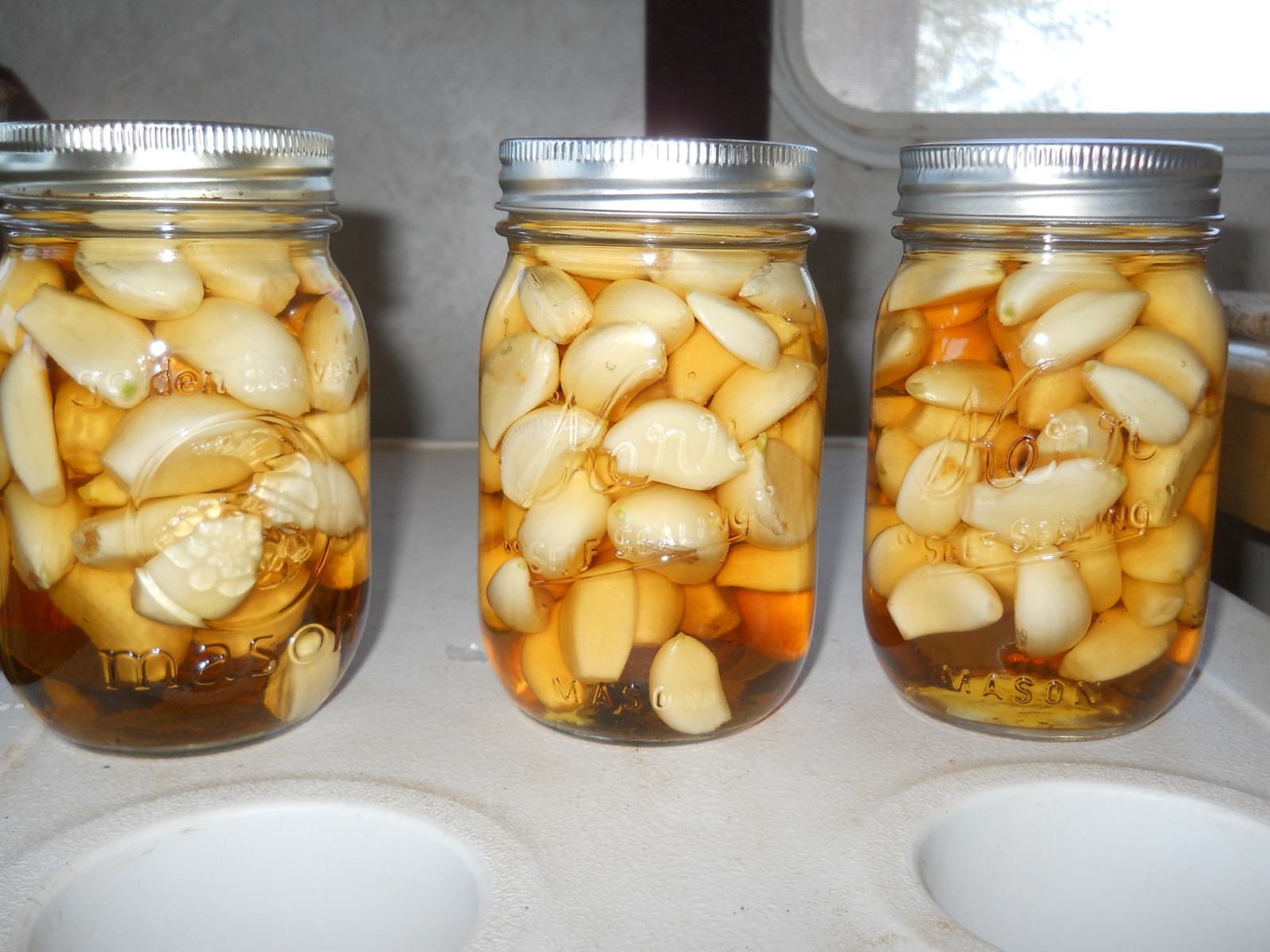 Preserving Garlic With Vinegar Via siffordsojournal
Here is a sample video of preserving garlic in vinegar.
Garlic Storage (Tasty Tips & Tricks) Via Momma Melly
This process of preserving is also known as "pickling garlic".
This way of storing your garlic is very simple. You can begin with getting cloves of garlic and placing them in a jar or glass with cap so that it can be tightly sealed and no amount of air can come in
Next is putting wine or vinegar to preserve it. You can use regular vinegar or even an apple cider vinegar for this process. Either way, the come out will be just the same.
And finally, after making sure your jar of garlic is completely sealed, you can now put it in the fridge and it will last for approximately 4 months.
To help you out even further, here are the different kinds of garlic you can choose from; it wouldn't hurt to learn a little more information right?
NAME
DESCRIPTION
1. Hardneck Garlic
This type of garlic is said to have the most flavor. It is also the kind of garlic that has fewer but larger cloves
2. Softneck Garlic
The soft neck garlic is commonly used in garlic powder and has 9-month storage life. This is also the kind of garlic that can be found in the countries with warm weather
3. Creole Garlic
Compared with the other kinds of garlic, this is the only one who has pinkish-purple color. This garlic is also not very common in most countries which makes it very unusual
4. Black Garlic
The origin of this garlic is still unknown. Despite the color, it has the common garlic taste with a hint of vinegar and is a little bit chewy
5. Buffalo Garlic
Also known as elephant garlic, this huge sized garlic is actually milder than the others but has that onion-like taste
DID YOU KNOW: Every year in New York they celebrate a Garlic Festival.​
HEALTH BENEFITS OF GARLIC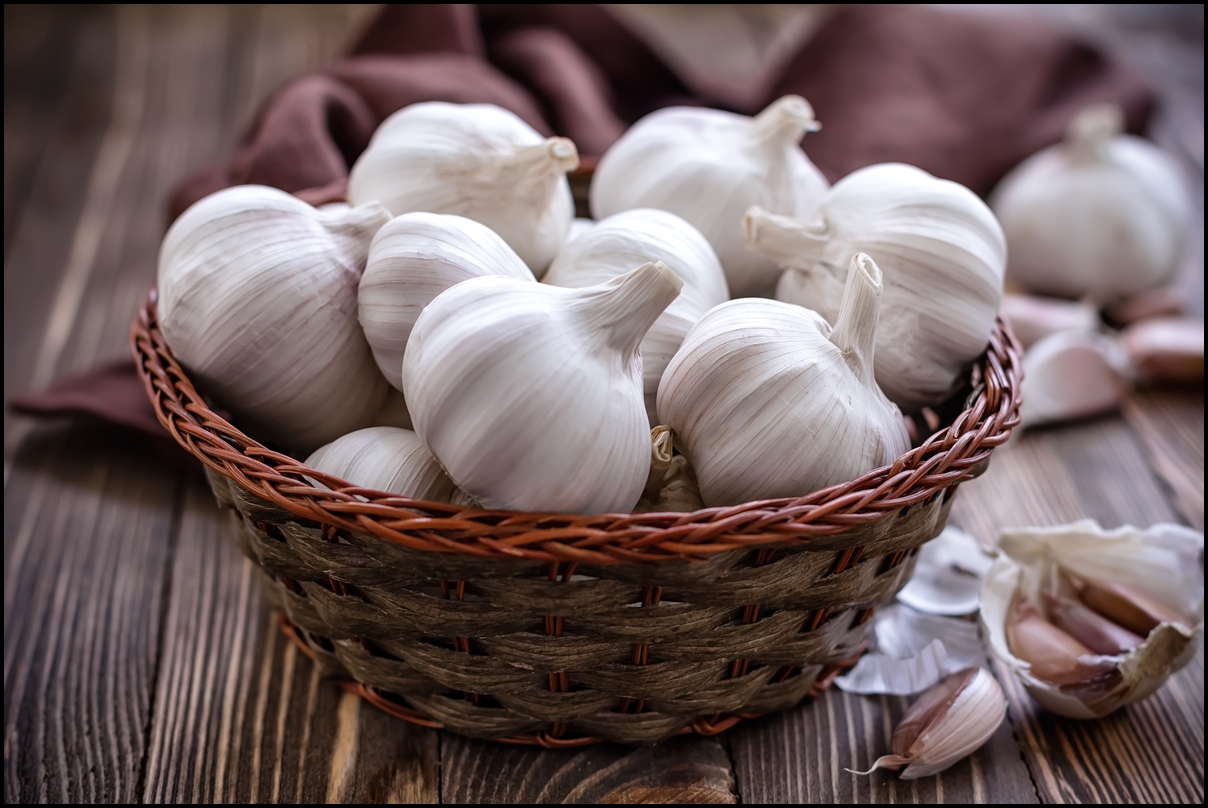 Health Benefits of Garlic Via servingjoy
According to N atural Blaze it is recommended that an adult should eat no more than one clove of garlic twice a day and that children/minors should have a half intake a day. See some of the many health benefits of garlic below:
Garlic helps out controlling infections both viral and bacterial.
Garlic can also help with the lowering of blood sugar because the garlic enhances the insulin in the blood.
Also, fresh garlic prevents and helps with food poisoning by killing the bacteria found in the food the person has taken.
If you have cancer in the family, you can prevent having one because garlic has vitaminb6 which fights any types of cancer like breast cancer, stomach cancer, and colon cancer. This is proven by the 2009 World Cancer Research Fund Review
Ingesting garlic can also reduce any cardiovascular diseases because the garlic you eat lessens up the cholesterol
Garlic also relieves toothaches because of its antibacterial properties but it can also irritate the gum which can be rather uncomfortable.
CONCLUSION
Garlic storage can be pretty easy if you follow the steps above but it can be dangerous if you make the wrong step and eat it anyways so you better make sure it is still edible and fresh.
Also, garlic intake can be both healthy and dangerous. Having too much of anything can risk your health.
Whether you love garlic or not, hope this helped you out in any simple way possible.
The post How Long Does Garlic Last? 5 Wonderful Ways of Storing Garlic appeared first on Quick Easy Cook.
Source: https://www.quickeasycook.com/how-long-does-garlic-last/
from
https://quickeasycook.wordpress.com/2017/01/13/how-long-does-garlic-last-5-wonderful-ways-of-storing-garlic/