---
The June Genealogy Blog Party: Remember the Descendants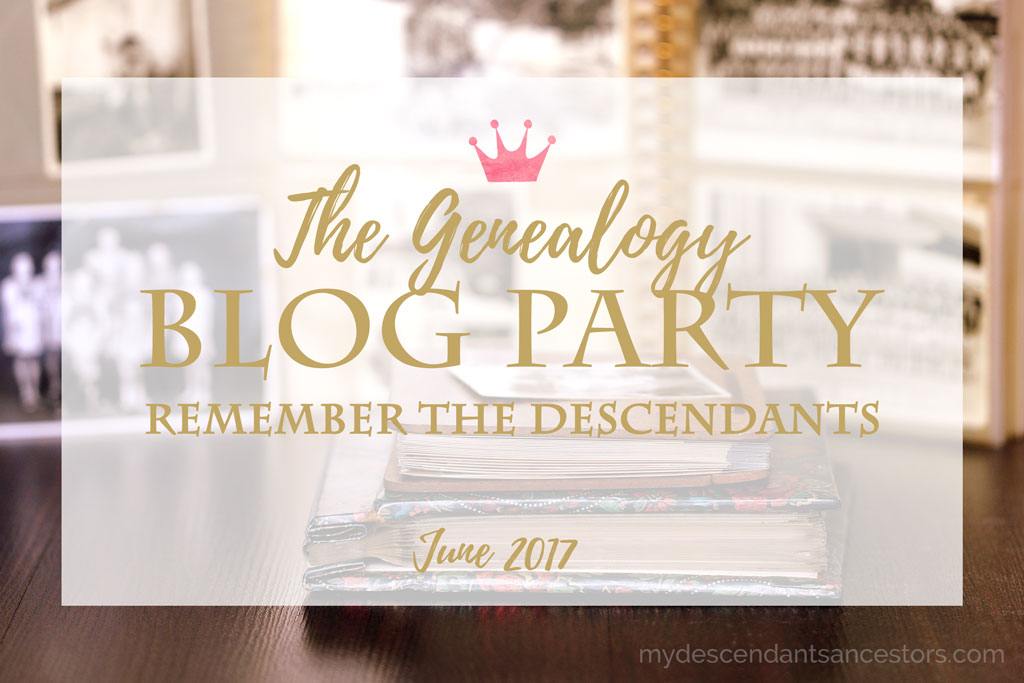 It's all about the descendants!
Whether you've been researching your family history for 3 years or 30 years, your research is precious to you. Think about how hard you've worked: the brick walls, the emails from previously-unknown cousins, the late night happy dances, What will happen to your research after you're gone?
Q: How will you preserve your family history research for YOUR descendants?
Examples include (but are not limited to):
Writing a family history book
Creating a family tree chart
Adding family photos and ephemera to a scrapbook
Saving your blog posts to print in a book
Digitizing old media (VHS tapes, reel-to-reel films, slides, prints, etc.)
If you haven't started doing any of these yet, hopefully, this will get you thinking about it!
No "direct line" descendants? Don't forget about collateral descendants, such nieces, nephews, cousins, and anyone who might come along after you're gone looking for information about your family and its history.
Ready to join the party? Visit My Descendant's Ancestors and click the blue button at the bottom of the post to add your link.
Please note that I have decided to do away with the voting. Just as each of our ancestors is unique, every ancestor story is special in its own way. I would prefer to recognize all entries in the Genealogy Blog Party equally.
Each post must include at least one image.
Want to participate, but you don't have a blog? Send me your story, and I will share it as a guest post.
Remember, you don't have to reinvent the wheel to participate.
Party Etiquette (a.k.a. The Rules):
Bring a Friend — Notify your followers of the Genealogy Blog Party by using Twitter, Facebook, Pinterest, or whatever types of social media you use.
Visit and comment on at least 3 other links in the party (more is better, of course). Why? Parties are social events, and we can't be social without talking to each other!
Follow me on social media. Links are in the footer.
Subscribe to the Newsletter. Newsletter subscribers receive advance notice of Genealogy Blog Party themes and other information.
More Information:
Read past Genealogy Blog Parties
Frequently Asked Questions (FAQs)
Grab a Badge!
Originally published at My Descendant's Ancestors.