---
Top 3 Warehouse Management Software Companies in India
Before we get you into "The Top 3 Warehouse Management Software Companies in India, you might want to check our most-read article which is available here.
Companies in all industry sectors today are under an extraordinary amount of pressure to keep their supply chains running smoothly. Moreover, there is an increasing need for a rapid turnover of goods in warehouses and distribution centers. An efficient way to assure organization and keeping a supply chain company successful is having an optimized warehouse management system (WMS).
WMS is a software suite that delivers the capability to map any warehouse structure according to the customer's specific requirements, increases the speed and efficiency of distribution processes, and optimizes internal goods movements.
Following is the list of Top 3 Warehouse Management Software vendors in India :-
Warehouse Management Syste (WMS) best suited to SMEs in India
PALMS™ Warehouse Management System
PALMS™ Warehouse Management System provides configurable Supply Chain processes required by companies to provide better customer service and control operational costs.
Highly advanced logic based stock put away, collection and intelligent direct stock movement features in PALMS™ helps dramatically control labor costs and space utilization. The solution based on its Service Oriented Architecture offers full integration to sales, purchasing, logistics and other 3rd party systems. This helps companies meet customer expectations on how they want their orders sourced, packaged and shipped. Such features make PALMS™ the preferred solution for warehouse automation and achieve faster ROI.
At the highest levels, improvement areas where Technoforte's PALMS™ Warehouse Management Application shows fast ROI can be summarized as follows:
Efficient Forecasting Algorithms ensure Optimal Inventory Positions resulting in Direct Cost Savings
Barcode, RFID and Voice Picking enabled processes for efficient & accurate material movement.
Improved Utilization & Tracking of Man Hours through live monitoring dashboards.
Faster decisions improving the ROI of overall SCM Operations.
Empower the business through increased access to holistic, consistent enterprise information
Improved business performance, increased profitability, streamlined operational efficiency and proactive management of regulatory compliance
To Learn More visit www.onpalms.com
Falcon Warehouse Management System
FalconWMS is an enterprise grade advanced warehouse management system that provides seamless visibility of inventory from the time it enters the warehouse until it leaves the facility. FalconWMS focuses on increasing productivity, maximizing efficiency, improving inventory accuracy and reducing costs. With its low TCO compared to its peers, FalconWMS delivers a quick ROI.
FalconWMS supports multi-site warehousing using Barcode and Radio Frequency (RF) technologies. This suite covers all significant warehousing activities such as receiving, putaway, inventory management, multi-UoM conversions, cycle count, kitting, order fulfillment, quality control, location planning along with picking, checking, packing and shipping.
Seamless integration with all major ERP's, modular design and configurable mechanism helps setup system and perform go-live at reasonable time.
Key Benefits
Improved inventory visibility and accuracy allows for greater planning and control
Optimize resources in terms of manpower, equipment and warehouse space utilization
Efficient order processing thru optimized pick paths
Error free auto data capture with barcode and RF technologies
Controlling purchase from the material flow and ageing analysis
High availability of inventory through improved replenishment and forecasting
Improved order fulfillment, accuracy and speed
Replenishment alerts
Real-time event based integration with ERP's for synchronized data
Quick view of floor plans with aisle, rack, bay and bins and real-time inventory data through virtual warehouse
FalconWMS is developed by Inventrax — a leader in traceability solutions for manufacturing, distribution and logistics industries. Inventrax is a Vishakapatnam based company and provides a robust suite of hybrid applications with high reliability and low total cost of ownership for traceability needs in planning, execution and control stages of the business process life cycle.
ACGIL Warehouse Management System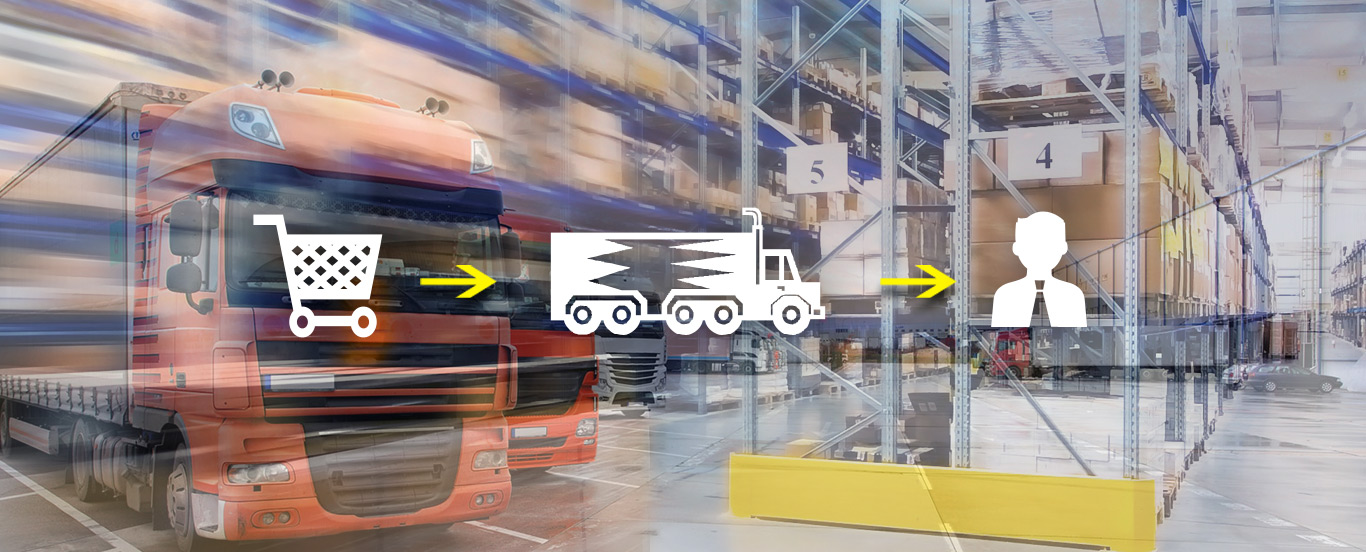 Since 1993, with headquarters in New Delhi, ACG Infotech Limited, is providing superior IT and related services to the clients all over the world for efficiently managing the implementation process of cloud based ERP, on-demand ERP, online ERP, CRM software and web application for different industrial verticals, serving domestic as well as international sectors. ACGIL brings forward an innovative and fresh approach to web & software development services, providing directly without any kind of liaison.
Warehouse & logistics management is always considered as the backbone of the company dealing in supply chain operations. With changing trends and market requirements, companies are also redirecting their businesses according to the advanced technologies. For ensuring the best possible outcomes, ACGIL offers its valuable clients the functionally integrated warehouse & logistics ERP software.
Logistics ERP Software
Logistics ERP software represents an advanced way of organizing, shipping and transportation related operations with ease & convenience. Basically, these systematically developed solutions are applicable for wholesale & retail stores, import & export sectors, service & distribution businesses and transport & shipping industries. Complex cargo processes also get planned with the use of logistics & warehouse management application.
It is a best online ERP solution for the business entities looking for managing their complex day-to-day goods management operations. With the assistance of excellent market understanding and immense IT skills, ACGIL is acknowledged across the industry as leading providers of web-based solutions.
Listed features are included while developing the solution:
Ensure effective management of stored goods.
Provide serial number tracking checks for goods to be transferred.
Transportation facility i.e, providing suitable vehicle for transferring goods.
Ensuring hassle free freight forwarding.
Offers packaging services to the goods to be transferred.
Proper listing of containers in terms of product weighing and barcode reading.
Provide built-in functionality to the internal operations so that business get automated and facilitated.
Alongwith the logistics services, ACGIL also added warehousing functionality in its ERP on Cloud system through which timely packaging, loading, pick-up and drop facility can be given to the companies. Best ERP for warehouse & logistics industry opens the way of success for the organization which in terms of improved productivity & profitability, monitoring the entire cargo movement, managing accounts & finance departments and properly optimizing shipping & custom clearing documentation procedure.
Furthermore, the preferred ERP is the process intended solution that also represents upcoming technology architecture.
Warehouse Management Software for Large Companies in India
EPICOR
Epicor was founded in 1984 and serves over 20,000 customers in more than 140 countries, providing solutions in over 30 languages. Epicor delivers end-to-end, industry-specific solutions for manufacturing, distribution, retail, hospitality and services that enable companies to drive increased efficiency, improve performance and build competitive advantage.
Epicor's WMS offers a uniquely comprehensive warehousing, supply chain management and supply chain execution solution. Without the interferences of a black box, middleware or interfaces to maintain, Epicor's WMS provides a powerful solution to address all aspects of an order fulfillment, warehousing and distribution requirements.
Epicor's WMS solution is part of the company's extensive range of SCM software — part of its end-to-end ERP solutions. Based on an industry leading service-oriented architecture (SOA), Epicor SCM is complemented by the gamut of enterprise capabilities, including customer relationship management (CRM), supplier relationship management (SRM) and supply chain execution (SCE).
NETSUITE
NetSuite Inc., provides an on-demand suite of integrated business management software services worldwide. These services include a suite of applications that provide accounting/enterprise resource planning, customer relationship management, and e-commerce software to enable customers to integrate front-office, back-office, and e-commerce management capabilities into a single platform.
NetSuite delivers its retail management solution over the Internet as a subscription service using the software-as-a-service or on-demand model, as well as through relationships with channel partners.
NetSuite is the number one integrated, web-based business software. It helps businesses manage their entire company with one complete system. This WMS includes online accounting software, enterprise resource planning (ERP), customer relationship management (CRM), and ecommerce.
SYSPRO
SYSPRO was formed in 1978 as one of the first software vendors to develop an enterprise resource planning solution. Currently,SYSPRO is a global business solutions vendor with offices on six continents and over 1500 channel and support partners.SYSPRO is an internationally recognized, leading provider of enterprise business solutions.
According to Business-Software.com, "SYSPRO's Advanced Warehouse Management System ensures that material is located correctly, delivered to the shop floor just-in-time, stored and then accurately picked for dispatch to the customer.
"With SYSPRO's WMS solution, transactions are captured at the source, ensuring accuracy of stock information. Operators can pick against a pick list, in conjunction with bar-code scanning, removing the problems typically associated with dispatch errors."