---
The Foster Mansion, Harlem, New York, 1887–1922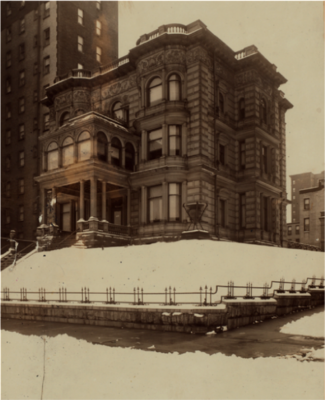 The 102–103rd Street Block Association reports that the Foster Mansion sat on the northeast corner of Riverside Drive and West 102nd Street prior to the construction of what is now 300 Riverside Drive, Harlem, New York, 1887–1922.
For some forty years, a fine residence stood on the northeast corner of Riverside Drive and W. 102nd Street. It was built from 1887 to 1888 for William F. Foster who lived there with his wife, Bertha. The architect of the brick mansion was Halstead Parker Fowler (1859–1911). Foster, was born in Taunton, England, October 11, 1841, and came to America in 1856. He invented the Foster glove fastening which he introduced to New York City in 1876, and then went on to develop a large and successful business. Earlier, he was in the glove business in Chicago but was financially ruined there by the fire of 1871. Foster died from cancer at the age of 54 at his Riverside Drive home on December 3, 1895."
The image was taken just before the mansion was demolished in 1922, and replaced by today's fourteen story and basement apartment building for which the architect was George Frederick Pelham (1866- 1937).
Photo credit: from the 102–103rd Street Block Association from Ginger Lief, archive-lover and historian here and Gary Dennis here. Via source.