---
Truth and Perspective — Laughing to the other side
I was listening to the October 27th Startalk Daily as Neil deGrasse Tyson talks to Bill Maher. During the interview, cut together with other conversations, Maher brings up some interesting points that I'm sure we have all heard in some manner before. The first is truth. The second is laughter. Looking at the second point first, there is a well recited claim that "if they are laughing they are listening, if they are listening, there is a chance that they are learning". And the first point, the truth is relative.
Looking at Truth and truth, there are many people who have spent their life examining truth and a short blog post isn't going help move the stick here. For now, we will assume that truth is related to an idea that is accepted as being fundamental to being. In order to get someone to accept your story, they need to to be able to align the ideas that they are being presented with the truth or the type of truth that they are looking for. Around the 51:51 mark, Tyson identifies three types of truth. The first being a personal truth. This is a truth of personal conviction that you would see in someone who is looking at truth in religion. This is a truth that is well, personal. Next is a political truth. This is an idea that becomes truth simply from repetition. Finally there is an objective truth that is established through repeated observation.
These truths need to then fit into a story arch. And just as there seem to be prescribed forms of truth, there are also common story lines. Kurt Vonnegut has a decent little video looking at this on YouTube, and this graphic from io9. Linked below: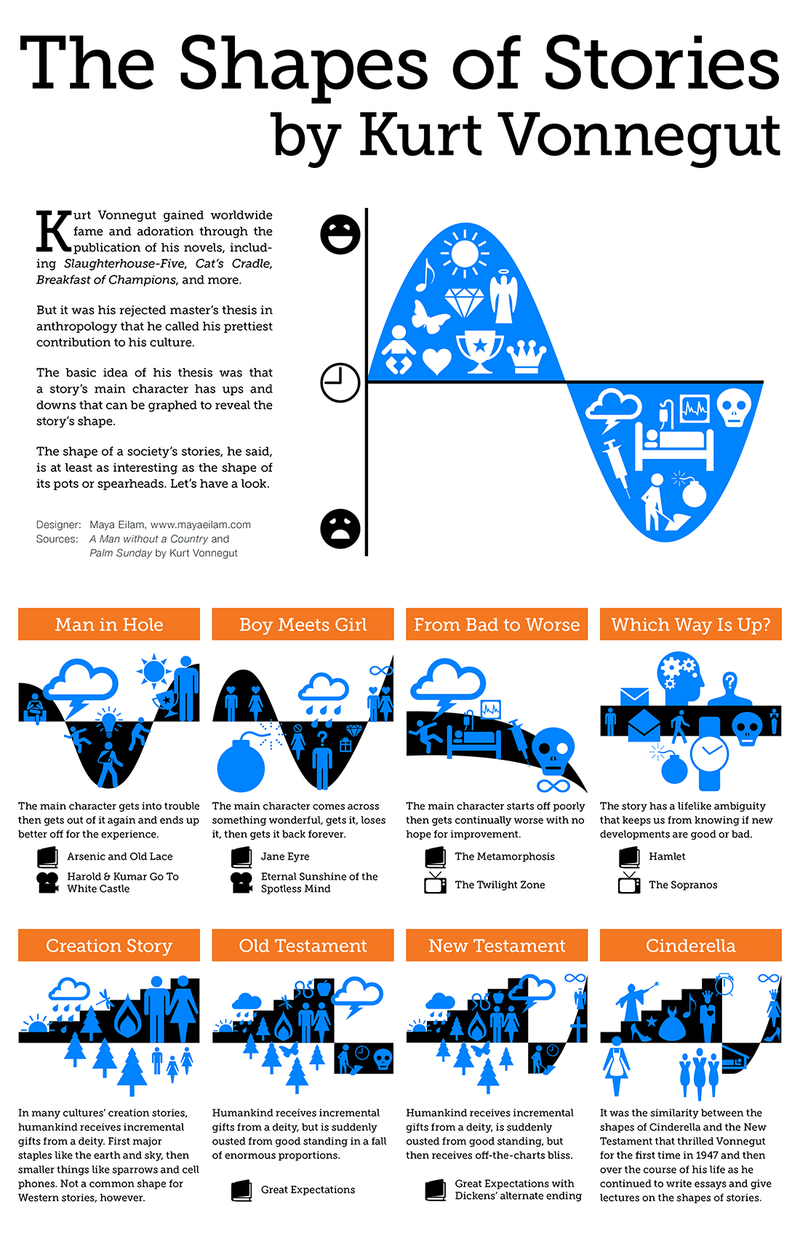 All this brings me back to an article from The Atlantic that pulled all these ideas together. And part of what kicked off my interest in the power of storytelling was this section:
"This is an active area of research," Reagan says, "and there are a lot of hard problems yet to be solved. In addition to the plot, structure, and emotional arc, to write great stories, a computer will need to create characters and dialogue that are compelling and meaningful."
If we are trying to get computers to do this, we need to understand it first. And once we can do that, once we can systematically understand storytelling, we can use it for some amazing ends.