---
8 Tools You Can Use to Spy on Your Competitors
Businesses that focus on their target audiences, ideal buyer personas and customer pain points are ahead of the marketing game. But they're still missing a crucial step to success. Failing to thoroughly investigate what your competition is doing — and how they're doing it — can leave you in the dark and in a permanent state of second place.
Fortunately, it's not difficult to spy on your competitors. Simply studying their websites can give insights into what they're doing right and wrong, and what you can do better.
Take it a step further, and go deep into your competitor analysis by searching for their backlinks, studying their email marketing funnels and researching what kind of paid and organic search keywords they're focusing on. Need some resources to get started? Here are seven tools you can use to spy on your competitors.
1. Sortd
It's no longer enough to simply subscribe to a few email marketing lists and take a cursory glance at what your competition is doing. Instead, subscribe to every email list you can find, including opting into free ebooks, cheat sheets, free challenges and training. Then, study their email sequences and cross-reference which of your competitors are already doing the same thing you are. Evaluate whether or not your material is better than theirs, and look at any weak spots where you can improve.
The downside to all of this opting-in, of course, is that your inbox will quickly swell to unmanageable proportions. Use a tool like Sortd to streamline your new subscriptions and alerts into helpful to-do lists and follow-ups.
2. SEMRush
Let your competition do the heavy lifting by performing all of the keyword research for you. SEMRush lets you spy on your competitors' blog posts, websites, and even ad keywords so you can study which ones are getting the best results. Pick and choose the ones that will be most effective for your company.
More importantly, SEMRush shows you which keyword is generating big traffic. Swiping this information can dramatically help shape the type of content you write, and what resonates best with your target market.
3. Social Mention
Eavesdropping on social media is a popular way to see what your competition is up to. However, you'll have to do more than scroll through Twitter feeds and Facebook pages. Social Mention can take the keywords you're looking for and show you exactly what's going on with the conversation in social media and how it's trending.
For example, if your company is interested in selling more content marketing services, Social Mention can show you who is talking about those services already. You'll see the strength of the topic and how it's performing, its reach and even how passionate people are about it.
4. Quick Sprout
Quick Sprout's competitor analysis tool sheds light on sites similar to yours to help you shape your strategy on how to outrank them in search results. Get insights on their estimated traffic scores, SEO scores and social network shares to see which businesses are truly your competitors.
In addition to looking at your competitors' content and social shares, pay attention to areas like their speed scores to find out if they could be crushing you. Forty-seven percent of consumers want a web page to load in two seconds or less, and 40% will abandon a site that takes more than 3 seconds to load. If your competitors' sites are twice as fast as yours, it's time to rethink your website optimization.
5. Monitor Backlinks
See who's linking to your competitors with Monitor Backlinks to enhance your SEO while improving your search reach. Monitor Backlinks will also monitor your competition whenever they get new, quality links with SEO value. That could give you clues as to who might backlink to your own business and already has an interest in your products and services. This is an invaluable tool when you're conducting a competitive link analysis.
Monitor Backlinks will also instantly alert you when backlinks to your own site are posted. This way you can actively engage with that blogger or publication, build new relationships and share the content. Alternately, you can also see if your links are removed so you can keep up with the ongoing changes in your own content marketing efforts.
6. Import.io
Websites are no longer just tools for advertising products and services; in reality, they're gold mines of data. Use the tool import.io to extract data from web pages, and use the information for price monitoring, lead generation and market research.
Fortunately, you don't have to extract and process the data one website at a time for each competitor. Set up your import.io dashboard to grab data from thousands of URLs at once to get a big picture idea of what your competition is doing and how they measure up.
7. Similar Web
Get a glimpse of your competitions' online marketing strategies with Similar Web. Hop on your Similar Web dashboard and get a view of their referring sites, search traffic, display advertising, similar sites and more. You'll get a better sense of your competitors' monthly traffic estimates and engagement. The tool can also track your organic vs. paid traffic and top 10 keywords to focus on.
8. LinkedIn
There's an endless supply of information about your competition on LinkedIn. Use the follow feature to keep tabs on what your competition is doing, such as posting to their company page.
Next, check out their LinkedIn Pulse updates where they may be blogging about their products and services, and zero in on the comments. Are their customers raving? Or are they asking a lot of questions because they're frustrated or confused? This is your opportunity to use this information to your advantage and address those same pain points in your own marketing efforts.
What are your favorite tools for spying on your competitors? How did they help shape your marketing? Let me know by leaving starting a discussion in our community below.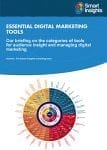 Download resource — Essential Digital Marketing Tools
This free 8-page guide explains contains our infographic showcase the 150 different marketing tools divided over 35 key areas. .
Access the Essential Digital Marketing Tools 2017
from
http://www.smartinsights.com/marketplace-analysis/competitor-analysis/essential-competitor-analysis-tools/