---
Another Anthology of My Own: hypothes.is in PressBooks
WordPress, PressBooks, and Reclaim Hosting
Everything has been easy, maybe too easy, so far with Reclaim Hosting, the hosting service I'm using to build my new WordPress blog and my Scalar book. Part of the point of this whole experiment was that I was going to be getting under the hood of my Internet use a little more. But the Reclaim Hosting system is just too simple to navigate and the folks there are too generous with their expertise when it's not.
Anyway, it was time for a real challenge, so I thought I'd push myself a little with a project I thought outside of the templated Web I've called home, and not (yet) included in the Reclaim Hosting Installatron: setup a PressBooks site and get hypothes.is activated within it. This is something I've wanted to do since Barbara Fister wrote about PressBooks and hypothes.is, separately, as "cool tools for school" last fall.
I had it on good knowledge that this would be tough(er) than my previous experiments. In an email exchange from last fall, Jack Dougherty confirmed so much. He'd done this with a scholarly book of his — publishing it in Pressbooks getting hypothes.is natively installed — and when I'd asked him, he sent a long email explaining not exactly how, but how hard it had been. Hypothesis is a native option within the add-on PressBooks TextBook plugin, but that requires the basic PressBooks plugin to be installed first, which itself requires a "multisite" WordPress site, which at first glance appeared a bit complicated to set up. At the time of Jack's informative email, it was too much for me — I was just starting at hypothes.is then. But six months in, I was ready for the challenge!
Reading the detailed PressBooks plugin installation instructions was helpful but a bit daunting, mostly because there was talk of actual coding. Adding stuff to .php files?! (I actually annotated the "installation" tab on the WordPress PressBooks plugin site as a supplement to this blog. Some of the navigation does seem to have changed since it was written.)
For every tutorial I found on the process of setting up a multisite WordPress site with PressBooks, however, I had to search for a more remedial one: how to install the PressBooks plugin > how to install a network > how to edit "wp-config.php" > how to use FTP? Pretty Permalinks?! But after figuring out what this stuff was, downloading an FTP client, learning how to find and edit a php file, etc., I realized that I could change the php file from within the Reclaim client area AND, moreover, that I didn't need to change the file at all. (SPOILER: This is how a lot of my day went: thinking things were going to be more complicated than they actually were.)
The first step in this whole process was to create a new WordPress install as PressBooks needs to be its own thing, not part of another WordPress site. By selecting "enable multi-site" when I first installed my second WP site via the Reclaim Hosting Installatron, all of the above was done for me, steps one through five in Part 1 at the beginning of the PressBooks tutorial on WordPress. So much for getting into the code.
All I had to do now was install the PressBooks plugin, which indeed "plugs in" quite easily to WP. The instructions at the PressBooks installation page, starting at Part 2, were pretty clear. And so in a little time, I had created my first book, a PressBooks edition of the Anthology of My Own that I created last week in Scalar.
And I'd set up the first section of that anthology, once again, using Billy Collins' poem "Marginalia."
I'm not going to go on too long comparing Scalar and PressBooks. I enjoyed working in both. It was probably easier to get started with Scalar. But setup aside, if someone has worked in WordPress before, then there's a clear advantage to using PressBooks, as the site navigation is based on the same administrative architecture as the blogging platform. My Scalar book probably looks cooler and it seems there's more to do in terms of making the book truly multimodal — adding background images, embedded audio, etc. — or at least it's easier to do those things. But I like the simplicity of the PressBooks WordPress themes and find the aesthetic particularly in keeping with the demure nature of the hypothes.is sidebar.
But I'm getting ahead of myself. While I could then annotate my PressBooks book using the hypothes.is Chrome extension, the whole point of this exercise is to make the app native to the platform and that part as a bit harder to do. That should be easy — and will soon be easier — since PressBooks is based on WordPress and hypothes.is has a WordPress plugin.
PressBooks Textbook and Hypothesis Annotation
Currently, only the PressBooks Textbook WordPress plugin, with its additional Textbook theme, allows for hypothes.is as a built-in option for your book. The hypothes.is WordPress plugin cannot simply be activated alongside a regular PressBooks plugin install.
(News flash: I had the opportunity to meet with Hugh McGuire this week and one action item from that meeting was getting hypothes.is activatable within other basic PressBooks themes — and on PressBooks.com! So, while there may be additional functionality that makes the Textbook add-on theme worth installing, especially for teachers, this additional step will not be necessary in the future for the ability to annotate your PressBooks.)
Installing PressBooks Textbook turned out to be both harder and easier than I thought. When I first installed the plugin, the "Open Textbook" theme that includes the option for hypothes.is activation was not showing up in my Themes list. After jumping into the File Manager in Reclaim and moving files around in various plugin and theme directories, starting an issue on the PressBooks TextBook GitHub repository, getting some help from the plugin creator Brad Payne, but not getting anywhere, I simply deactivated and reactivated both the PB and PBT plugins and everything was as it should've been originally.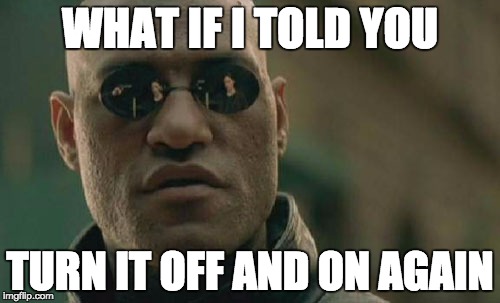 The moral of the story (at least for me) is: before freaking out, digging into the code, turn the thing off and on again. (And maybe that as neat as WordPress is, it's still a clunky/buggy environment at times.)
To review, without the melodramatic narrative of my personal journey, if you want to have hypothes.is active within a WordPress PressBooks Textbook install, simply:
Use Reclaim Hosting to install a multisite WordPress site (a new install, separate from any blog you might already have).
Install the PressBooks WordPress plugin.
Install the PressBooks Textbook WordPress plugin.
Activate hypothes.is within the book you want annotatable as per step by step below.
Assuming all goes smoothly above, here's how to get hypothes.is active within a WordPress PressBooks Textbook:
Install the PressBooks Textbook plugin and "Network activate" — should be an option from the install confirmation page, but can also be done under Network Admin > Dashboard > Plugins.
Navigate to the Dashboard for your network of sites:
Activate the "Open textbook" theme across the network under Theme:
Then, activate the "Open textbook" theme in the book you want annotatable with hypothes.is under Appearances in the book Dashboard.
Finally, in the dashboard for your book, under Settings, PB Textbook, and "Other," activate hypothes.is on all book pages. (As in Scalar it's all or nothing currently, though since it's based on our WordPress plugin, our recent additional configuration options could likely easily be added here as well).
I had waited until this point to actually annotate in my WordPress PressBooks book, but now I copied my annotations from my Scalar version of Billy Collins's "Marginalia" to my PressBooks edition. And now I have my proof of concept — and something of a tutorial — for teachers and professors thinking about using PressBooks and hypothes.is in the classroom.
I should mention here that in addition to Jack, a major inspiration for this experiment has been Robin DeRosa at Plymouth State. While she didn't embed hypothes.is natively on her Open Anthology of Earlier American Literature in PressBooks — in fact, she was on the PressBooks dot com platform — her students used the hypothes.is Chrome extension to create one of the most compelling artifacts of my first term in office here. They created nearly 10 K annotations on sixty-six texts of the anthology (9,438 to be exact). (Check them out annotating Whitman here.) It must have been really amazing for Robin to assemble that anthology and then see it further brought to life through annotation. That's what this mashup of technologies enables!
I won't rehearse the pedagogical arguments from my blog last week on "An Anthology of My Own" and hypothes.is in Scalar, except to say that I just love the idea of teachers and professors creating their own course readers, anthologies, and textbooks, and annotating and having students annotate them. Scalar is an option for doing so, and so is PressBooks, and I'm happy to help folks get hypothes.is setup in either.