---
Climbing Gwanaksan
On a cool, bright autumn day, my friend and I set off for a hike up Gwanaksan. We started at the entrance to the mountain near Seoul National University (after some morning confusion in which my friend went to the subway station for Seoul National University of Education instead). The road was thick with hikers in their gear, ready to take on Seoul's second-highest mountain.
Armed with KakaoMap, we plotted a route. Everyone seemed to be headed along the road, but that looked like the longer way to the peak. If we cut across a stream and along the top of the SNU campus, there was a more direct trail.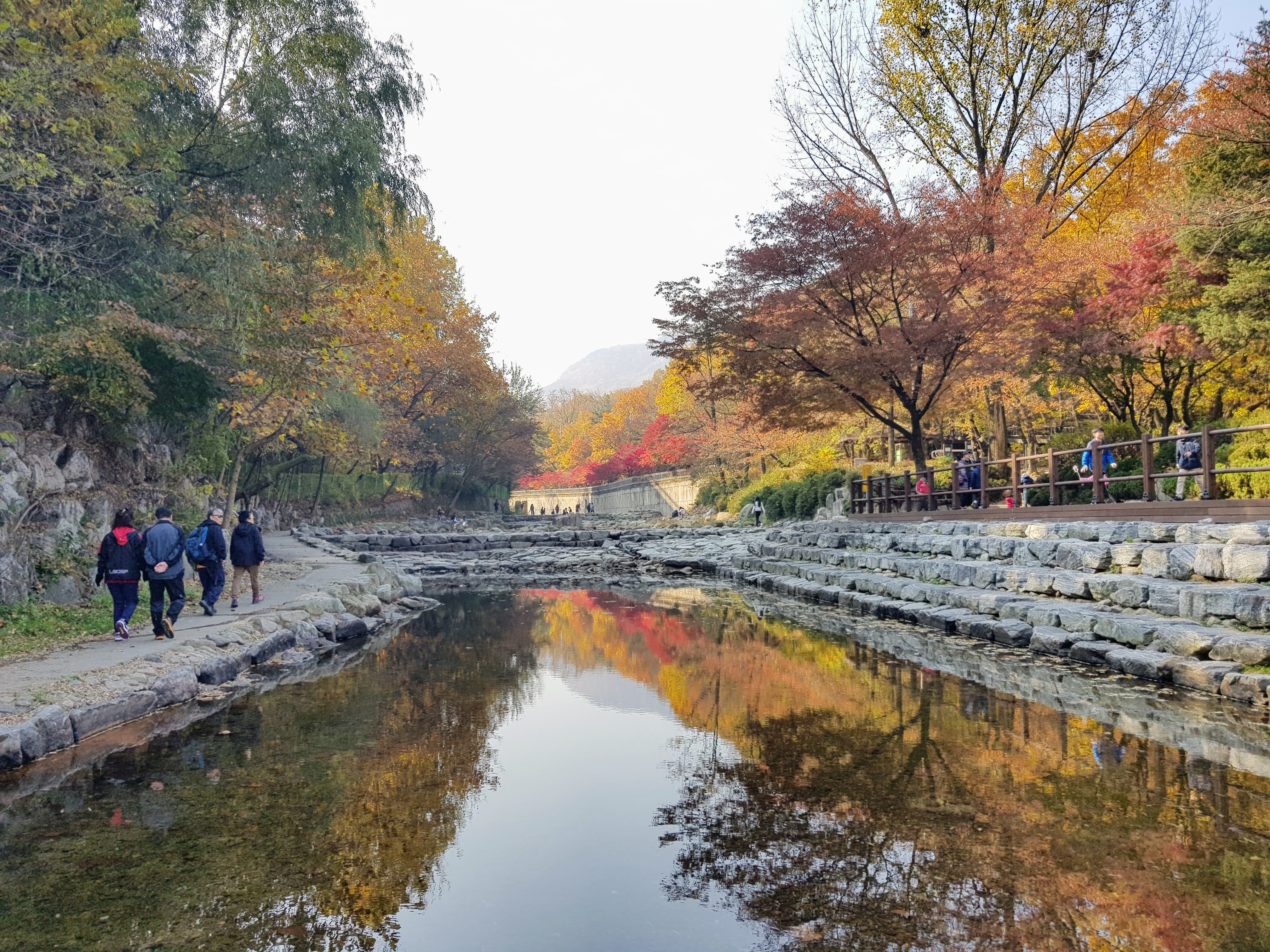 We followed campus streets until KakaoMap indicated that we should make an abrupt turn up a steep embankment and into the woods.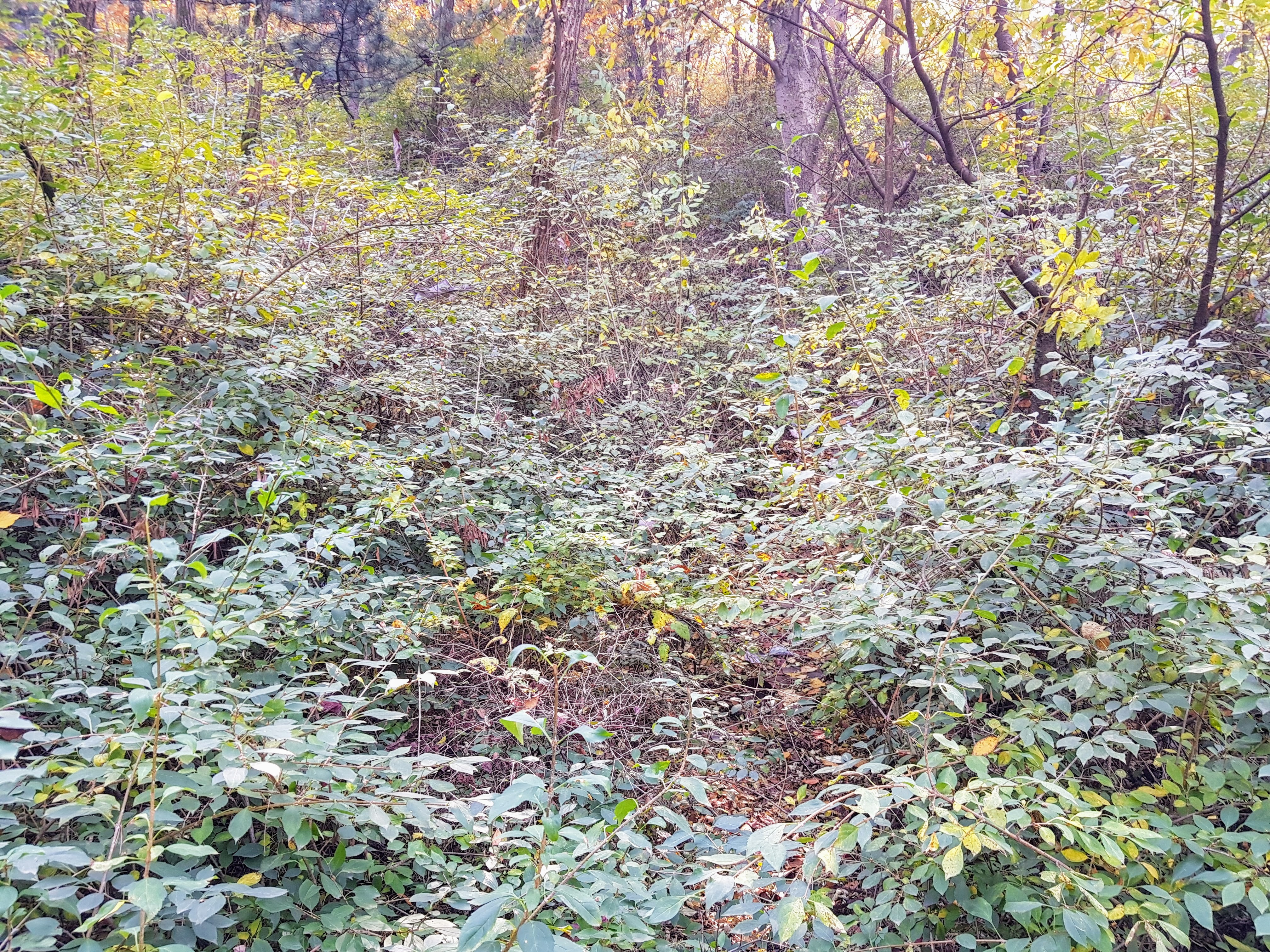 That the trail was little more than lightly ruffled underbrush should have been an indication that we weren't on the best of all possible routes. And we had somehow neglected the very obvious geometrical reality that a more direct route up a mountain is also a steeper route.
The hike was rough at first, but not impossibly so. It was just steep and not well marked. We climbed quickly, and soon we had spectacular views of the mountains and Seoul beyond.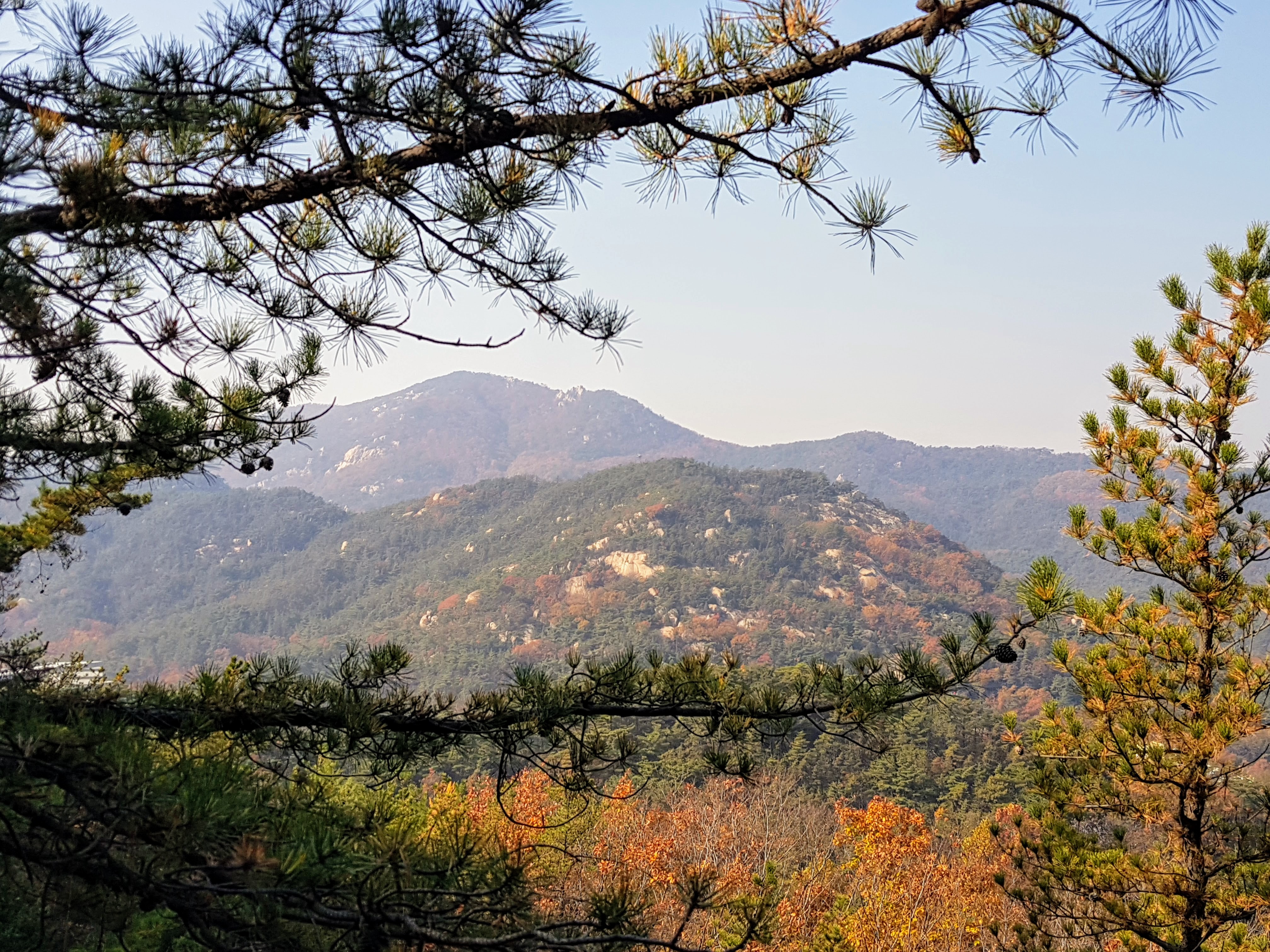 But then things got tricky. Time and again we came to a granite outcropping with no clear way around, and each time the GPS showed that the path was straight up. These rocky passages were scary, with scrabbles along cliff edges and places where the only way forward was to grab a tree branch or a bit of rock and pull ourselves up. We kept going in part because the thought of turning back and going back down all these rocks was scarier than pushing on.
Eventually we came to a point of no return. There was a thick knotted rope hanging down a flat granite face, and also a kind of metal stirrup hanging from a chain, meant to be used as a foothold. It was dangerous. If we lost our grip, we would be falling straight down the rock, and the momentum would probably throw us further down still, over several succeeding cliffs. My friend went first and made it up, tugging hard and ignoring the stirrup. My adrenaline surging, I followed. There was no turning back now.
The hike continued, up over still more improbable rock faces, but at last our route merged with a more popular trail, and we were again surrounded by hikers. There were more passages with ropes and cables, several of them terrifying. I was glad I had my hiking gloves.
And then at last we emerged up at the peak, craggy and beautiful and topped with an elaborate weather and transmitter station.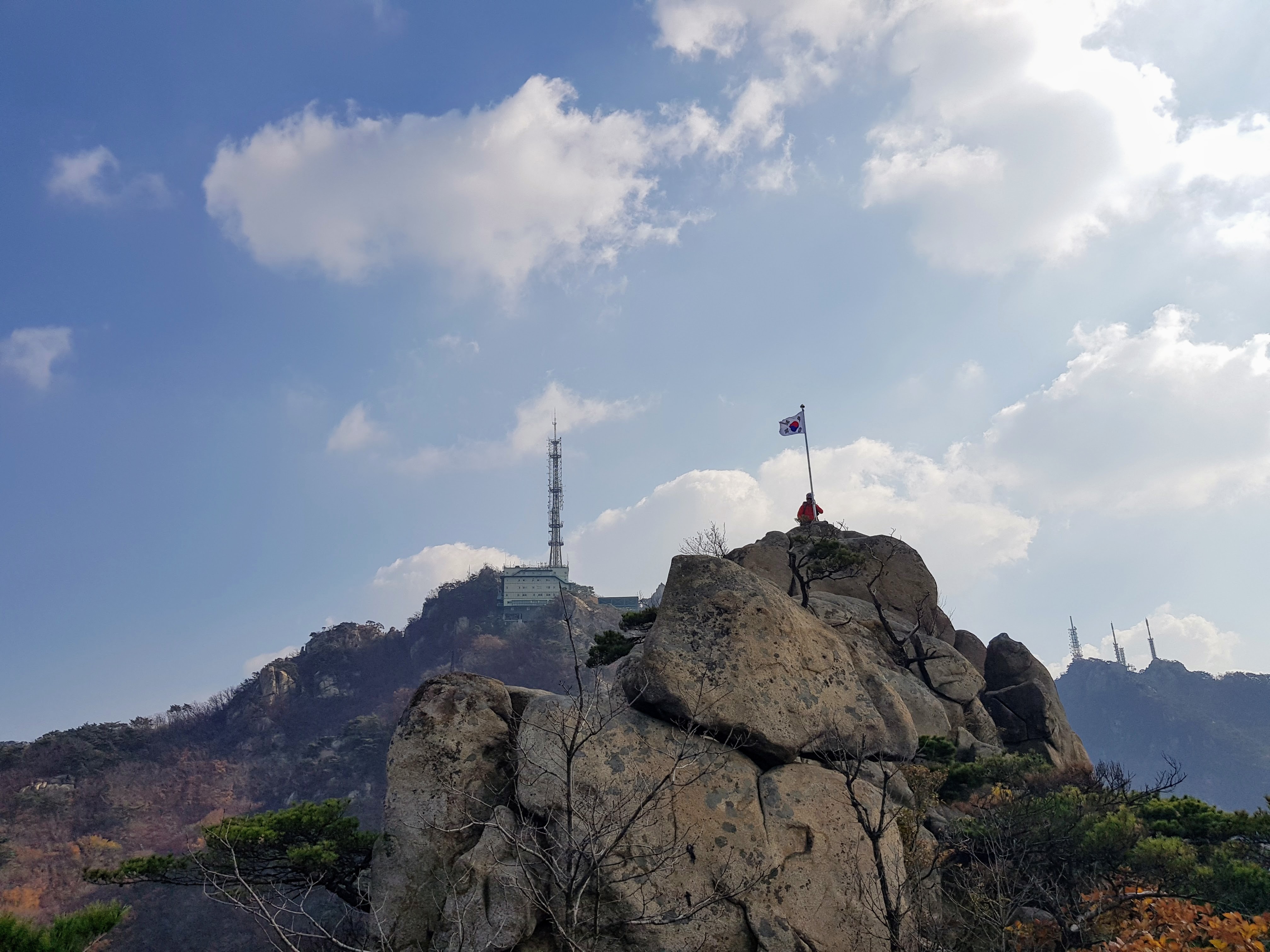 It felt like getting back on solid ground after being at sea. From here on out, it was all marked trails with built staircases or stairs cut into the rocks, as we made our way to the spectacular Yeonjuam shrine.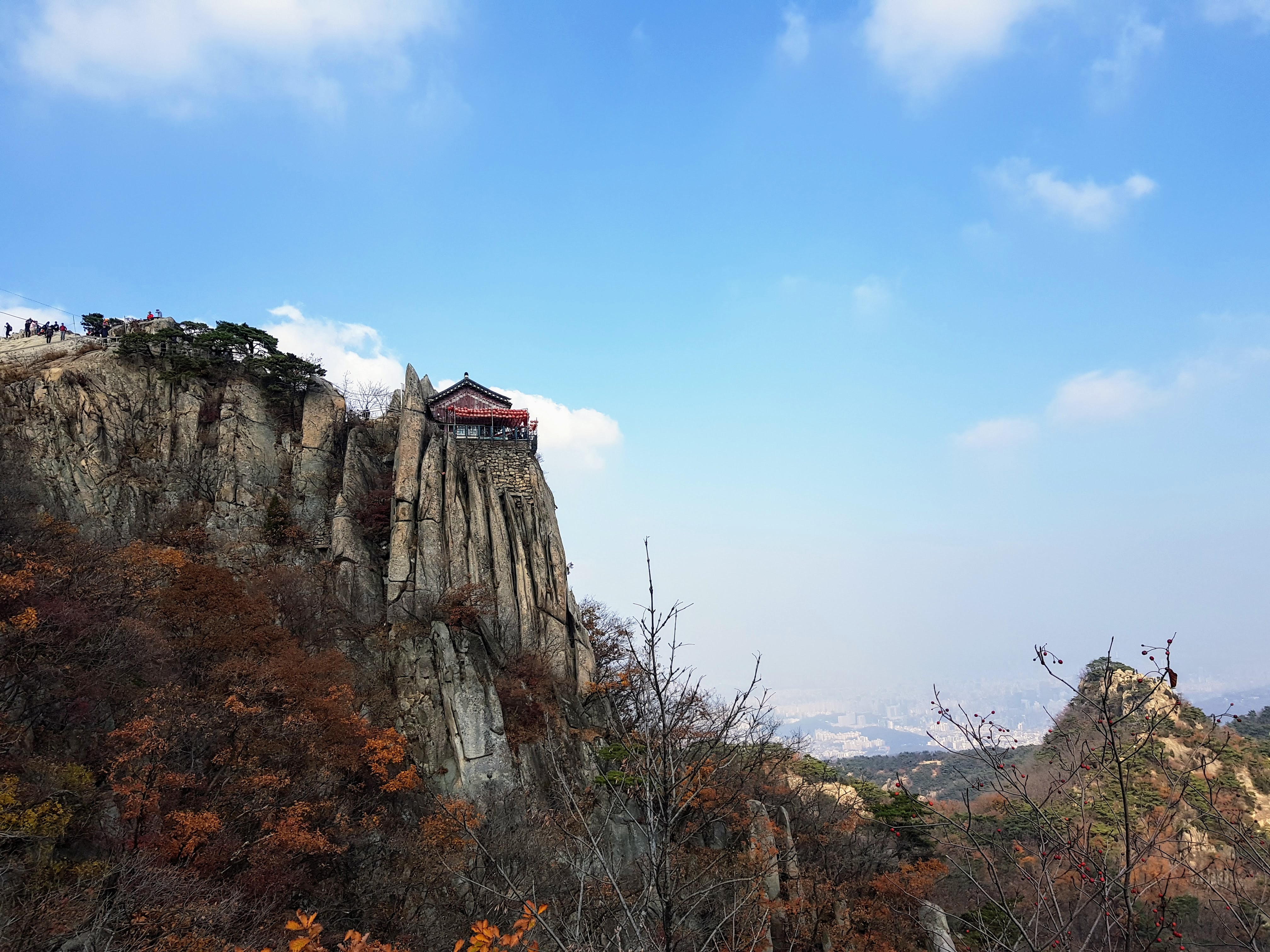 We watched a cat leap among the cliffs, then made our way up, stopping to buy popsicles before entering the shrine and watching people bow as an amplified monk chanted.
From there, it was a long walk down the mountain again, this time on a much longer and less difficult path, until at last we emerged in Gwacheon and had ourselves a well-earned dinner of galbi-tang (beef rib stew).
Today, absolutely everything hurts, especially my right ankle, which I twisted on the long walk down when I was tired, and my right wrist, which took a lot of weight on those desperate tugs over boulders. Korean mountains are not high, but they're no joke. I'm glad I took on that particular route up Gwanaksan, and I hope I never do it again.