---
Can You Do Better with Account Management?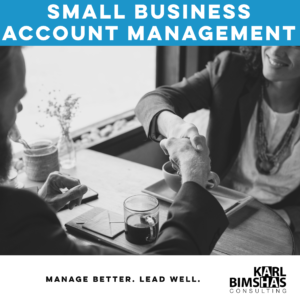 I've been struck by how few micro, small, and mid-size businesses, regardless of their level of success, have any kind of Account Management process for their important clients.
Any size business with a clean Account Management process, can expect 3x results or better. Those without one are likely leaving a door wide open for competitors. Many business owners and business development managers are deluding themselves on the true level of customer loyalty and satisfaction and are certainly losing money with inefficiencies and neglect.
If you are a business owner, sales manager, or business development manager responsible for customer retention and growth, I'd love your opinion via the survey below. Your feedback makes our solutions stronger.
Thank you!
---
Account Management Survey
Please help us understand your current focus on Account Management.
I know how to decide which accounts deserve a higher level of care.
Yes
No
I have defined important goals for my key accounts, learned about and selected relevant tools, and have built the right team to support them.
Yes
No
I keep track of who we know at each level of the organization and what their personal and professional needs and motivations are.
Yes
No
I objectively assess our standing within our key accounts to better position our business for growth.
Yes
No
I have essential performance measures to build relevant customer-centric action plans.
Yes
No
I prove our performance with visual metrics that are important to our customers.
Yes
No
I use SWOT and other strategic analysis tools to align mutual goals with and for the client.
Yes
No
I facilitate internal and external lessons learned for refinement.
Yes
No
Please describe your current Account Management Process
OPTIONAL
Name
First
Last
Email
May we contact you to discuss further?
Yes
No
Phone
This field is for validation purposes and should be left unchanged.