---
Photo of the Week: The Oliviers at Brittenden
Welcome to Photo of the Week, a new feature at that does exactly what it says on the label. I've been conscious for a good while of the fact that cobwebs have been building up in the corners of this blog. There are several reasons for this, but lack of interest in the subject isn't one of them. Today, April 7, marks vivandlarry.com's 11th (!!!) anniversary online. To celebrate, I'm bringing out the Febreze and the Dust Buster to give this place some freshness once again. Mmm, smells like spring!
Jamie Hamilton, Vivien Leigh, and Laurence Olivier at Brittenden, Sussex. © Alastair Hamilton.
The inaugural Photo of the Week comes from a private collection. Jamie (Hamish) Hamilton and his wife Yvonne were long-time friends of Vivien Leigh. Jamie had considered Vivien's first husband, Leigh Holman, to be one of his closest confidants. Their association fell by the wayside when Vivien left Leigh for Laurence Olivier, but was renewed during a chance encounter aboard the RMS Majestic en route to New York in December 1938. Hugo Vickers recorded Jamie's memory of that occasion in his Vivien Leigh biography:
"When I reached the dining room that irresistible laughing face popped up […] Inter alia she said, "You will love Larry." I replied: "No I hate him for robbing my best friend of his wife." Vivien said: "You won't." And of course she was right."
In February 1941, shortly after the Oliviers returned home from the US to take part in the war effort, Jamie and Yvonne invited them for a weekend at Brittenden, their country home in Sussex. Yvonne took several photographs during this occasion and others. A few of her images have previously been published in Felix Barker's The Oliviers, and luckily, the snapshot albums she compiled are now in the hands of her son Alastair. Unfortunately, although Hamish and Yvonne Hamilton's letters to Vivien still survive, Alastair informed me that his father destroyed all of the letters in his possession. It's not the first time I've heard of a famous person getting rid of correspondence. But at least the photographs still exist to allow us a glimpse into the past.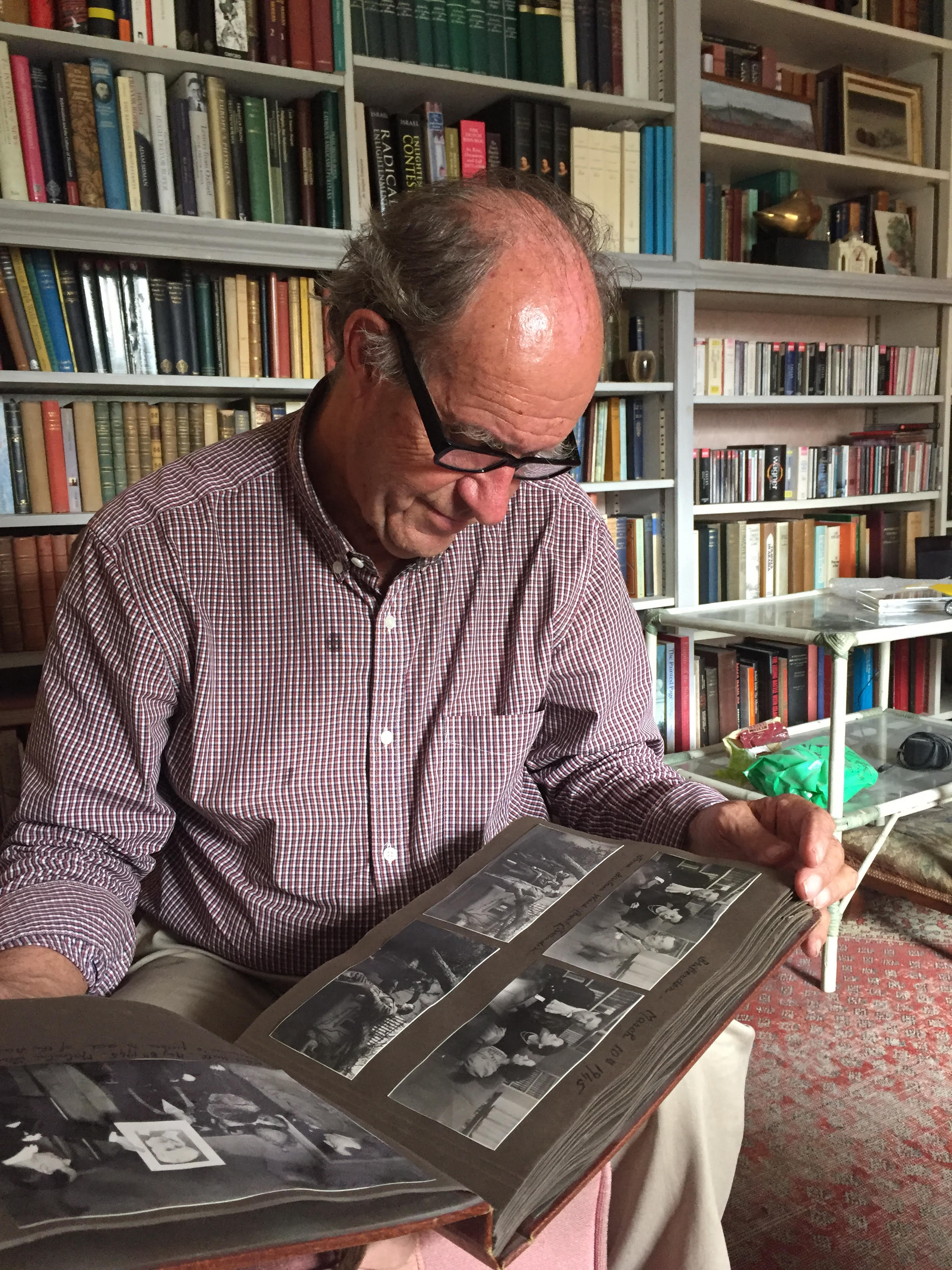 Alastair Hamilton looks through his mother Yvonne's family snapshot albums in the summer of 2017. © Kendra Bean.
Huge thanks to Alastair Hamilton for his kindness in inviting me into his home and allowing me to share images from his family albums here at vivandlarry.com.