---
Bad Kids at the Milk Tea Shop: Leisure Time, Reading and Writing in Chengdu and Neijiang, China
Luis Humberto Valadez was born and raised in Chicago Heights, Illinois. He received his MFA from the Jack Kerouac School of Disembodied Poets at Naropa. His publications include the poetry collection what i'm on from the University of Arizona Press (2009) and the book/music project Valid Lush from Plumberries Press. After completing a term of service with the Peace Corps in Neijiang, Sichuan, China, he was hired by Peace Corps China as a TEFL Manager and is currently based in Chengdu. More of his work can be found at here. Valadez takes his job supporting Peace Corps teachers seriously, and also tries to fit in a literary life.
Valadez reads at the 2014 Bookworm International Literary Festival in Chengdu, China.
When I spoke with Valadez via Skype in May, I could hear birds chirping on his end. At certain points I could hear him pouring tea.
It occurs to me that 10 p.m. on a Friday night for me (in New Jersey) is 10 a.m. on a Saturday morning for him. He thanked me for staying up late — and it was late for me. We both wondered what happened to our resolve for all-nighters, in those bygone College Days. No more staying up till 5 a.m. and pounding back coffees throughout the following day, for either of us. Even though, Valadez told me, there is a Starbucks in his neighborhood in the urban area of Chengdu, China.
Eppinger: If I walked into the closest Starbucks near you right now —
Valadez: Oh, it would look like a Starbucks.
Eppinger: And do people camp out there, like with their laptops and their homework, or "working from home"? Or, is there a different vibe?
Valadez: You know, that is not as much of a thing here — the hanging out in coffee shops. People will socialize, or play on their phones. But you don't see a lot of people sitting down at a Starbucks to work. You see people who are hanging out with friends, or — it's that thing I don't really get about the U.S. either, where people will go somewhere and then just be on their phone. Why did you leave the house for that?
Chengdu is a fairly modern, highly developed city. Where I was before, in Neijiang, there was no Starbucks. What's a little more common is what they call a milk tea shop. Milk tea is essentially the frappe version of tea. It's like 10% tea and 90% cream. It's really good! But the word "tea" is kind of misleading.
In the smaller places (like Neijiang), a lot of young people — especially on college campuses — go there to hang out. If they stick around, they'll play cards, play on their phones, smoke cigarettes, and drink a milk tea.
Eppinger: Sounds pretty good!
Valadez: You know, it's college life. But those students you'll see doing that (this is not my judgement, this is taking into context the social dynamics), are like the "bad kids." Like, "Oh, they're hanging out in the milk tea shop when they should be studying."
Eppinger: What do "good kids" do instead?
Valadez: Education here, from middle school through high school is just like: Study All The Damn Time.
Eppinger: Hmm.
Valadez: Twelve, thirteen-hour days — if you're not in class you're in a study hall. A lot of high school students go to bed at 1:00, wake up at 6:00, they have class for ten hours, and then after class they're in a study hall for three more hours, then they go back to their rooms and do some more studying! So college, by comparison, gives them a lot more freedom. But it's still really regimented, and their time is very scheduled for them.
Eppinger: I think some of the most poignant things you've written about in updates since you've been there is the concept of Leisure Time for university-level students. Also, things like: time for creative expression, and time for creative writing. So if I went to the Starbucks near you right now I wouldn't see people with their laptops idly writing, or scribbling in a notebook. So, where could I find that? Or, could I find it?
Valadez: You could find it. It would be in a very specialized area.
There's a book shop in Chengdu called The Bookworm, which is a pretty exceptional place. It has that traditional Western feel of a café where they have open mic nights. The space is really set up for people to hang out and chill. They have writing groups there. Of course, China has a long tradition of arts and literature. That influence combines with the modern café art scene feel more common in the US. It makes for a really unique atmosphere.
Eppinger: Right. I guess that challenges my American/Western assumptions of what it means to be in a "college town."
Valadez: Oh absolutely. The way things are organized in China, there's the tradition — in Chinese, Dan Wei (单位), which means "work unit." In the old tradition, if you got a job somewhere, the job took care of you: housing, meals. Some of that tradition still maintains.
A lot of teachers live on the campuses where they teach. Sometimes there's housing provided by the university. Every campus is like a small universe. These college campuses are communities of people. Teachers don't live there alone, they bring their families, and you have the tradition of taking care of your parents when they get older, so grandparents are living with them. You go outside at night, and you're likely to run into more grandparents and little kids than students.
Eppinger: A multi-generational university. That's interesting.
Valadez: It makes it so that it's not party time, you know?
It's kind of nice, it gives you that warm communal feeling. Of course, things are much more regulated for locals. The dormitories don't have RAs. They have what they call ayi (阿姨) or shushu (叔叔), aunts or uncles, older people who live in those buildings and make sure you're not fucking off!
Eppinger: Do you interact with, or meet, working writers in China — who are either Chinese or from abroad? Is that part of your daily life right now?
Valadez: Other foreign writers, I have met. There's a community out here of artists, especially who live in Chengdu. I have met, and even did a reading once, with Chinese poets. Unfortunately, those opportunities have been few and far between. I think there's a lot of mutual respect there, but it's hard. The language barrier makes it difficult to have a dialogue.
Eppinger: How do you fit writing and a literary life into your working life in China?
Valadez: My volunteer life afforded me a lot of extra time that I didn't have back home, so I was able to create some routines, create some structures in my life to promote my writing practice. I continue that, though at this point it's a lot more difficult. My working life, in particular, is a lot busier. So for me, the way to fit writing in with my life here is to be really concerned with: Tonight is writing night. This is writing time, right now.
Eppinger: Good for you! One burning question I have right now — it involves a lot of speculation. If a university student in Chengdu, where you are right now, went home and said, "Mom and Dad, I've changed my mind, I want to be a poet," or, "I'm going to write novels." What do you think the reaction would be? Would it be supportive? Or would it be something more like what we'd hear Stateside, "Oh, you're gonna starve! That's a terrible idea"?
Valadez: Things here are so rigidly structured, I couldn't even imagine a student saying that at all. In my experience, it's hard enough to get students to even admit those things to themselves, or to their friend.
In Neijiang where I was teaching, odds are a lot of those students were the first in their families to go to school, and it's a really big deal. Because most of my students were girls, that means: You go to school, become a teacher, get a stable job, and then within two or three years get married, have a kid. And, at the same time, help their parents in retirement.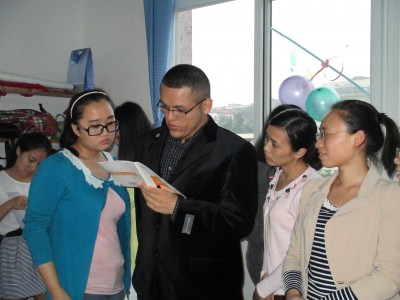 Valadez ran the Creative Writing Club at Neijiang Normal University for a year and a half, which focused on creative writing and performance.
Eppinger: Do the students around you have the time or the inclination to read for pleasure?
Valadez: Oh yeah. There's still ever-present the traditional Chinese lauding of education. A lot of them will go the library and read for fun at their schools. Read stuff that they are just interested in. Also, they believe that's a way to improve yourself, it's a way to broaden your horizons, to read more books.