---
Digital Smile Design coming soon to Mona Vale Dental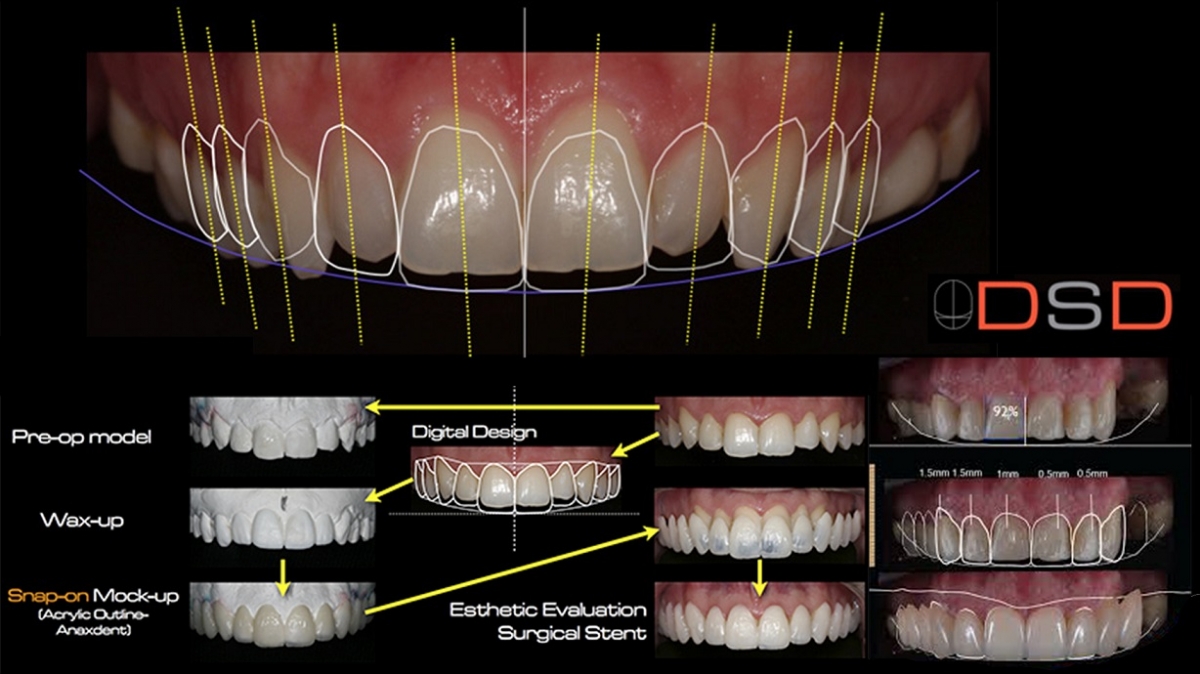 Digital Smile Design is a new system of dental technology that we will be introducing to Mona Vale Dental practice soon. Whether you have crooked, cracked, discoloured, chipped or misaligned teeth, Digital Smile Design can help you to pick the resulting smile that you want to achieve from treatment before you undergo any interceptive or invasive treatments.
What is Digital Smile Design?
Digital Smile Design, or DSD, is an advanced new technology that has been developed by Dr Christian Coachman as a means of utilising a range of technologies to analyse the patients' smile. Once this data is collected the restorative result of any treatment can be pre-planned and developed into a mock-up so that patients can see the results before they commit to any treatment. This mock-up is simply placed over the patients' teeth so that they can see how the treatment will make them look. Once you've chosen your new look you will undergo a series of appointments to make your smile perfect with our years of expertise in cosmetic dental surgery.
How does Digital Smile Design work?
Digital Smile Design uses six steps to get you to your desired smile:
1. Treatment begins with the dentist capturing digital photographs of your teeth and smile as you are now.
2. A video is then taken of you smiling and talking to show how your smile and speech affects the appearance of your teeth. Seeing yourself from this new angle will help you to decide on the right results.
3. Smile design analysis is then carried out with the end product in mind. Different solutions from dentistry will be combined to determine the best cosmetic journey to get your desired smile, and ceramists, dental technicians and specialists will all advise on the treatments that can get you there.
4. You will then be shown how your final smile will look and mockups will be made to show you the final outcome. You can then make any final tweaks to elements such as tooth length or colour and shape.
5. The final design is then completed and agreed and costs and duration are calculated to ensure you are happy to proceed. You will then be provided with all of the relevant information you need to know about the pending treatments.
6. After treatment, you can enjoy predictable results and will be able to enjoy the smile that you chose in the planning stage.
What is the first step?
Mona Vale Dental will be introducing Digital Smile Design to the practice soon and will begin arranging consultations with interested patients. In the initial consultation, we will carry out the digital analysis of your teeth and capture the relevant digital information to be able to carry out Digital Smile Design. You'll then return for a second appointment where mockups and procedures are shared and discussed so you can make the final decision about whether to proceed on your journey to the perfect smile.
Digital Smile Design uses the latest in dental technology to design and plan the perfect smile for you. Unlike traditional dentistry, you'll know exactly what you will be getting as the end product before you begin treatment and will be able to choose the smile that shows you best