---
"Mystery of love." Your Sunday Song.
Mystery of love directed by Alvin H. Perlmutter, Joan Konner
Sufjan Stevens is the virtuoso of a music category I like to refer to as hipster music. Indie Music defines how music is produced independently, with no sign up to an industrial record label, while hipster music describes the character of the music within its generation. Both albums, Illinoise and Michigan are best practices and descriptive of the hipster movement.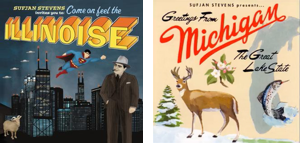 Come on feel the Illinoise
 & Greetings from Michigan.