---
Why You Need a Better Photo Release Form Template
So you've scheduled a photoshoot with a model and you're wondering what releases you need. The model release form is essential to protect photographers from liability claims. It's also required in order to license your work to a third party.
It's important to know the difference between a model release form and a photo release form. In this article we'll break down the different forms and give you the most common templates, for free!
We've got you covered.
What is a photo release form template?
The photo release form, also sometimes referred to as photo consent form or photo copyright form, is a contract between the photographer and client (or model) that grants the client permission to print hard copies of the photos (i.e. portraits, headshots, or wedding photographs, etc.).
Is a model release the same as a photo release form?
The short answer is no, they are very different. The photo release form is a document signed by the photographer and given to the on-camera talent or client so they can print copies of the work. However, the model release is signed by the talent so the photographer has permission to license or use the image. In many cases, both agreements should be signed. Learn more about, and download, a model release form template here.
Remember, the photographer inherently owns the copyright to all of their photos (unless they sign an agreement that specifically relinquishes their ownership, which is rare). Even if you sign a photo release to grant printing rights, it does not mean the client can sell or license the photo to another party, because the photographer still owns the copyright. All they can do is print.
Here's a another example to illustrate. Let's say you shoot headshots for a struggling actor. They sign a model release and you provide them with a photo release for duplication purposes. Years later, after a successful show they want to sell the photos as posters on their website. In order to do so, they would need to provide you with a licensing fee or they would be violating your copyright.
How to administer your photo release form
You'll want to have your model release and photo release form templates readily accessible. It's up to you whether you print hardcopies or use an electronic format.
Prep your paperwork ahead of time
Print multiple copies if you are using paper. People make mistakes and often need to start over.
Make sure all information is legible
The wording of the release is important, but so is the information that is captured. Always make sure that all the clients information is easy to read — especially when it's handwritten.
Because phone numbers change more often than emails addresses, we collect emails addresses on our provided photo release templates.
Associate each release with the photos from the shoot
You'll need to know which releases cover which photos, sometimes months, years or decades after a shoot. The best practice is to keep the thumbnails or proofs from from the shoot with the photo release form in your files.
Consider creating electronic files
A lot of photographers scan the original photo release form and manage only electronic files. Plan to retain copies of every executed photo release indefinitely. For greatest ease, make the proofs and release a single electronic document. That way when someone wants to license a photo from you — you'll know exactly which release form to send.
Utilize email to establish a record
Always countersign, scan and email a copy to the client after every shoot to generate a legal record through email trail.
Make email your preferred method for all communications. That way you create a permanent record. Having a backup in the cloud somewhere is important should your computer or hard drive ever fails.
Organizing your release forms & documents online
---
StudioBinder makes is easy to keep important files associated with the original project. You can keep your photo release form, model releases, and photo proofs all bundled together in the same folder.
It's really nice to have your documents clearly organized, accessible from anywhere and at your fingertips. Learn more about production management and document storage in the cloud.
StudioBinder is Free to Get Started.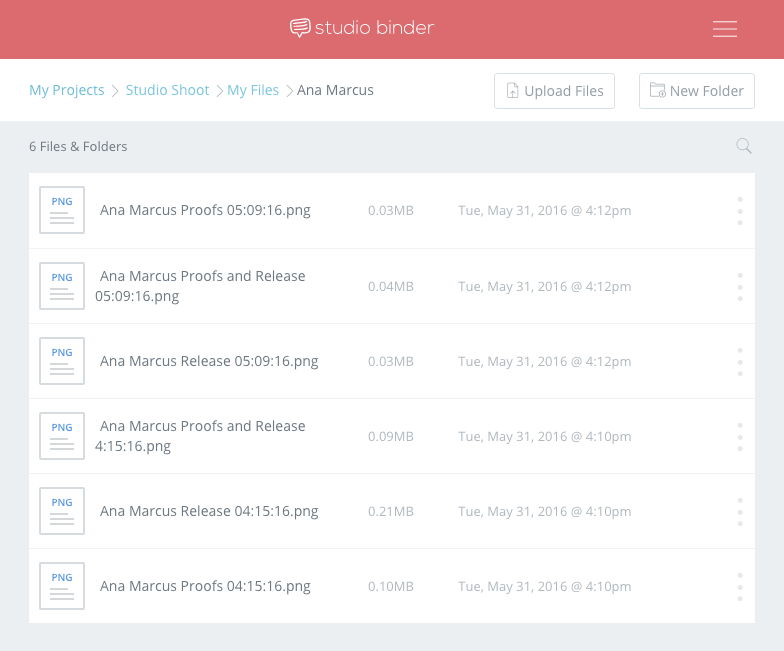 Photo Release Form Template Download
Provide this release to grant the client with permission to print copies for a model's book, comp and zed cards, or websites. A signed photo consent form is required by all professional print shops when the customer is the model and not the photographer.
Photo Release Form
The simple photograph release form template with no requirements or restrictions.
Restricted Photo Release Form
This is a release with restriction requirements (i.e. watermarking, website or photo credit).
Download Restricted Photo Release
We love to provide resources and templates to photographers!
Just please remember, this article should be construed as informational, not legal advice. StudioBinder does not provide or offer legal advice to its readers. StudioBinder, its editors and authors will not be held responsible for any legal issues the reader might encounter based on the subjects found in this post. As always, we recommend you consult a legal expert for advice on release forms and agreements. This disclaimer assigns you, our readers, all responsibility for your own decisions.
---
Wrapping Up
We hope this article is helpful in providing a better understanding of a good photo release form template. If you haven't already, make sure to check out our companion article on The Essentials of a Model Release Form where we include a template to get you started.
Do you have any tips you want to add? Please share in comments, below. Questions are always welcome.
Cofounder and Content Director at StudioBinder
Focused on the intersection between Entertainment and Technology. Grew up in Silicon Valley, now resides in Silicon Beach. Also an animal lover, avid reader and futurist.
Latest posts by Darya Danesh (see all)