---
Everest Base Camp Trek: How to stay as clean and good smelling as possible
It gets pretty gross on the Everest Base Camp trek. The first few days are fine — there are showers, you feel ok, you're fresh and new. And then you hit 4000m. The quality of the tea houses drops markedly — particularly their cleanliness. Altitude kicks in and you start feeling lousy. And it gets COLD! Really cold. And very cold where you're sleeping. And you start to not care. But hey you're going to have these photos for life! And no one wants to smell!!!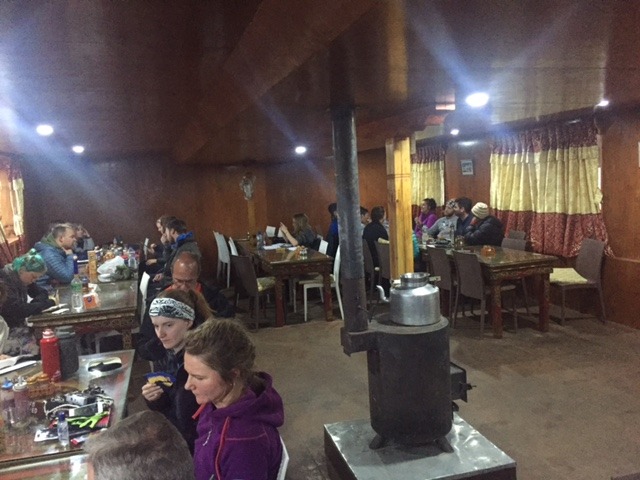 Before You Go
Get your hair colour done just before you go — you don't want roots in the photos. There are very few mirrors along the way so that's ok but photos last forever. Remove all body hair, get a pedicure (you'll have few and quick showers so your colour will stay perfect) and cut your nails very short — they get damaged and broken and you don't need more pain so have them short.
I had eyelash extensions before I left and that was brilliant — especially for those over 4000m mornings when I woke up to eyes like an alien's they were so swollen from altitude -at least I had lashes coming through!
Hair
I mostly wore mine down as it kept my neck warm, prevented sun burn and I thought looked better in the photos. However I only got to wash it twice which was in the first few days (twice more than I thought I would!). I did bring dry shampoo but I never used it — I found my hair was far less greasy up there. One thing I did do is put it into a plait. I had that advice from my hairdresser. A plait is good because it stops your hair getting into knots. Even better put a bit of oil in it and then plait it — that will help even more (once you can wash it remember to take your hair dry and put the shampoo in and lather and THEN go under the water — oil and water and all that).
Hats and Sunglasses
Hats are very important for pictures. I started the trip with a cap. I then had a super soft fleece cap that I wore for a couple of days and it became my nighttime hat as it was the most comfortable to sleep in. I then had my heavy duty super warm cap with the flaps for the highest couple of days. Think about the colours and what you'll be wearing them with (eg fleece or cotton top the first few days, down jacket the last few) and colour coordinate accordingly. And your hat will hide a million hair sins so wear it often!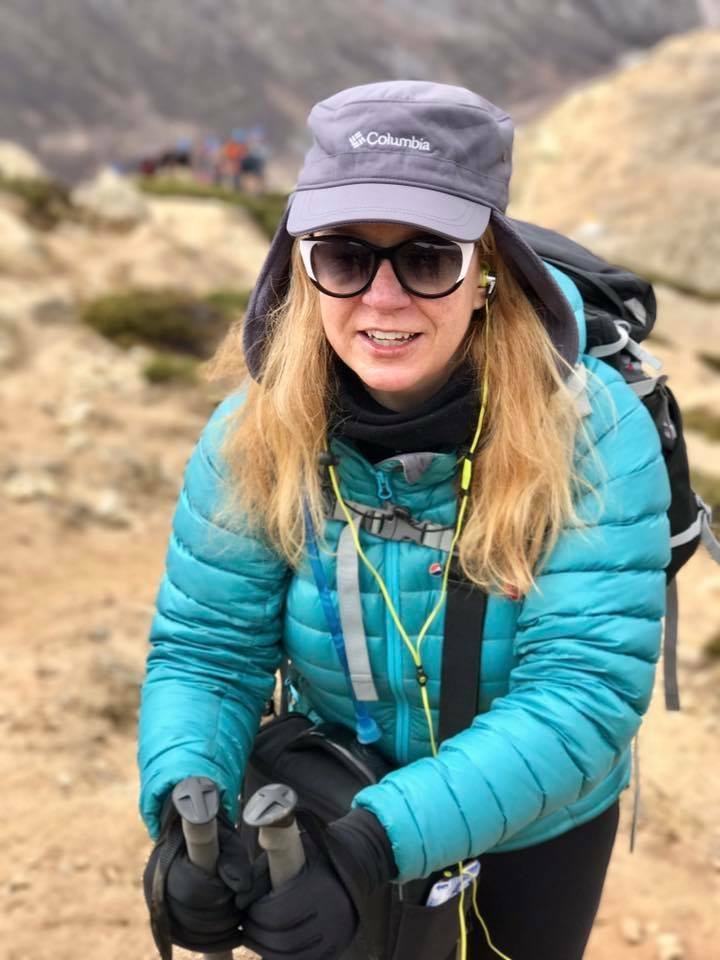 Sunglasses are also critical — firstly as you use them all the time and secondly as they will hide those puffy eyes in pics! Again look to coordinate with your jacket and caps — I took 2 pairs with me and they were Prada not sports brands.
Staying Clean
So you definitely want wipes as they are your best friend once it gets cold (and if you run low on toilet paper). Wipes and deoderants can do a lot — as can a spritz of perfume. Clean teeth are always worth doing night and morning no matter what — I was outside on a frozen terrace covered in snow at 5100m one morning with my now luke warm water bottle water brushing my teeth on my sickest morning — and it was still worth it.
I also had a facial spritzer that I got given on the plane which was a nice freshener in the morning and pre moisturizer on the Everest Base Camp Trek.
Magic Dryer Sheets
I layered my kit bag with nice smelling dryer sheets. I even inserted them into my dirty clothes bag. Also when I had tops and socks that I was going to have to wear twice I folded them up interspersed with dryer sheets — at least then they didn't have an awful smell!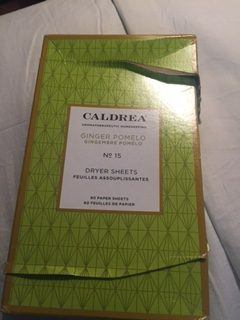 The Sun
My lips got SO dry! I had a chapstick type nivea thing with sunscreen in it — but it wasn't enough. I hadn't bought a tin of Vaseline as I was trying to avoid things that used my fingers but I needed it — and it took more than a week of continuous application of Vaseline to sort my lips out after I got back.
Do not forget sunscreen and literally every day! I had mornings where my sunscreen was nearly frozen and I had to warm it up to put it on. The sun up there is harsh and you are closer to it than normal and it is almost impossible not to get some kind of colour.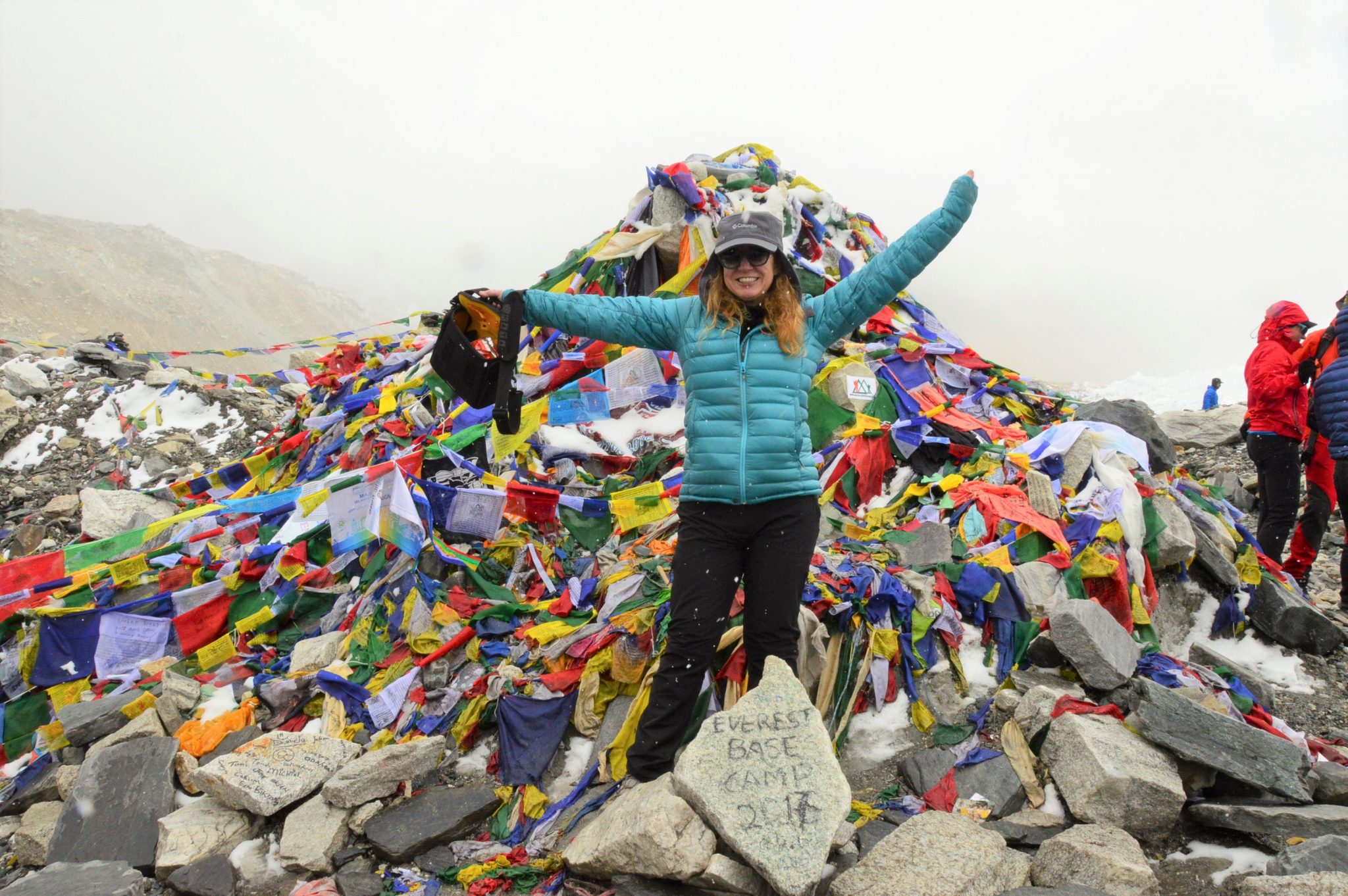 So even with all of the above I did not get any photos on the trek that I would use on a internet dating site! However I do have photos that don't make me cringe and without question having ways to feel a bit cleaner were mentally very helpful.
Looking for hotels in Kathmandu? Click here for the best options
Looking for a hotel in Lukla? Click here for the best options
Looking for flights to Kathmandu? Click here for some great deals
Looking for flights to Lukla? Click here for some great deals
Click here for my Post on Days 1–3 of the Everest Base Camp Trek
Click here for my Post on Days 4–6 of the Everest Base Camp Trek
Click here for the rest of my posts on the Everest Base Camp Trek — I cover everything from what to pack to the real story on the food to my itinerary and what I would have done differently
Click here for all my posts on Nepal
Click here to follow my Pinterest Board on Everest Base Camp Trek
Click here to follow my Pinterest Board on Nepal