---
How To Get Your Site On Google
If you are wanting to improve the SEO on your blog posts, you need to make sure you get your site on google. It's not enough to hit just publish your blog post and call it a day. Google is crawling millions of websites and indexing them, so if you don't submit your site yourself, it could take months for Google to index your site.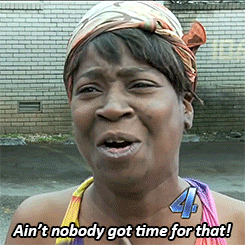 With this method I'm about to show you, your site will be instantly indexed!
Note: As I'm writing this, Google is changing the interface for the Google Search Console, so your experience may vary slightly from the instructions I provide
Add your site to Google Search Console
The first step to get your site on Google is to add it to the Google Search Console. You can do a lot of cool things in the search console like monitor the keywords that show up for your site and their rank. But I'm going to keep it simple in this tutorial and show you how to get started.
Step 1 : go to: https://search.google.com/search-console
Step 2 : You may see Google Search Console's beta interface. If you see it, go up to the search bar where it stays search property. Click the search bar, go down to add property, and add the url of your website. If you're taken to the old search console's interface like in my example below, just click the red add property button to add your website url.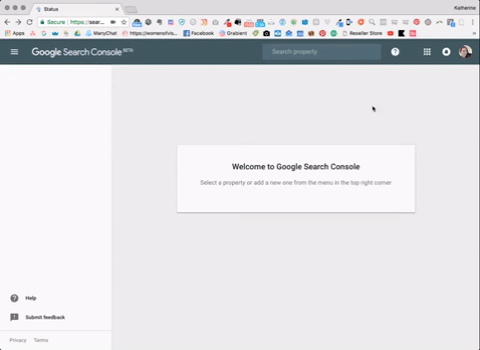 Step 3 : Next you will need to verify your site. You can verify your site through your web hosting account, or you can verify using alternate methods. If you're not very tech savvy, I reccomend you try to verify using your hosting account first.
Fetch Your Pages
The next step to get your site on Google is to fetch your pages. This is probably the most important step. This is where you are literally telling Google to crawl the web page and index it in the search engine. Every time you create a new page or blog post on your website, you should be fetching it in the Google search console.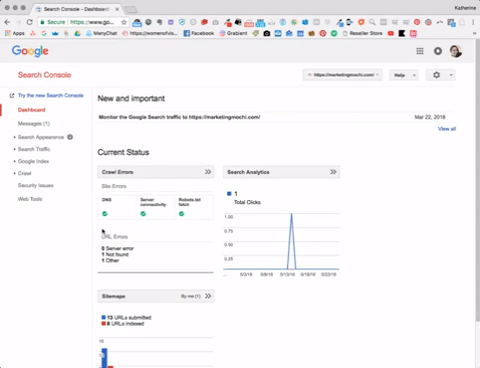 Step 1 : In the Search Console dashboard, go to crawl > Fetch as Google
Step 2 : Enter the permalink of the page you want to fetch. Make sure to include the "/" at the end of the link. For example, if the page is example.com/cooking-tips/ enter cooking-tips/
Step 3: Once the link is added and there isn't any errors, click the Request Indexing button. Google will have you verify that you aren't a robot, and make sure to select Crawl only this url.
That's it! It's pretty easy!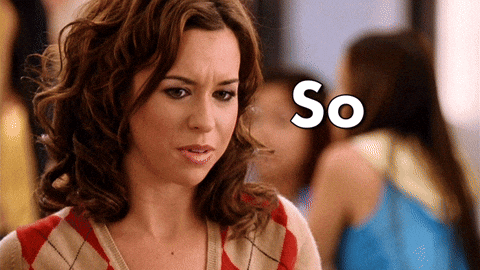 Submit your sitemap
For this step, you need to create an xml sitemap for your website. This is going to vary on the type of website you have, and if you're using WordPress, different plugins can do this for you. If you're using Yoast, you can find instructions here.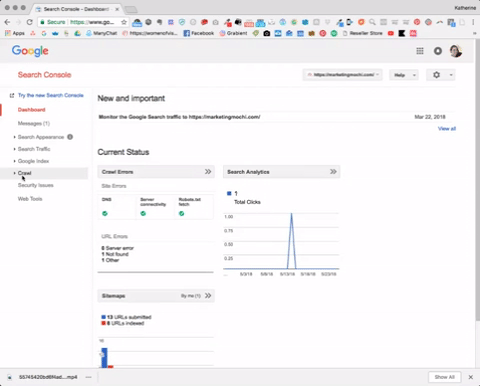 Step 1 : In the Search Console dashboard, go to Crawl > Sitemaps
Step 2: Click the Add/Test Sitemap button and enter the permalink for your site. Run a test to make sure that the url is working. Once Google has confirmed the url works, repeat the steps and submit the sitemap.
Now get out there and get your site on Google!
If you're wanting to start on an SEO journey, just remember that this takes time. The more you pay attention to the details, the better you'll get.
Google is also a fickle creature. Some sites require minimal effort to rank on page 1, while others need a lot of optimization. As one of my SEO expert friends says : "SEO is a science".
If you're wanting to optimize the content on your blog and make it SEO friendly, I encourage you to snag a free copy of my SEO checklist for blog copy. Anyone can implement it whether you are a techie or blogging newbie.
I hope you enjoyed this tutorial! Let me know if the comments below what else you'd like to learn about!