---
50+ Productivity Infographics to Guide Your Management Strategy!
We all know how hard it is to maintain the highest level of productivity. We often struggle with even the easiest things because of lack of motivation and distractions from our co-workers or social media notifications. But believe me, achieving your goals and improving productivity is easier than you think thanks to the productivity hacks shared by the experts!
Find them on these productivity infographics that we collected and start incorporating healthy habits right now!
50+ Productivity Infographics to Guide Your Management Strategy!
5 Productivity Tips From Incredibly Busy People by OpenForum
Staying on top of the game isn't as complicated as we used to think! Leaders and entrepreneurs reveal their essential tips to help people deliver better work results.
Source: OpenForum
How health impacts productivity by Zero Center
Have you ever wondered if maintaining a healthy lifestyle can increase your productivity while working a desk job? Find the answer on an infographic below!
Source: ZeroCenter
What You Need To Know To Be Productive At Work by DaVitt
This infographic provides some scientific studies on establishing a productive workspace. Check out these tips, and the rest will follow!
Source: DaVitt
12 Office Desk Hacks to Improve Your Productivity by The Business Backer
Wonder what changes you should make to the desk to maximize your office productivity? These hacks are pretty easy — find out how they can improve your focus at work!
Source: The Business Backer
5 Ways To Improve Sales Productivity by TimeCamp
The following productivity improvement tips have been proven to work for companies who want to focus on their growth and help implement new strategies with their top sales leaders!
50 Productivity Tips to Boost Your Brainpower by Wrike
Beat procrastination with this 50 proven productivity hacks provided by Wrike! You'll be impressed with the results.
Source: Wrike
44 ways to be more productive by STL
Make a few changes to your daily routine to achieve goals faster! No more postponing — manage the time more efficiently to work smarter, not harder.

Source: STL
Multitasking's Heavy Cost — by FuzeBox
We all know how bad for everyday productivity multitasking can be — find out how to focus more during meetings and one-to-one conversations!
Source: Fuzebox
Small Business Productivity Tips — by LearnVest
Improve your business productivity level by incorporating these super-positive habits and increase the revenues and chances for expansion!
Source: LearnVest
Electronic Document Management & Productivity by Nitro
Is your company struggling with organizing the documents? Find out how to do it more efficiently!
Source: Nitro
The Real Cost Of Your Work Without Using Time Tracking by TimeCamp
Recording the time employees spent at work is a sensitive issue. Why should we encourage them to implement time tracking software? The reasons are below.

How technology impacts workplace productivity today by Highfive
Adopt the appropriate tools to minimize the distractions and find out how it can affect your company's productivity!
Source: HighFive
The Summer Slump: Decline of Productivity by Grasshopper
How to maintain the highest level of productivity when the temperatures are rising? Find out how the summer can affect the way we're managing our time!
Source: Grasshopper
Whistle While You Work: Impact of Music on Productivity by WebpageFX
How does listening to music while working affects your performance? Find out which kind of tunes you should play to maximize the results!
Source: WebpageFX
19 Science-Backed Hacks to Improve Productivity by GetVoip
Is looking at cute animals pictures or browsing the web productive? Sure! Find out why on the infographic below — it provides trusted resources only!
Source: GetVoip
8 Popular Myths About The Remote Workers by TimeCamp
For small and medium-sized businesses hiring remote workers can make a huge difference — find out what are the common myths about people who are working remotely!
Productivity And Motivation Tips From Experts by WD Storage
Happy workers are more productive — it's backed by science! How to keep yourself and employees happy? Find out in the infographic below!
WD Storage
Killing Time: How to Destroy Your Productivity by Marketo
How to increase the effectiveness of your sales? Find out what needs to be eliminated to stop killing the productivity!
Source: Marketo
Optimize Your Workspace for Focus and Productivity by Make It Cheaper
Read this infographic and get a fresh perspective of your workplace — find out what needs to be done to make it more productive!
Source: Make It Cheaper
10 Days To Better Productivity by Infographic World
Is it possible to achieve better productivity in 10 days? Follow these tips included in the infographic below, and you'll be impressed with the results!
Source: Infographic World
Time Management Tricks for the Productivity Powerhouse by Fleetmatics
Do you think you're a multitasker? Enhance your focus with these few simple yet incredible tricks and the rest will follow!
Source: Fleetmatics
Exercise and Improving Productivity in the Workplace by Paychex
Encouraging physical activity can help the employees feel better which has a direct impact on delivering greater results. Find out how to do it!
Source: Paychex
10 Productivity Hacks to Transform Any Business Meeting by SilverDoot
Most of the meetings are just a waste of time. Find out how to turn every business meeting into a productive session!
Source: SilverDoot
Social Media At Work — by TimeCamp
How much time we usually spent on social media while working? Find out — the infographic below provides the results of research we carried out a year ago!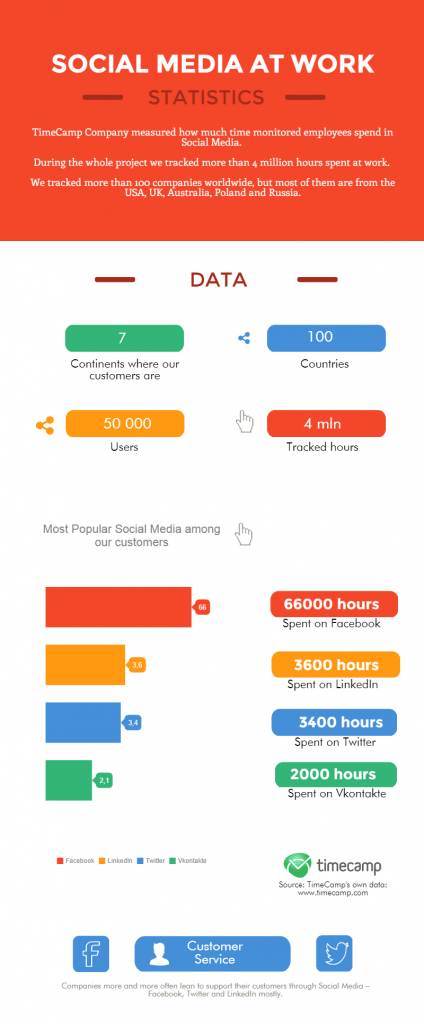 18 science-based sleep hacks to boost your productivity by GetVoip
We all know that sleep affects our daily performance. How to get a better night's rest? Find out what you should avoid before going to bed!
Source: GetVoip
The Productivity Diet by EBOC and Hubspot
As the well-known proverb says — you're what you eat! Follow the productivity diet rules, and you'll be impressed with the results!
Source: EBOC and Hubspot
16 Productivity Tips to Propel You Into Action by Wrike
Looking for more and more productivity tips? Here are more secrets that help to get things done easily!
Source: Wrike
3 Really Actionable Ways to Increase Employee Productivity by Yaware
How to motivate employees to help them deliver better work results? Find it out reading these three simple ways included in the infographic below!
Source: Yaware
Here's Where Your Team is Wasting Time at Work by TimeDoctor
We all know how much time our teams are wasting every day. Want to know how to avoid it?
Source: TimeDoctor
How to Increase Your Productivity by 500% by James Altucher
We often struggle when trying to maximize our productivity, but believe us — it's easier than you think and the infographic below proves it!
Source: James Altucher
Making These Small Changes Can Create a More Productive Workplace by QuickBooks
Do you think that some changes in the work environment can positively affect the results we're delivering? You're right — find out how to do it!
Source: QuickBooks
The heat effect and how it impacts productivity by Monster
Working in the hot workplace can be exhausting for our minds and it decreases the ability to focus. Find out what's heat effect and how to avoid it!
Source: Monster
Productivity Tips: 4 Major Issues Young Entrepreneurs Need To Avoid by TimeCamp
Are you an entrepreneur and struggle with getting things done? Find out what issues you should avoid to succeed!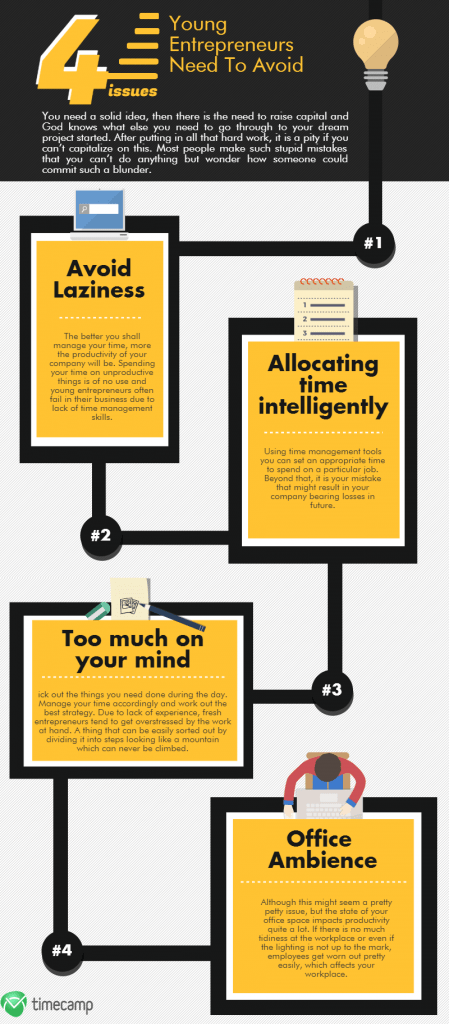 Boost Your Productivity: Brain-loving Foods Your Employee Should Eat by OpenForum
A cheat sheet of what you should eat to improve the efficiency of your mind!
Source: OpenForum
How to focus by Funders And Founders
Are you looking for an easy way to stay entirely focused every day? Find the answer on this short infographic below!
Source: Funders and Founders
How To Be More Productive? By Hubspot
Still not fed up with productivity tips? Here are even more of them!
Source: Hubspot
What's helping productivity? By The Pareto Effect
If you want to know what makes people around the world productive, you're at the right place!
Source: The Pareto Effect
Simple Ways To Meditate At Work And Increase Productivity by CashNet USA
Make time for meditation and observe the positive impact of your health and focus! This is by far one of the easiest ways to calm down and increase productivity.
Source: CashNet USA
30 Habits of Highly Productive Content Teams by Content Marketing Institute
Working in a marketing team? A highly productive content designers share their best tips to deliver the highest results!
Source: Content Marketing Institute
How Is Perfectionism Destroying Your Productivity by Darious Foroux and Visme
Are you a perfectionist? Find out how it affects your productivity and make the improvement!
Source: Darious Foroux and Visme
Does Coffee Really Make Your Productive At Work? By Toll-Free Forwarding
Most of the people are addicted to coffee — they believe that drinking it helps them increase the productivity. But what exactly are the best hours to drink coffee and become more focused and work-oriented?
Source: Toll-Free Forwarding
[SEOINS][SEOINS_CONTENT]
Here are ten more productivity infographics to satisfy your thirst for knowledge. Don't hesitate and read the article now![/SEOINS_CONTENT][SEOINS_ICON] icon-check [/SEOINS_ICON][/SEOINS]
Let us know in the comments if you started following these tips — we're curious to see your results!
Related posts
3 Hot Tips To Skyrocket Your Productivity This Summer!
10 Content Marketing Infographics for Your 2017 Reading List