---
Integrate MeisterTask with TimeCamp for Time Tracking
MeisterTask is an online project and task management tool designed to be as helpful as possible in the project management process. It equips you with a set of features that provide aid when it comes to monitoring the progress of your projects or helping the team members to collaborate with each other seamlessly. Some of them include:
Kanban projects boards that adapt your workflow
Project monitoring
Task management
Smart automation that ensure you work more efficiently
Integrations with other project management and task management applications such as Google Drive, Slack, Dropbox or GitHub
This software provides the approachable and productive environment to you and your team. It does so by combining the elements of project management, collaboration, and task management. You can use it to quickly create projects, at to them team members that you want, and assign task effortlessly.
MeisterTask will help you to remain in control during all the phases of project implementation. It is a useful tool for programmers who work with sprints, event managers, or marketing teams that use Kanban system. With MeisterTask you have the certainty that the productivity of your team is constantly increasing and that everyone is efficiently working on their tasks.
This is an elegant, well-designed, and intuitive software that should provide means which will allow you to painlessly turn your team into a unit as cohesive and productive as possible.
Now you can integrate TimeCamp with Meistertask with just a few clicks.
This integration adds ability to log hours against projects, lists and tasks. Tracking time can help for example accurately invoice your customers, or estimate profitability of the project.
[SEOINS][SEOINS_CONTENT] Time Tracking for MeisterTask is available with TimeCamp! Sign up for a free trial to make use of all the features and integrations that we offer.[/SEOINS_CONTENT][SEOINS_ICON] icon-check-circle [/SEOINS_ICON][/SEOINS]
Pricing
You can use MeisterTask for free; it offers two integrations, customizable dash, and project boards, as well as checklists, comments, attachments, and more.
You can also purchase the Pro version — it costs €9 per user/month and offers unlimited integrations, workflow automation, custom backgrounds, statistics & reports, and, of course, everything that the free version provides.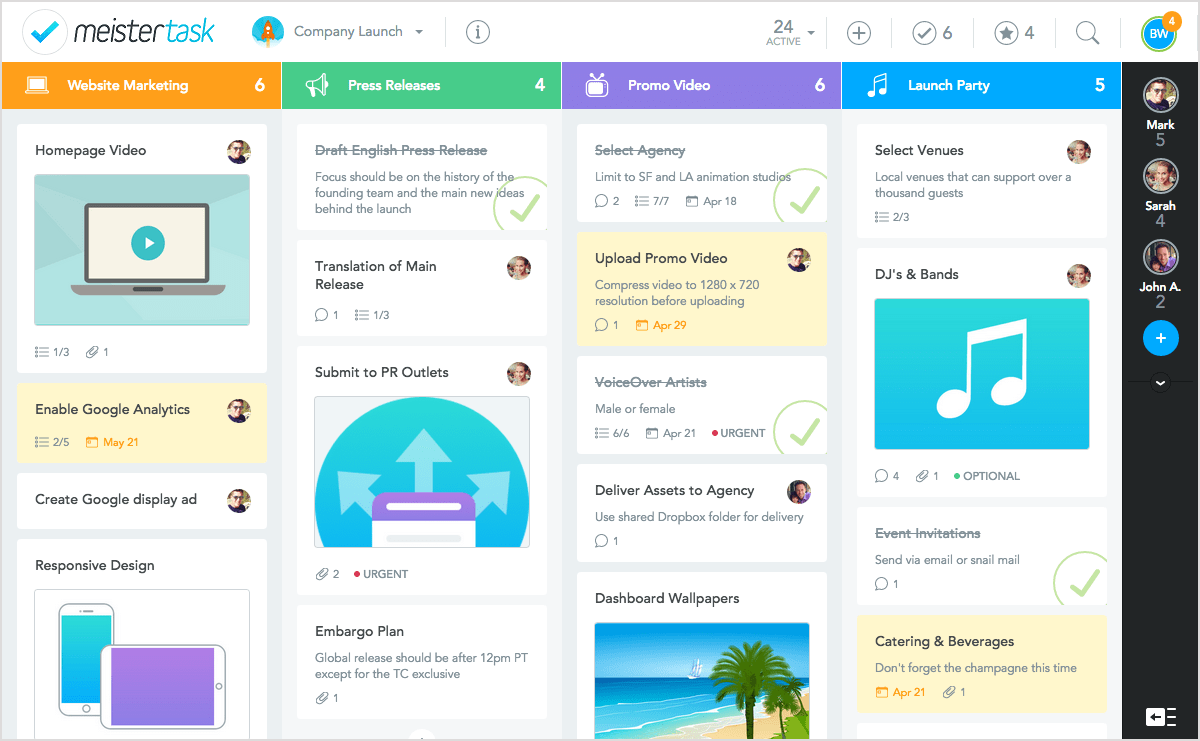 MeisterTask and TimeCamp integration
Integrating your MeisterTask with TimeCamp will equip it with some additional features that will be very useful in your everyday work. The integration is simple and takes only a few minutes. Just follow these quick eight steps:
To activate this integration you'll require TimeCamp administrator privileges.
Step 1
Login to your TimeCamp account and navigate to Settings.
Select the Add-ons bookmark and find Meistertask on the list. Click on the "Enable" button.
Step 2
Click on link presented below:
Step 3
You'll be redirected to Mindmeister site (it would be a good idea to be logged into Meistertask already). Once you are there, scroll down to 'Personal access tokens' and click on it.
Step 4
Click 'Add' and select the scopes — user.profile, user.info ,and Meistertask. After that click 'Submit'
Step 5
Copy the generated personal access token.
Step 6
Enter your token and click on the "Enable integration" button below.
Step 7
Your integration is almost completed! Select your Projects to synchronize them with TimeCamp and click "Save".
Step 8
That's it! Your projects have been imported from Meistertask and you can choose them from the Timesheet level.
As integration creator, you automatically gain access to all imported items. Other users are assigned automatically based on their names, which need to match in both TimeCamp and Meistertask. You can always assign tasks manually as well.
If you are not a fan of written tutorials, here is the video prepared especially to walk you through the integration process.
Once you enhance MeisterTask by integrating it with TimeCamp, you will surely notice the progress in your and your team performance. We are doing everything in our power to provide our clients with the best tools to boost their productivity and efficiency.