---
The List of Top 20 Project Management Software
These days it is pretty much impossible not to have any project management software in a company. That is because the outcome of our project depends mostly on initial planning and team communication. Without it, mistakes may be made during the particular stages and the manager may not notice them because he or she won't be able to monitor the progress of each step. What is more, many companies do not have an office — they are 100% web-based. And a team that works for such a company has to collaborate somehow — phone calls and emails are not sufficient enough, to efficiently work on a project. Team collaboration software is a must.
Hundreds or even thousands of businesses use project management software. They maximize the productivity, provide a more effective communication and track the progress of any task or project so that everyone in the team is up to date with even the slightest changes. Those tools offer a variety of features that every manager, as well as regular employee, will find indispensable.
In this article, we are presenting the list of 20 most popular project management software — their features, pricing, and other important information. Take a look and decide whether your work could not get a lot easier with the help of some of them.
Asana is probably the most well-known web-based software designed to improve team collaboration. Without the use of email, users can track projects and tasks, and if anything changes, they are being informed right away.
Each team can create a workspace. Workspaces contain projects, and projects contain tasks. In each task, users can add notes, comments, attachments, and tags. The creator of the project/task can attach members to it, and give them permission to freely manage them. Once the project is completed, a user can mark it as finished, the history of conversation and attachments will be kept, a project will be moved to "finished" category and everyone involved in it will be notified.
Asana can be integrated with TimeCamp — with TimeCamp's time tracking software, the productivity of a team will drastically increase.
Pricing:
Free for a team up to 15 people.
Premium: $8.33 per member per month (billed annually)
Source: asana.com
Basecamp facilitates the communication between team members — every user can contribute to the overall performance of the team. This software makes the working on a project easier, faster, and if the team has a positive attitude, it can even be fun to everyone! It is used by freelancers as much as by big corporation teams.
Among Basecamp's features are customizable to-do lists, a message board with a set of options for the better team collaboration, reports, schedules, and much more. Users can set deadlines in their to-do lists, attach files to them and send notifications to their team members. Everything is intuitive and easy.
Basecamp can also be integrated with TimeCamp for an even better performance.
 Pricing:
$29/month for internal team
$79/month
$3000 is a starting price for enterprises
Source: basecamp.com
Active Collab is an application for managing projects, especially with the help of a team. Working with clients, organizing tasks, and issuing invoices get much less complicated with the use of this software. It gives the user a full control over files and messages and also provides features such as team's dashboard, task filtering, calendar, payment tracking, email notifications, and more.
It features a kanban column view and a Gantt-like timeline to help users stay on top of their deadlines. Active Collab can be hosted on one's own server, or be used in the cloud. Fully integrable with TimeCamp.
A client can choose from a wide variety of plans, the cheapest one for up to five users is $25 per month, and the prices rise gradually as the number of users gets higher — up to $499 for a self-hosted plan that is permanently installed on a client's server.
Source: www.activecollab.com
Teamwork Project Manager is an online teamwork and project management application designed to support high-performance teams. It is intuitive and noticeably boosts the performance of a team — managers can assign particular tasks to team members and monitor the progress of the work.
Among its components are to-do lists, milestone management (keeping everyone involved in the project up to date), the creation of web-based text documents, file sharing, and a messaging system. Teamwork's software is used by 260 thousand companies worldwide which gives an idea of how popular it is.
For an even better performance and accurate tracking of project's time, we can integrate it with TimeCamp.
Pricing
Small Office: $49/month
Professional: $149/month
Business: $249/month
Source: blog.teamwork.com
Zoho Projects is a web-based online office suite with a set of features like word processing, spreadsheets, presentations, databases, note-taking, bug tracking, milestones, web conferencing, customer relationship management, project management, and invoicing.
Zoho Projects makes planning a project much easier. Users can set milestones to organize projects, customize tasks, assign ownership, and priorities.
 The bug tracker has an elegant and intuitive interface, making bug tracking painless and simple. Users are able to export data and generate reports. Without having to install any additional software files can be created directly from the browser and tagged with labels to keep track of them. TimeCamp offers an integration with Zoho.
Pricing:
A free version for one project.
Express: $25/month — 20 projects
Premium: $50/month — 50 projects
Enterprise: $80/month — unlimited projects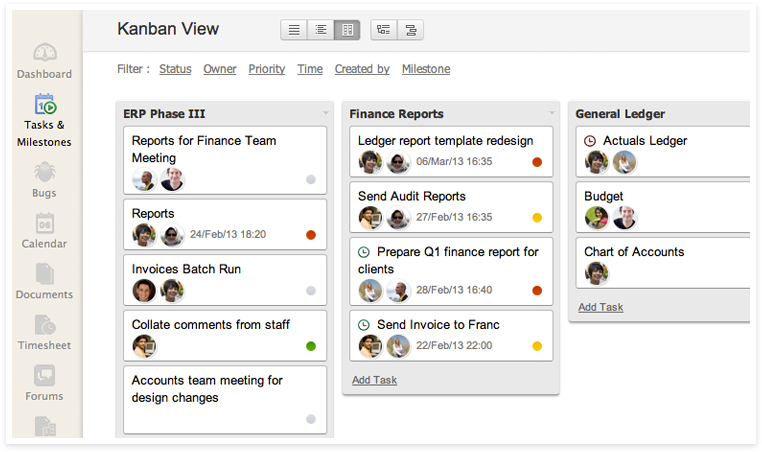 Source: zoho.com
Producteev produces a cloud-based task management application. It equips users with means to manage multiple teams, they can create team projects, assign and schedule tasks, and track the progress of the work.
It offers features that allow users to set priority and deadlines, create subtasks, attach files, filter the project, export tasks, receive notifications and more. Producteev is integrable with TimeCamp.
Available in versions Free and Pro ($99/month).
Source: www.producteev.com
Podio is an online platform designed to increase sharing and peer-recognition to foster great team cultures. It creates the focus and clarity that a team needs to better perform. Podio is used by a variety of teams and organizations for a wide range of purposes. Its unique interface allows users to create customize their work tools and shape the way they work.
This software offer features like:
Elegant and intuitive interface with all the projects, tasks and actions displayed in one place
Customizable view of work — from simple tables to dynamic card boards
The open-plan online office and live, qualified support
Set of integrations including integration with TimeCamp
Pricing:
Basic — $9
Plus — $14
Premium — $24
Source: podio.com
[SEOINS][SEOINS_CONTENT]That was our magnificent seven of project management (due to their integration with TimeCamp =) Sign up with us to unlock their full potential![/SEOINS_CONTENT][SEOINS_ICON][/SEOINS_ICON][/SEOINS]
Campfire is a web-based messaging application designed for team collaboration. Users can easily set the chat rooms and protect them with a password. They can invite there everyone they need — clients, colleagues, or vendors.
It makes communication simple and flawless and all it needs is an internet connection. Campfire offers features like:
Live image previews — upload a GIF, JPG, or PNG, and it shows up right in the chat room.
Conference calling — with a possibility to invite whole chat room to join a conference.
Chat history — saving past chat transcripts for the users to browse them anytime they need to.
Pricing:
Basic: $12/month
Plus: $24/month
Premium: $49/month
Max: $99/month
Source: campfirenow.com
Projecturf is the Web-based project management app that helps individuals and businesses manage projects, people, and tasks. It increases team's productivity, makes the collaboration more efficient, and helps with project management. Members of our team get access to the project from the web — there they can create and manage tasks, add events to a calendar, participate in discussions.
We can also add files to our project, upload and store documents, and analyze project data using the Dashboard activity history and reporting. Everything is well-secured and backed-up. Users pay only for the consumption — the number of users and storage is unlimited, prices are basing on the number of projects.
Pricing
Basic -$20 for 5 projects
Team — $50 for 30 projects
Business — $100 for 80 projects
Enterprise — $200 for 100+ projects
Source: projecturf.com
Apollo is a project management software that keeps all our data and important information safely stored and easily accessible. It is very easy to navigate and sort out projects in Apollo.
It offers features like:
Creating a project, setting optional due dates, and adding our team members or clients to it (only then they will be able to see it)
Organizing projects in categories and customize them — to keep our workspace elegant and tidy
Setting projects to active, silent or archived — silent do not send notifications and archived are stored shall anyone need to check them
Turning a project into a template or starting a project temple from scratch
Just as in the case of Projecturf, pricing is based on the number of plans:
Basic — $23 for 18 projects
Plus — $48 for 40 projects
Premium — $98 for 115 projects
Max — $148 for unlimited number of projects
Source: churchm.ag
Huddle is one of the most popular web-based team collaboration platforms — it makes teamwork simple and secure. It manages files, tasks, and team communication in one place; reducing the time spent organizing documents and tasks, and searching through email. Some of its features are:
Online file storage — Huddle encrypts all data exchanged with the server and archives it.
Customized workspaces — Branded, cloud-based workspaces synchronize all of your project content and tasks.
Intelligent content — All the content and tasks that are important to you and your project are displayed on Huddle's dashboard.
Clear communication — With comment streams and document activity delivered through a mobile device we can keep track of the progress our team is making.
There are four plans in offer:
Essential — Starts at 15 users, $20 per user
Plus — Starts at 100 users, $40 per user
Premier & Public Sector — These two are personalized depending on customer's need
Source: technologyadvice.com
This project management tool simplifies the workflow, allowing teams to collaborate effortlessly on the project. It is a good solution for small teams as well as big companies. Among its features are:
Automatic task organization — they can be tagged and categorized.
E-mail integration — create tasks and reply to tickets directly from the inbox
Share documents & images — they can be attached directly to tasks
Set goals — using milestones to plan features and establish release dates
Pricing based on the number of projects:
Bronze — $25 for 10 projects
Silver — $50 for 20 projects
Gold — $100 for unlimited number of projects
Source: lighthouseapp.com
Goplan lets you keep track of your projects and collaborate with your colleagues securely through an intuitive user interface. It is flexible (it is constantly being improved to be even more accessible to its users), reliable (back up all the data every hour and automatically scales with usage, which means fast page loading), and secure (all plans, even the free one, include enterprise-grade 2048-bit encryption).
Pricing:
Startup: $10/month for 10 projects
Professional: $35/month for 40 projects
Unlimited: $80/month for an unlimited number of projects
Source: goplanapp.com
This one is a flexible and adaptable online project management system that makes online agile project management and collaboration easy and effective.
Features:
Dashboard — gives you a visual snapshot of where your projects are.
The wall — where you can visualize all your projects and tasks
Gantt Chart — a graphical representation of your tasks and where they are all at.
Reports — available for all users to give the total picture on the Projects.
Pricing:
1 project: $10
Up to 10 projects: $20/month
Up to 40 projects: $50/month
Up to 100 projects: $100/month
100 Plus: $199.99/month
Source: www.brixhq.com
Freedcamp is a web-based project management tool and organization system for single or multiple users collaboration. It offers unlimited users, unlimited projects and 200mb of storage for free. If the features offered for free are not enough, users can upgrade Freedcamp, for example adding issue tracker ($10.99/month), Google Drive ($2.99), or invoices ($6.99). There are much more options to choose from. And for free we can make use of such features as task lists, sticky notes, milestones, and calendar.
Source: https://freedcamp.com/
This is a project management software designed to securely store, sync and share business files. Users can manage projects, customize who they send their information to, how they receive information back, and whether everyone has visibility into everyone else's activity.
Among Onehub's many features are:
Online Workspaces — allowing users to organize files by team, project, client or file type.
Drag & drop uploading
Real-time chat — the ideal way to collaborate with the team in real-time.
Notifications — Instantly notifies users when someone uploads a new file, posts a comment/message, or assigns them a task
File Support — Onehub supports the file types that user work in and makes those files previewable from a browser or mobile device.
Pricing:
Team: $29/month
Business: $99/month
Enterprise: on a contact
Source: www.onehub.com
A project management software that keeps users up-to-date with the workload, review their performance, analyse percentage of deadlines met and manage the time and tasks. It has a very elegant and intuitive interface, analyzing the beautifully designed graphs can change from a duty into enjoyment.
It offers features like:
Expense tracking — keep an eye on what's coming in and going out with simple visual metrics
Workload prioritizing — milestones and tasks are brought together in one place so you can focus on what to tackle next
Managing clients — lets you store all your contacts' details and organise clients, prospects, and suppliers so you can keep track of who's who
Pricing: There is only one plan that can be billed monthly ($15) or annually ($150)
Source: http://thrivesolo.com/
Worketc offers one place for the team to collaborate, support customers, sell, and deliver. And with Worketc's cloud-based web and mobile apps, the business can be managed at work, at home or on the road.
With integrated CRM, projects, billing, helpdesk, reporting, and collaboration, WORK[etc] is the single cloud computing platform. This means just one software solution for the entire business.
If offers:
All the tools you need to manage your team
Consolidate multiple apps into the one platform
CRM, Projects, Invoicing, Help Desk & more
iPhone, Android, and Web Apps
Inbox, Outlook & Gmail Add–ins
Open API and integration tool set.
Pricing:
Starter: $78/month for max 2 users
Team: $195/month for 3 users (each extra — $49)
Foundations: $395/month for 3 users (each extra — $59)
Source: https://www.worketc.com/
This software helps users by facilitating communication, workflow, resource allocation, and milestone tracking. It has a vast variety of features and renowned customer support.
Features:
Dashboard — An overview of your workload and priorities.
Timeline — Review and reschedule projects with one click.
Mobile — Track time, complete tasks and communicate on the move.
Collaborate — Staff, clients, and contractors interact with ease.
Timesheet — Track time in a way that suits your business.
Pricing:
Solo: $10/month
Professional: $20/month
Advanced: $30/month
Source: www.proworkflow.com
Flowdock is a team collaboration app for desktop, mobile & web. It provides much swifter communication between team members by integrating team's workflows and granting one place to discuss it all. Users can react, decide and solve problems faster than ever.
Among its features are:
Drag 'n Drop Uploads
Sound, Desktop And Mobile Notifications
File Uploads & Storage
1-on-1 Private Chat and Team chats (with history stored forever)
A Shared Inbox For the Team
A price that is only 3$ per user/month
Source: www.flowdock.com