---
Cinch Financial Review: The Best Automated Financial Advisor
This article is sponsored by Cinch Financial. All opinions expressed are my own.
One of the most exciting parts of being a personal finance blogger getting to see all the financial tech tools that are available to the market.
As you already know, I love writing about these tools and showing you the behind the scenes access. I do this so you can learn what's out there and ultimately improve your financial situation and hopefully make your life a little easier.
That is why I am excited to share more about Cinch Financial with you today. I got a chance to learn about Cinch Financial at FinCon 2017, one of the worlds largest financial expos. It's not often that a company catches my eye like Cinch so today I am sharing more about them.
A Review of Cinch Financial
Simply put, Cinch is a financial advisor that does not make you feel like you are being "sold" to. Not only that, it is a fraction of the cost of any financial advisor that you will find anywhere else.
Cinch Financial is an excellent application if you are just starting to focus on your finances. If you do not have a ton of money saved up and you're still trying to tackle your debt, Cinch Financial will help you make sense of your options.
What I like most about Cinch Financial is how it helps you decide what options are best for you, with no strings or money attached to incentivize their suggestions. That means you can explore new car insurance, how to pay off your debt, and how to reduce your monthly fees.
Put simply; it is a financial advising tool that doesn't cost nearly as much as an actual financial advisor. Cinch wants their tool to become the Chief Financial Officer of your finances.
There's a ton to like about this service, and I think that it could be a game changer for many people out there that don't want to pay an arm and a leg to get some simple financial tips.
Getting Started With Cinch Financial
Right now, you can sign up for a free account with Cinch Financial here.
Once you create your login information, you will start by answering a few questions about your household income and a few other demographic information so they can understand your financial status. Don't worry; your information is safe.
Cinch will then ask you to run a soft credit pull. This is needed to show you potential products that may be a good fit for you such as credit cards, insurance, and other tools to help you find a lower interest rate to save you money.
Don't worry though; the credit pull will NOT impact your credit in ANY way. The reason Cinch needs this is because they are continually looking for partners to share valuable information with YOU to help improve your finances.
You will then be asked to connect your primary bank account. This tends to make some people nervous, but one thing I liked about the sign-up process for Cinch was that they have a double security opt-in. This helps protect your account from any would-be intruders.
Once you select your bank, you will answer a few questions, and your account will be on it's way to being set up.
Setting up your bank only takes about 5 minutes to complete; then you're good to go.
Cinch Financial Is Innovating New Solutions
Cinch Financial
What stands out the most to me about Cinch is that it is not just about graphs, charts, and tables like most other apps in the fin-tech space.
You get the same perspective without the typical charts, graphs and other "data" that most of the other financial apps are geared towards. There are a narrative and storytelling aspects woven through Cinch to communicate your financial situation.
I find it refreshing. I like this about Cinch.
Cinch also does an excellent job of showing you exactly where you are at right now financially. You do not have to sift through your last month's expenses to see this easily in Cinch.
This is what separates it from other apps and indeed makes it more like a financial advisor.
Cinch will give you an overview of four areas rather quickly so you can understand what's going on. The four areas are:
Debt and Credit
Cinch provides you with a straightforward narrative about your current debt and credit balances. This includes the information about your: credit cards, student loans, auto loans, mortgage, and any other loans you may have.
Rainy Day Fund
The rainy day fund is exactly what it sounds like. Cinch wants to make sure you have enough in your rainy day fund in case it pours. This is what I commonly call an "emergency fund," and I believe it is a critical component of any financial strategy, so I like that Cinch focuses on this.
Cinch will help you save more each month if you do not have enough or tell you that your accounts are good if your balances look healthy.
Insurance
Cinch also helps you understand when and if you need life insurance. Each person's situation is different, and Cinch realizes that by the questions that you answer up front. Cinch will take into account your overall financial position and recommend life insurance depending on your income, age, and if you have children or not.
Since we do not have kids, have a decent amount of savings, and are young, Cinch did not suggest that we get life insurance.
Spending Flow
Spending tracking is one of the features that I like most about Cinch. Again, it is not a death by graph scenario that you need to spend an hour analyzing. Cinch simplifies this with the information you provide up front. For this to be accurate, you will need to connect all of your current cards up front. Once you do, I think you will be surprised at how Cinch simplifying things.
Cinch analyzes your spending and income based on the information you provided during the onboarding process.
Does Cinch Financial Pass The Test?
Here's the thing. Cinch Financial gets points for being different in a market that is crowded with really cool fin-tech apps and websites. However, I think one of the best parts about Cinch is what they consider as a fiduciary agreement.
This means that instead of making money on products they recommend to you, they simply refer the best service that fits your need. So, they don't make their money on affiliate marketing or sales commissions. Instead, they get their revenue from other partnerships.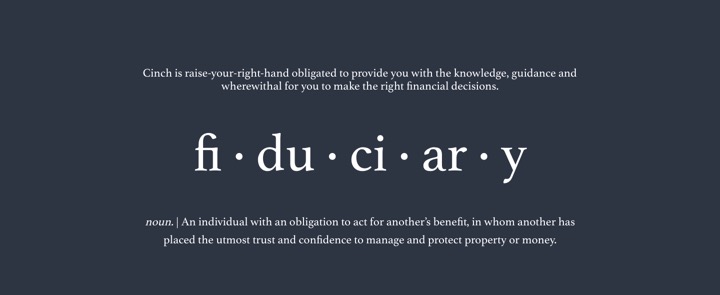 Overall Review of Cinch Financial
Cinch has many positives that are worth noting:
Cinch is free to set up. This is nice because if you want to try out the app, there are no barriers to do that.
Setting up a Cinch account is easy. It took me less than five minutes to set up my account. That includes answering personalized questions and connecting all of my cards.
Cinch is innovative. Cinch brings something different to the table, and that is why I like it. It is simple. It is intuitive. I think it makes sense for those who don't want to spend a ton of time looking at charts, most of all.
Cinch is smart. Cinch Financial has worked hard to partner with banks, credit cards, insurance companies and more to truly help you in your situation. This is the value that Cinch provides to you as a customer so that you don't have to do that yourself.
Cinch is not pushy or sales-y. Cinch will recommend you do something, but there is no red flashing popups or pushy sales financial advisor there. It is a simple and clean platform that makes understanding your money easy.
Overall, Cinch Financial is genuinely a different and excellent tool that is straightforward. The only downside that I can see with the company development at this point is that they don't have an app just yet. As things develop, I am sure they will add one.
Is Cinch Financial Right For You?
Ultimately, if you want an effortless take on understanding finances and getting unbiased recommendations to improve your financial life, Cinch Financial is an excellent tool for you. From recommending new car insurance providers, life insurance, to reducing your banking fees — Cinch can be your new personal financial advisor at a fraction of the cost of a real advisor.
In my opinion, the fiduciary commitment and the creative take on the financial monitoring are what makes Cinch stand out and why I recommend you give it a shot if you are looking for a new financial tool to add to your toolbox. It's more than your run of the mill budgeting app for sure, which is why I recommend it.
Review Retrieved From Cinch Financial