---
7 Ideas for Growing Your Business with Google Assistant
Google Assistant is a next big thing on the market. Understanding it today is crucial for your business in the future.
Google Assistant — what is it?
Google Assistance is a virtual assistant developed by Google that is available on mobile and smart home devices. It's already used in millions of households all around the world.
Read up on how it operates today and start catching up on implementing it into your business.
Actions on Google — what is it?
Actions on Google is a developer platform that lets you create software to extend the functionality of Google Assistant, Google's virtual personal assistant, across more than 500 million devices, including smart speakers, phones, cars, TVs, headphones, watches and more.
Users engage with Google Assistant to get things done, they are buying tickets or booking a taxi. As a business owner, you can use Actions on Google to easily create and manage delightful and effective conversational experiences between users and your own 3rd-party fulfillment service.
Why is Google Assistant great?
#1 Google Assistant is everywhere
You can find it on:
#2 Google Assistant is available in 80 countries and 30 languages
Google Assistant will be usable in 80 countries by the end of 2018. Google Home will be introduced in more than seven countries, including Spain, Mexico, Korea, the Netherlands, Denmark, Norway, Sweden, etc.
#3 Google Assistant is immersive, interactive and proactive
Using Google Assistant from pairing, from first talks to turning on Ikea Smart Lightning, ordering sushi or turning on the heat is easy and fun. You talk to it as you would talk to a normal person — and it understands perfectly!
#4 Google Assistant controls a lot of devices
Thermostat, cameras, security systems, locks, ovens and many more devices can be easily controlled by Google Assistant. See the best Google Home-compatible devices.
#5 People love Google Assistant
In the past two months, families and their children have conducted 130,000 hours of conversation through Google Assistant and Google Home.
You can select from 6 types of Google Assistant voices. Even if you do not say "Hey Google" one by one, it will become aware of the conversation in a series of flows. Google Assistant can even accept multiple requests at once, such as "What's the weather like in New York and Austin?".
#6 Thanks to Routines, people can fire a set of favorite actions using one word
You can customize routines with custom requests. For instance, when you say "supper time", the lights dim, the dinner playlist on Spotify starts to play and the TV turns off. Imagine combining it with more advanced actions, such as "order sushi," "pay taxes" or "book cinema ticket."
#7 Google Assistant is friendly
The recently introduced Pretty Please feature will cause your Google Home to respond positively to polite phrasing such as "please" and "thank you". Pretty Please will even prompt your child to say "the magic word" when they give a command.
#8 Google Assistant powers new market type devices called Smart Displays
With Smart Display, a new market segment has been born. House devices with display and Assistant can target a wide range of customers. It's something very different to the iPad. See how the Lenovo Smart Display understands the idea behind this.
#9 Google Assistant allows people to buy things
From the second half of 2018, you can ask for your delivery of groceries with the Google Assistant application. These groceries can be delivered straight to your home.
#10 Google Assistant makes phone calls (Google Duplex)
The Google Duplex AI can automatically make phone calls. Although we are still not sure if it's really happened, nevertheless the concept is highly possible. Think of how you can adjust your service to respond to Google Duplex calls, so you don't mingle AI in the confusion.
First, there was an "app for everything" and now it's going to be "an action for everything"
Why will Google Assistant change the world as we know it?
It's everywhere already
It's easy, fun and useful
You can buy things using voice
People can book appointments
People can control other devices using voice
People can add your business actions to their routines
It actually works!
7 Ideas to Grow Your Business with Google Assistant
Allow people to order/buy things from your business
 "Hey Google, buy two tickets for tomorrow's show"
Allow people to book services using your business
 "Hey Google, book a table for eight people"
Allow people to ask basic info about your business
 "Hey Google, can I tune up my bike in your shop?"
Allow people to use your services using voice
 "Hey Google, request $15 from Mark using Google Pay"
Allow people to play games
 "Hey Google, play a quiz about countries for three people"
Allow people to learn more about themselves
 "Hey Google, how many rides have I taken in Uber?"
Allow people to control your device
 "Hey Google, Set Nest Secure to Away and Guarding
---
Need a successful team? Droids On Roids is a 100% office based team with 7-years' experience in mobile & web app development, ready to answer your questions Estimate project
What influences will Google Assistant have on businesses?
People will be more likely to buy devices with Google Assistant support
People will be more likely to order things that use Google Assistant
People will be more likely to book services that use Google Assistant or are Google Duplex compatible
People will be more likely to use services supporting Google Assistant
Brands using Google Assistant will be considered as more innovative
Still hungry for more about Google Assistant?
Summary
Google Assistant is the next big thing on the market. Understanding it today is crucial for your business in the future. In the next year, using voice will become a rapidly growing trend, creating new markets, devices and sectors we can't even imagine now.
Most things in the world have been done using voice communication between people. Now it is time to do it again with one human and Google Assistant.
Catch this wave and surf the future!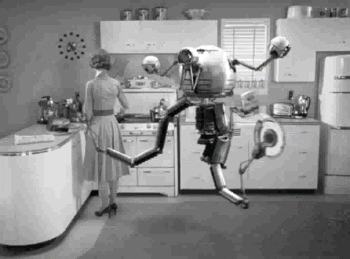 Resources