---
The Art of Packing Lunch
While lunch seemed so easy when we were kids, with our crustless sandwiches and brown paper bags, at EatLove we understand packing a lunch each day on top of worrying about dinner can feel like a mountain. We may often find ourselves uninspired at lunchtime, and opt for the closest fast-food restaurant or order delivery, which can become expensive and also deter us from our health goals. The good news is you can pack a lunch and continue to focus on your health goals while also saving time, money, and reducing stress. Here are a few tips which will inspire you to rush to your kitchen right now to start taking control of your lunchtime meal prep!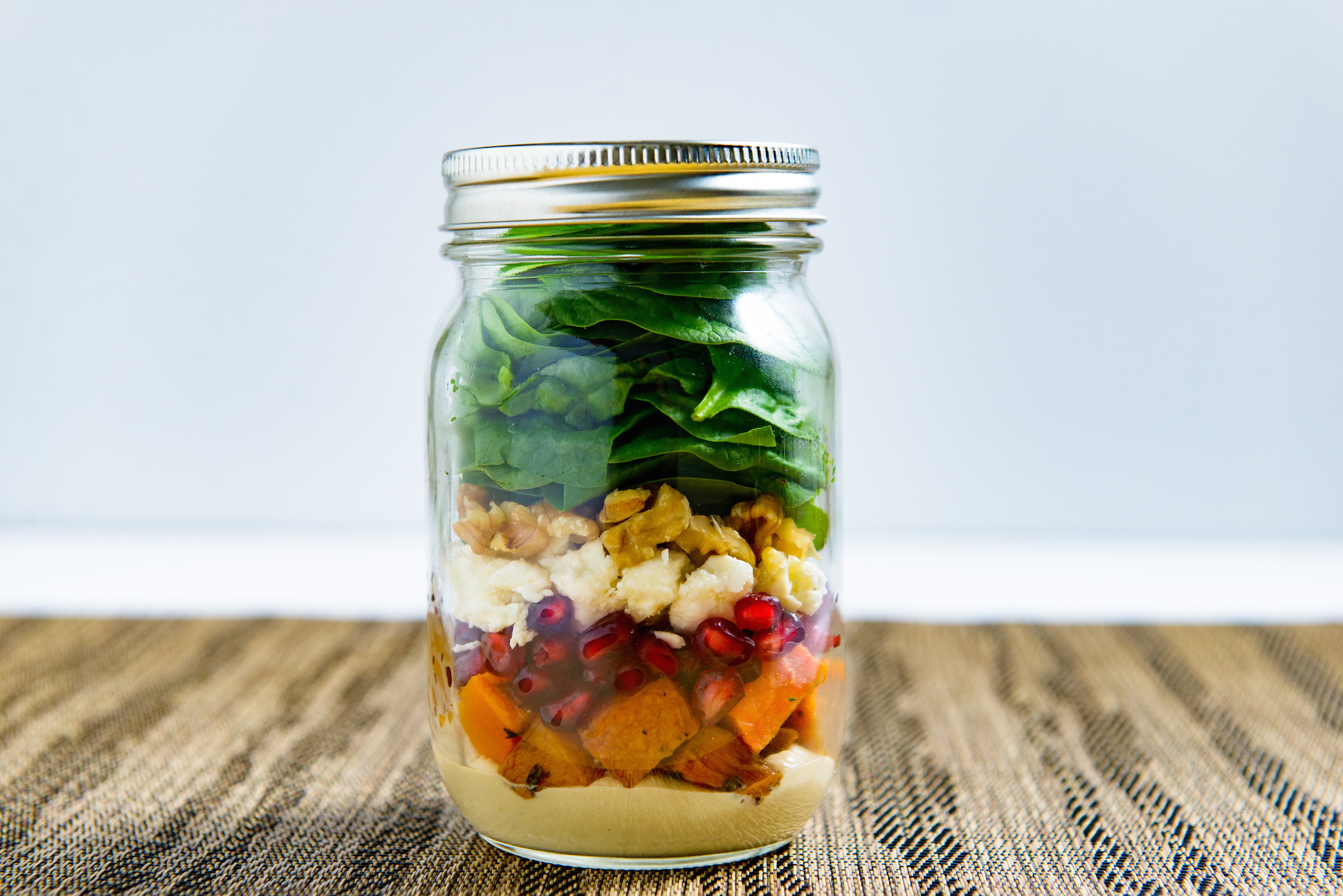 Keep it balanced.
It can be easy to just grab a sandwich and completely forget about a vegetable, but we're here to help. Our plans will optimize to help you meet the balanced plate. When planning and preparing your lunch, you can use MyPlate to help guide you in building a balanced meal, to ensure you are meeting all of your nutrition needs to fuel you for your day. Aim to have at least one serving of non-starchy vegetables (though 2+ is preferred), and pair with lean protein (e.g. chicken, fish, beans, or tofu) and a fiber-rich carbohydrate (such as a whole grain, starchy vegetable, or piece of fruit). You can also pack an extra snack to help you meet your goals. Here are some tasty EatLove snacks to get you started.
Cooking dinner already? Make extra for lunch.
If you are already meal prepping and preparing for dinner, double or even triple your recipe so you have leftovers for a few days. Shorten your lunch preparation time by putting leftovers into containers after you cook so all you have to do is grab and go in the morning. EatLove allows you to adjust the number of servings for each meal, so you can ensure you will have leftovers to pack for lunch.
Batch cook one day each week.
Batch cooking is an efficient way to prepare most or all of your lunches for the entire week. There are 168 hour in each week, so in the grand scheme 1–2 hours sounds manageable, right? Preparing ahead can save you 30–60 minutes each day of on-the-spot lunch planning.
If you have a slow-cooker, it can also make preparing ahead of time easy and stress-free. Check out these EatLove slow-cooker meals, and also one-pot meals which can be made using a large soup pot and a stove.
Salad jars for the win!
Here at EatLove, our favorite way to use our canning jars is to pack them with a salad to go. It is a quick and easy way to mix up your lunch, and you can make an entire week's worth of salads ahead of time and they will not go bad. Grab a pint or quart-sized jar with a lid, and place your dressing at the bottom. Next, load up your jar with lean protein, fiber-rich carbohydrates, leafy greens, veggies, and any other toppings you wish to include — have fun with it! When you are ready to eat the salad, simply dump the jar contents in a bowl and dig in. Here are some of our favorite salad jar recipes in a tasty meal plan.
Always have back-up staples on hand.
Sometimes planning ahead doesn't always happen, and that's okay! For days like these, always having lunch staples on hand which can easily be packed on-the-go. Some ideas include hard-boiled eggs, fresh or frozen veggies and fruit, canned tuna, deli-lunch meats, whole grains such as brown rice or quinoa, tofu, tempeh, canned beans, nuts, and yogurt.
Buy a lunch box which suits your needs.
Lunch boxes aren't just for kids anymore! You can pick up a hard cooler, an insulated lunch bag, or even boxes which have different compartments for different food groups to help you portion and organize your lunch. No matter how long your day is, there is a lunchbox to help your lunch stay fresh all day. Are your mornings especially busy, causing you to forget your lunch? Leave your keys in the fridge on top of your lunch, and you will never leave without your meal again!
As you can see, packing your own lunch can be a wonderful option when you are taking the steps to improve your health. You can also save money, reduce stress, and lunch can definitely be more exciting than a crustless sandwich. Be sure to check out all the ways EatLove can make lunch your new favorite meal!
Have you prepared a lunch you are particular proud of? Share it on our Instagram or Facebook page with #findyoureatlove. We love to see your kitchen creations!
Julie Shimko, MA and Tara Linitz, MS RD