---
Metro Atlanta Chamber SVP and Chief Economist Tom Cunningham on Georgia Business Radio
Metro Atlanta Chamber SVP and Chief Economist Tom Cunningham on Georgia Business Radio
Tom Cunningham,​ SVP and Chief Economist
 Metro Atlanta Chamber
Thomas J. Cunningham is Senior Vice President and the Chief Economist for the Metro Atlanta Chamber (MAC). Tom joined the MAC in July 2015 following a 30-year career at the Federal Reserve Bank of Atlanta. He is a specialist in open economy macroeconomic policy and regional analysis. At the MAC, he manages an internal team that supports the research and advocacy roles of the economic development and public policy departments.
After starting his career at the Federal Reserve Bank of Atlanta as an economist in the Macropolicy group, Tom served at various times as associate director of research, interim director of research, vice president for the Regional group where he was also responsible for the Latin American group, and acting head of the Finance group. He served on the Bank's Personnel, Information Technology, and Risk Management Committees and as a member of the Federal Reserve System's Information Security Group and Technology Services Council. He also was the acting director of, and helped establish, the Bank's Center for Real Estate Analytics. When Dr. Cunningham retired from the Fed, his title was Vice President, Senior Economist and Regional Executive.
A native of Reedley, California, he received a bachelor's degree, summa cum laude, in economics from California State University, Fresno. He earned a master's degree, a master of philosophy, and a PhD in economics from Columbia University. He previously worked as an economics instructor at Barnard College at Columbia University and as an adjunct instructor at Iona College, Agnes Scott College and Emory University.
He attended the executive development program at the University of Pennsylvania's Wharton School and is a member of Leadership Atlanta's class of 2018. Dr. Cunningham has published numerous professional articles and is a member of the American Economic Association, the Western Economic Association, and the Southern Economic Association.
Topics to Discuss:
National Employment Situation report contains some solid numbers, but mixed headlines. The solid numbers are in job gains, where the nation added 213,000 jobs, well above the market expectation of around 190,000.
Revisions to the two previous months added another 37,000 jobs. The mixed part of the report is that the headline is the unemployment rate (U3) ticked up from 3.8% to 4.0%.
The expectation was for no change. This was mostly due to an increase in the labor force participation, which moved up 0.2 percentage points after being essentially unchanged since February.
At this point the economy needs the additional workers, so this is a fundamentally good thing. The broader measure of labor underutilization (U6) also rose 0.2 percentage points to 7.8%.
Average hourly earnings rose 2.7% from a year ago, slightly below expectations, but about in line with recent history.
Jobs gains were led by professional and business services, followed by manufacturing, which had a solid 30,000 job addition, mostly in durable goods. Strength was also seen in health care, construction, and mining. Retail was the only sector with a notable loss of jobs (-22,000), but that did not offset last month's gain of 25,000. Other sectors were essentially unchanged.
All in all, a pretty good report, despite an easily misinterpreted rise in unemployment.
​Media Links:
 ​Web Site: www.MetroAtlantaChamber.com
Guest Linkedin Profile:
 https://www.linkedin.com/in/tom-cunningham-6027134
---
Georgia Business Radio Interviewing industry and thought leaders with compelling stories. Relevant content on current business trends live from the Pro Business Channel studios in Atlanta. In addition to the live broadcast, GBR content is in distribution across multiple syndicated platforms with more than 500,000 downloads.
Show Host:
Rich Casanova, Chief Visionary Officer
 Pro Business Channel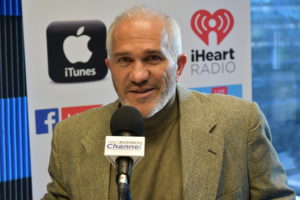 Rich Casanova began his broadcasting career in California's central valley at KSKS-FM. While in California he also ran a successful entertainment company whose staff and crew entertained over 100,000 people. After moving to Atlanta and selling his entertainment company, Casanova ventured into publishing as the Publisher and Franchise Owner of Coffee News, headquartered in Bangor, ME.
Later became the Founder and CCO, Chief Connection Officer, of an online platform where local business professionals register to receive a free list of the top 100 networking events in metro Atlanta.
With a name like Casanova and his gregarious personality, Rich was a natural as a music radio DJ. "I got the radio bug early in my career and often thought how great it would be if there was an opportunity to participate in a talk radio format with a pro-business perspective interviewing thought leaders from the local business community." Thus was born the Pro Business Channel where Rich is the CoFounder and Chief Visionary Officer.
https://www.linkedin.com/in/richcasanova
 https://twitter.com/RichCasanovaCom
Submit a guest request:
 CLICK HERE
To view guest photos from this show, visit:
 www.ProBusinessPictures.com
Recent Photos From Georgia Business Radio

‹ › ×
×
Previous Next
Flickr Album Gallery Powered By: Weblizar