---
These Protein Cheesecake Cookie Dough Bites Will Earn a Triple Yum Score From Your Friends
Make these and EVERYONE WINS!
OOOH, HELLO GOOEY, BATTERY GOODNESS
We're going to eat you real soon.
DON'T STRESS ABOUT SEPARATING EGG YOLKS, HERE'S A HACK TO MAKE "ALL THE NOMS" HAPPEN SOONER.
So much better than fumbling with cracked shells and all that nonsense.
REMEMBER TO FLIP THE DELICIOUSNESS BEFORE YOUR TASTE BUDS FLIP OUT.
Caution: Things are getting hottt (three t's completely necessary)
AWWW, FORK YEAH…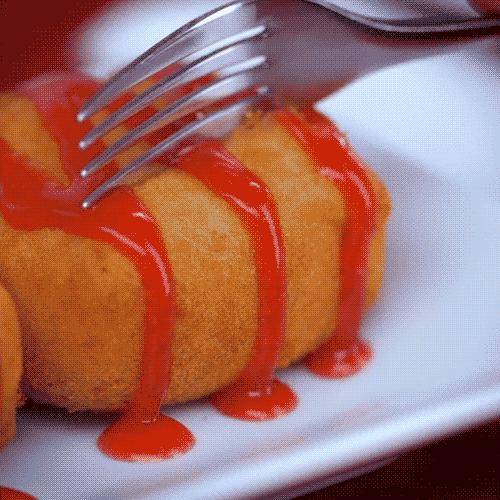 Imma need a minute…
NOW YOU TRY! WATCH THE VIDEO AND MAKE THESE LITTLE BITS OF PROTEIN MAGIC!
NUTRITIONAL INFO (RECIPE CREATED BY JOE CASTRO)
Yields: 24 servings | Serving Size: 1 square
Calories: 228 | Protein: 12g | Fat: 15g | Net Carb: 11g (2g sugar)
Fiber: 3g | Total Carb: 14g | P/CAL: 20%
Prep Time: 15 min | Cook Time: 4 hrs 40 min | Total Time: 4 hrs 15 minutes
INGREDIENTS
CHOCOLATE CHIP COOKIE
1 scoop Quest® Vanilla Milkshake Protein Powder
½ scoop Quest® Multi-Purpose Mix Protein Powder
1 Chocolate Chip Cookie Dough Quest Bar
4 tablespoons butter, softened
½ cup zero-calorie sweetener
1 egg
1 tsp vanilla extract
¼ teaspoon salt
½ teaspoon baking soda
1 teaspoon hot water
¾ cup oat flour
7 tablespoons sugar free chocolate chips
1 cup coconut oil (for frying)
CHEESECAKE
1 ½ scoop Quest® Vanilla Milkshake Protein Powder
¾ cup nonfat Greek yogurt
¾ cup low-fat ricotta cheese
4 ounces fat-free cream cheese, softened
1 eggs
2 egg whites
¼ cup zero-calorie sweetener
BATTER
2 scoops Quest® Vanilla Milkshake Protein Powder
½ cup oat flour
½ cup almond flour
1 cup 2% milk
2 eggs
2 teaspoon baking powder
½ teaspoon salt
STRAWBERRY SAUCE
1/4 cup sugar free strawberry preserves
2 tablespoons water
1 tablespoon zero calorie sweetener
DIRECTIONS
CHOCOLATE CHIP COOKIE
Preheat oven to 325°F.
Blend Quest Bar® into a powder.
Cream together the butter, sweetener, and powdered Quest Bar® until smooth.
Beat in the egg, then stir in the vanilla.
Dissolve baking soda in hot water.
Add to batter along with salt.
Stir in oat flour, Quest® Protein Powder and sugar free chocolate chips
Press the cookie dough into the base of a 12x9 pan
CHEESECAKE
In a stand mixer, add yogurt, ricotta, and cream cheese and sweetener. Mix until smooth.
Add Quest Protein Powder®, eggs, egg whites. Pulse several times until completely combined. Pour into the pan with the cookie dough base.
Bake for 35–40 minutes, or until cheesecake is no longer jiggly in center.
Remove cheesecake and let cool for 1 hour.
Place in refrigerator for at least 4 hours.
Slice into 24 pieces and set aside.
BATTER
In a large bowl combine Quest® Protein Powder, oat flour, almond flour, baking powder, salt, egg and milk.
STRAWBERRY SAUCE
In a mini blender, blend the preserves, sweetener, and water until smooth.
ASSEMBLY
Heat coconut oil in a small frying pan.
Dip cheesecake squares into batter and fry for 20–30 seconds on each side or until golden brown.
Remove from pan and drizzle with strawberry sauce.